Based in Phnom Penh, Kraig Lieb is a photographer for Lonely Planet Publications, with photos appearing in more than 50 Lonely Planet travel guides. His photos have been featured on four Lonely Planet covers: South-East Asia, Central America, Yellowstone and Bangkok.
Lieb's photographs have been published by the New York Times, San Francisco Chronicle, TIME magazine, Amnesty International, Oxford University, The Sydney Morning Herald, Brisbane Times, Amazon.com, Art.com, and Yahoo!, and used in advertising by Marriott, Hilton, Kodak, and Vietnam airways.
Since graduating from Penn State University (1984), Lieb has worked, lived and traveled extensively throughout Southeast Asia, North America, and Central America. He first traveled to Nepal in 1989 and has been returning to photograph its people, culture and the wildlife of Chitwan National Park ever since.
From 1994 to 1998, Lieb was based in Vietnam while working with Image Design / Visionary Viet Nam, one of the larger postcard and greeting card companies in the country. During the late 1980's and early '90s, he worked as a photographer in Thailand, Nepal and Guatemala.
Lieb's work can be found on art prints, postcards, greeting cards, calendars, magazines and books throughout Asia, North America, Central America and Europe. Kraig also runs Purple Moon Publications which publishes postcards, books & art prints in Cambodia, Guatemala and Northern California. He lives part time in Phnom Penh, Cambodia, and part time in Northern California.
Photos by Kraig Lieb are available for sale as art prints or for use in publications. Contact him at P.O. Box 901, Monte Rio, California, USA 95462; e-mail: kraiglieb@usa.net. Phone/Fax: (707) 865-4111 (USA) or 012 556476 (Cambodia).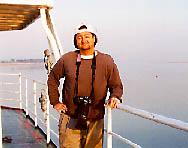 ---