2 wonderful days living in a Vietnam family
---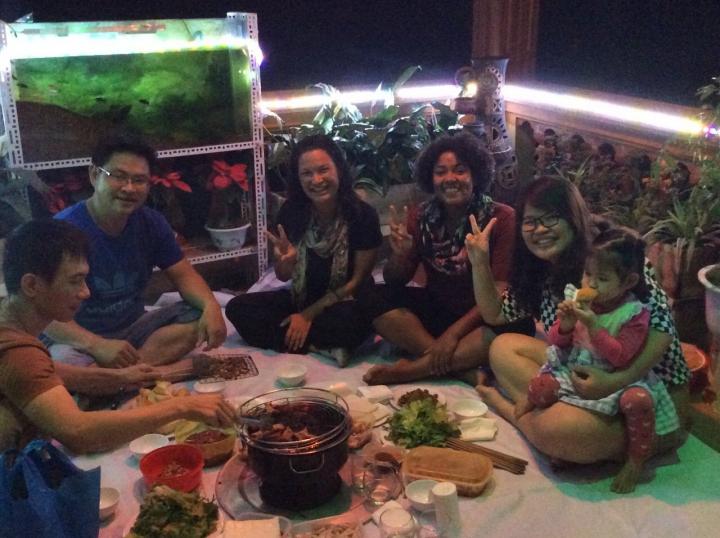 I found this wonderful big family when I searched for a visa to Vietnam. The travel agent at which I applied for my visa online. vietnamvisa-easy.com , asked me whether I have accommodation in Hanoi and if I would like to live with a Vietnamese family. Especially, they offered me homesta service for free. I could not expect a better chance than this so I accepted. On the day I came in Hanoi, Ms. Hien (the host) made a small party to welcome me and my friend. They set up a comfortable room for both of us and provided with any stuff we needed. The next day, Ms. Hien drove me to Ho Chi Minh mausoleum, where restore the body of their greatest leader. I also visited Bat Trang clay village. In this page, I learnt how to make a clay object by hand and made myself a vase, not as beautiful as I expected but usable. :). There are some other attractions that she took me to such as Tran Quoc Pagoda, University of Literature, Vietnam Women's Museum (I loved this place), One pillar pagoda, this pagoda has very unique architecture and be so peaceful.
The next day, she took us to Old Quarter and introduced us the best street food in Hanoi. My favourite is pho cuon.  At this place, I bought some beautiful souvenirs for a very small price. In the evening, we had a drink at Sinh Cafe and their family shared with us some informationa bout Vietnamese culture and living style of Vietnamese people. 
The day I left, there was a group of 3 Australians coming. Ms. Hien said that they were aslo visa applicants of her company wishing to live as a Vietnamese local. And I do belive that they will enjoy the stay like me. 
---