A is for Asia, A is for adventure
---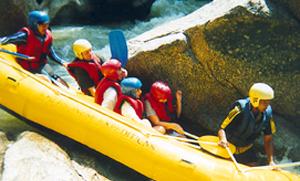 It was one of those days - I was feeling real flabby with my neglected muscles, and was low in spirits. Adrenaline was becoming a forgotten concept, and my tummy was growing dismally. This could not go on, I needed a dose of life. And there was no better way to relish the sweet joy of being alive then being pitched right in the middle of an eco-trip, surrounded by the sounds of wildlife. So it was off to see the wild for me as I signed up for a package that treated me to a whitewater rafting trip, camping in a good old tent, and with a short jungle trek thrown in for good measure.
Setting off
Arguably, Singapore is one of the best launch pads for Southeast Asia's adventure tours. With our much-touted geographical location, we are an overnight coach ride, a drive, a ferry trip or a short flight from many of the mountaineering, diving, jungle trekking and whitewater rafting spots.
For my trip, I made a last-minute arrangement and joining a group of expatriates, I set off in a few days. The fun-loving foreigners were based in Singapore and took this weekend getaway for an eye-opening experience of Asia's nature.
Our destination was Sungai Selangor ("sungai" meaning river in Malay), about two hours away from Malaysia's capital city Kuala Lumpur. After flooring our baggage and changing into the appropriate wear, we were raring to go. We were given a crash course (no pun intended) on how to use the paddles, the rowing techniques and rescue drills. And then, we were off!
Jokers, not rowers
I was not exactly thirsty, but I was drinking river water about ten minutes into the journey. Our local guide Yusof barked "over left, over left!" at us, which translated to shifting ourselves to the left side of the raft to tilt it so that we could avoid crashing headlong into an outcrop on the right. I was a good student, and leaned so far out that "plonk!" I fell into the water. It was not a hard fall, but till now I bear the scar on my nose when the nosepiece of my spectacles cut my skin.
Yusof hoisted me onto the raft by grabbing my life vest. I was truly embarrassed, but my rafting mates were treated to another laugh a little later. After conquering our first rapid, Yusof asked us to do a "paddles-up", a cheer for rafters. We held our paddles with the blades facing skywards, and slapped them on the water hard with a "pok" that resonated through the jungle.
When we were poised for more rafting, one of the big blokes realised that his blade was broken after the slap, and he was left staring blankly at a long handle. His blade was floating peacefully down river. We were truly jokers, not rowers, and spent a good few minutes laughing our heads off. After that, the four of us took turns rowing with the three paddles.
The river wild
As we proceeded through the four-hour journey, it was truly a test of our co-operative spirits. I must say, we were in pretty good shape, not having capsized even once! Each rapid was a thrill as we dropped and bounced in the rubber raft. Many a time I got so nose-close to the rough rocks that I could have lost skin easily. And there were times when our raft got stuck at the rocks when the water level fell too low. We heaved and hurled to get the stubborn yellow raft free, and there was once when we actually had to carry the raft on shore when uprooted trees blocked the waterway.
At times of calm, our boat rocked gently in the rippling water. Yusof wanted us to close our eyes, to listen to the gentle rustling of the trees and the flowing sound of the water. It was immense peace, and I could feel my furiously beating heart calming down. And then cut! These quiet scenes would be inter-cut continuously as yet another fun fall come approaching. Then it would be "over right, front, front!" all over again!
The time to go
Have I painted a picture that can attract you to Southeast Asia's many rivers? You may be wondering - if you want to include this in your itinerary or plan it for a weekend getaway, when is the best time to go?
Honestly, anytime is a good time. October to March are the monsoon months - the heavy rainfalls fill the rivers and the waters roar to life. If you are out for a thrill ride, this is your chance. However, should the waters swell to dangerously high levels or debris like fallen trees clog the rivers, your trip may be cancelled for safety reasons.
Dryer months are good for those seeking a calmer initiation to whitewater rafting, but I got stuck on taller rocks a couple of times when the water level fell too low, and rocking on the raft to loosen it from the outcrops wasn't too much fun. To determine which is the best time for you, check with your trip organiser or the rafting companies to understand the local conditions better.
A jungle trek ain't no walk in the park
The package we took included a two-hour trek in a nearby jungle. I am relatively used to the Asian jungle after a couple of treks taken both in Singapore and Malaysia, and was a wee bit amused by the Caucasians who were continuously on wonder mode as they marvelled at the luscious greenery around us. With all our bodies bathed in gleaming sweat, I was able to observe firsthand the surprise they had when confronting the formidable tropics. One wondered out loud, "why are there so many trees growing so close to each other?"
The undergrowth was amazing as our local guide slashed through the tangling vines and branches to create a tolerably passable path for clumsy us. And when we reached the riverbank, why did the chicken, or rather, us, cross the river? To get to the other side of course! Especially when the other side has a beckoning waterfall to cool our hot bodies.
Online resources
So, if you find yourself in this part of the world, have a taste of nature, our style, through adventure trips like these! The guys who took care of me in Malaysia came from Khersonese Expeditions, Tel: 03-7984 9040.
For rafting resources in other destinations like Sabah and Indonesia, check out the web! I cannot really give recommendations because I am not clear about the level of expertise amongst these guys. But the people from Khersonese, well, they were way cool!!
---