Just another day in paradise
---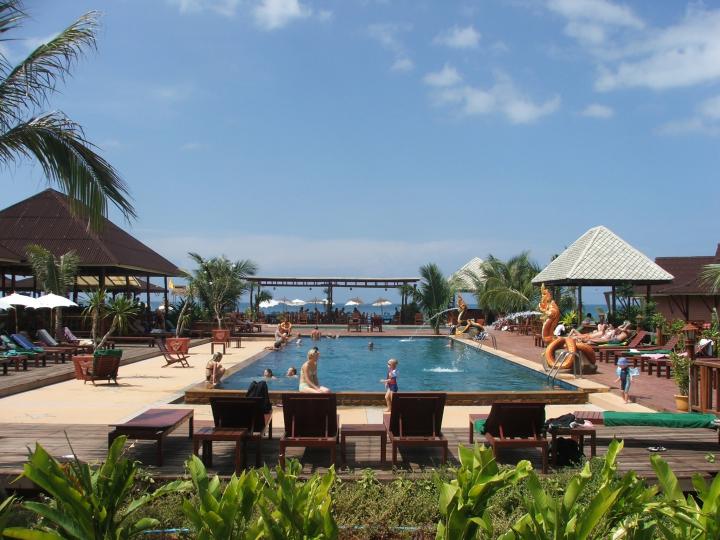 Image ©
2010 Gomase Theenanon
This timethe Andaman Sea is aquamarine blue that makes the sky looks pale, cool breezewas gently blowing; the Phi Phi archipelago as backgrounder far away. I wonderif life could get any better. Four days earlier, I had a wonderful time going back to the beautifulisland on The Thailand's southern west coast to recalling fond memories andexperiences.
Who knewthat a small island which size is about 6 km wide and about 30 km long wasvoted by globetrotters and overseas travel magazines as one of the Asia's most popular destinations in 2010. And it wasranked as World's Top 10 Best Tropical Beaches in 2009 by the Sunday Times andthe Times.
 Over two decades 'Koh Lanta' was knownas a paradise for intrepid backpackers and pioneer divers who later becameexpats and ran businesses here with their Thai wives. They said when they firstcame, Koh Lanta has many natural attraction; white sandy beaches, underwaterlife, stunning scenery and most of all local people so friendly. Dated back fora hundred year the first settler was recorded as Sea Gypsies who later hadgiven name-'Thai Mai' (means New Thai). In past they were traveled in the seaand living in house boats, they have occupied the area settling along the coastin stilt-build houses erected in the sea near the old town and they welcometourist.
Recently Koh Lanta just celebrated 109thyears of the old town but at the other side of a new area, signs in English canbe seen everywhere along the street even at road side venders which tells aboutthe wind of change that is happening on this island. Finding accommodation isnot a problem, there are more bungalows, guest houses, resorts and daily roomfor rent along the island's main road.
Nakara Long Beach Resort is located on Haad Phra Ae wherelocals called long beach that reminded me of Florida's long beach onthe Pacific's west coast of USA.The resort consists of 140 bungalows all decorated for cozy and peaceful atmospherewith private balcony surrounded by rush gardens. I am sure that you can fallasleep to the sound of rolling waves and insect singing at night time. Theresort offer visitors full services including 3 swimming pools, internet lobby,free WIFI area and 2 restaurants.
From bungalow you can walk onthe beach or lie down wherever you feel best at ease. Even though the resort isbig but the beach was very clean far away from the crowd, great for kid playingaround and great for all day relaxation.
During a stay I often sitting atbeachfront terrace which made me feel totally relaxed for watching fishermanboats returning their home. I met a Thai couple from Bangkok on their holiday trip. "Bangkok is a bustlingcity with many wonderful things but at here a good feeling comes over me andlife feels fresh again", said the man. I'm sure that the island would give themexperience of being traveler. They could then relate their traveler's tales toothers just like I'm doing.
Getting toKoh Lanta is easy, from Bangkoktake night bus at the new southern bus terminal, leave daily at 20.00 hrs. Take12 hrs. to Krabi then at Krabi bus station you can come with minivan at cost250 baht. Then they will drop you off at the front of the resort. By plan from BKK-Krabiplease check flight schedules. At the airport also take taxi service. Or needmore information call Nakara Long Beach the staff will give you information youneed at +66(75)684198 or mail to: nakaralongbeach@gmail.com or book your room through website at www.lantalongbeach.com
---