The Last Shangri-La . . .
---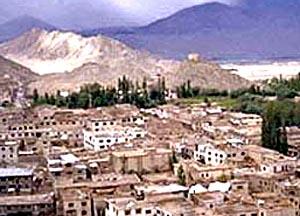 Image ©
2001 Doreen Cheong
Travelers and geographic experts have referred to it as the "desert in the sky" where greedy mountains deprive the land of rain and global warming has depleted the glacier run-offs increasingly with each passing year. Others call it the "Little Tibet", for it is a safe haven for the most concentrated community of Tibetans outside that country and also home to the Dalai Lama. "Moonscape" is another moniker, as is the "The Last Shangri La" which refers to heart of the land and people that are awash in a spiritual peace and beauty handed down from generation to generation, with very little Western intervention and interference from the modern world. Even today, there are few travelers to this region due to the volatile Pakistan - India situation in the area. The entire area of North India, which went from the forests and greenery of Kashmir, across the Himalayas over glaciers, to the high altitude desert of Ladakh remains an undiscovered mystery to many travelers.
As well as the dramatic change in landscape, there was also a change in culture - from Islam and mosques in Kashmir to Buddhism and monasteries in Ladakh. The remote Kashmiri region, Ladakh, in the northern most tip of India is situated on a high altitude valley of the Indus River, protected by the stark brooding majestic shelter of the Himalayan Mountain range to the south and the Karakorams to the North.
Journeying to Leh, Ladakh's capital was every bit as exhilarating as the destination itself. By air, daily flights from Delhi leave very early to capture a small window of opportunity for landing before the wind velocity, steam rolling off the mountain range kicks into high gear. The topography of the region is so varied that the views from an airplane window reminded me of special effects movie that combined landscapes from several different locales into one fast-moving travelogue. In the Leh valley we circled down a few rounds before landing. It was kind of strange landscape. Along the rivers it is very vigorous and fertile, but everywhere else... like a moon landscape. It was like being in Arabia when we landed. Not a cloud in sight. The mountains cape hues, kissed by the sun morphed into rugged peaks that tore away at the azure blue skies, which in turn gave way to verdant lush green valleys, followed by desert sands as dry as the Sahara. Ancient monasteries are seen clinging to sheer rock walls. As our plane burrowed into a narrow passage between two mountain hillsides just before touchdown, our dramatic arrival brought visions of an Indiana Jones adventure to light.
Leh, with a population of 10,000 at a height of 3,500 meters is the main entry point to this region. Historically, it was a major stop on the arduous caravan trade route of the old Silk Road that extended from China to India. Today, Leh is the commercial hub for the Ladakh region with its bazaar-like atmosphere and labyrinth of shops. Here you can shop for pashmina (wool from the underbelly of goats) shawls, turquoise jewelry, hand-woven carpets from Dharamsala, winter caps made from antelope fur, souvenirs like thankgas (painted mandalas on silk), frescoes and the Tibetan bells used by monks for tantric rituals, meditation and prayer sessions.
German bakeries and Continental, Indian and Chinese cuisines accent the downtown district. They are usually located on rooftops, making excellent vantage points for catching the sights and mingling with locals and tourists from Europe, Israel, Australia and the States. Try the High Life, on Fort Road, a natural food restaurant that in addition to offering local fare also features an Italian menu and Tibetan specialties. One of the more popular dishes is Momos, steamed or fried dumplings served in a red or green sauce.
As much as Leh is imbued in Old World charm, it is obvious that the influences of the West are working their way into the psyche of the merchants and farm workers who have migrated to the cities for urban employment. The contrasts between these two worlds struck me oddly at first, as it was difficult to assimilate in my own mind how a culture so rich in tradition was adapting so easily to our Western commercial, high-tech, information-laden lifestyles. As an observer, I was amused at the juxtaposition of visual cues that highlighted some of these opposing elements. Cows that rested along Main Bazaar Road could be photographed next to signage for Internet Cafes. I viewed monks-in-training wearing baseball caps or earrings; some even sported tattoos. Yamaha motorcycles parked in front of monasteries, TV satellite antennas adjacent to religious stupas (mini prayer monuments that contain the ashes of the deceased) and prayer flags on thoroughfare bridges dotted the landscape, challenging my perception of a land in transition.
It's like a little piece of cultural time-lapse photography. What took western culture more than four centuries to do to the Native Americans has raced forward at a faster clip in Ladakh; some say it began as early as 1974 when tourism first opened up to the outside world.
Visiting Ladakh is so multi-faceted, however, it hard to encapsulate its persona in any kind of neat package, without understanding its primary roots and heritage in Buddhism. So inherently attached to the philosophy for thousands of years, one would almost believe that it is an indigenous part of their DNA. For the novice to fully understand these teachings would take years of study and practice. However, for the visitor to gain insight, the doctrines of compassion, wisdom and patience are really not all that complicated. Its simplicity touches all walks of life, appealing to the rich and the poor, the learned and the naïve. Since it is not a religion per se, but more a way of life, you will see its application in every thing the Ladakhi people do and say.
The infectious smiles and spontaneous salutation of "jullay" (the universal greeting) has as many different spellings as it does definitions. They are a people who are by nature honest, loving, humble, hardworking and compassionate; but who can also be whimsical, inventive and creative.
Known for being painfully realistic (according to Western standard) in accepting their trials and tribulations, they consistently view their lot in life with a contagious sense of humor, which is not found in too many other Third World countries. No where is this more pronounced than on the highway system found on the Srinagar-Leh Road (432 km of a one-lane thoroughfare), where vehicles approaching one another have to maneuver within inches to navigate a successful pass. Hairpin turns and switchbacks lacking guardrails ascend cliffs of hundreds of kilometers. Visitors need to have either total confidence in their drivers, or wear blindfolds. Offsetting this dramatic transit experience, my anxiety was allayed at every juncture where highway signs underscored the need for safe driving with jocular messages that read: "Drink, don't drive", "Gentle with my curves" and "If you fall asleep, your family will weep".
A trip to "Little Tibet" would not be complete without a tour of the monasteries, followed by a trek to one of the more famous mountain passes. On a purely physical level, the aerobic exercise that comes from climbing the 100 or more steps of several monasteries (gompas) is effective preparatory training for ascending the 45- to 60-degree angle inclines of the Himalayas. The spiritual calmness one can obtain from the gracious interaction with the monks is somehow uniquely reinforced by the sounds of silence one finds when immersed in the natural surroundings of a mountain climb. Both are uniquely interconnected somehow and I found myself walking away from each experience with a humbling respect as to how the spiritual and physical elements enriched the Ladakhi lifestyle, irrespective of Western influences.
Gompa means a 'solitary retreat'. According to Lama Thupstan Palden, a revered monk of the Spituk Monastery, "the reason monasteries were affixed to mountain sides with high elevations was to provide a spiritual sanctuary for the society of holy men that inhabited them. In order for them to reach high levels of enlightenment, they needed to be able to meditate in an environment that was free from the distractions of the every day world".
The monks that I met at each monastery were old souls that shared their insights and wisdom freely, and I learned the basics involved in meditation from Lama Palden, during my visit to the Stakna Monastery. As a reputable scholar, having written over 30 books and treatises, his most widely read is the English version of The Guide to Buddhist Monasteries & Royal Castles of Ladakh. While I was in a constant state of awe in his presence, I never felt that I was imposing upon his time or his patience when I would barrage him with questions. When asked if he had traveled beyond the borders of Ladakh, he laughed and joyfully described his visit to LA and Disneyland. And because he was such an accepting soul to what life has to offer, it amused me, but did not surprise me when he delighted in detailing his ride on "Space Mountain".
The tour operator I chose for my visit to Ladakh was a non-profit, tax-exempt organization that contributes to the sustainable development of eco-tourism throughout Third World countries. As a result, visitors can participate in low impact environmental projects that include tapping natural springs to surface ground water for local villages, planting sapling trees at one of the more needy monasteries and making donations to the local schools to help improve the educational standards.
Travel of this type is rewarding in the sense, if only for a brief moment, you can become involved with the land and people beyond the superficial trappings of mere observation.
One of my more elevating experiences occurred during a 3-day trek of the Stok-Kangri Mountain Pass when I was most fortunate to meet a 75-year old mountain dowager, Sonam Lamo, en route home from a visit with her relatives at the base of the mountain. Like the tortoise and the hare, we would continually pass her as we climbed higher and higher over the course of two days and nearly 16 miles. But as soon as we took a rest or set up base camp, there was the tortoise slowly but surely moving into sight. That evening we learned that her long sojourn to see her relatives used to be accommodated by a horse. Unfortunately last winter, the elusive snow leopard of the Himalayas attacked and killed her only means of transport.
As part of the tour operator's efforts to assist the villages in remote locales, when we reached Rumbak (a mountainous community of only 15 families), one of the tour groups' donations included seeking out a needy member of the village that could benefit from a solar panel and a night lantern. When we contacted the Goba, or the head man of the village and asked him to select a worthy candidate, the lady Sonam Lamo was his first choice.
And that's how life goes in this far-off land of contrasts, which has only been open to tourism for the last 30 years, but still remain largely unknown to many. The laws of nature and the spirit of human kindness are fittingly tied to the souls cape of this land that is blessed by the good lives that are lived out here. For visitors to travel this far and not take advantage of interacting with its people and their sacred real estate is to experience a small fraction of what Ladakh has to offer.
* * * * *
---