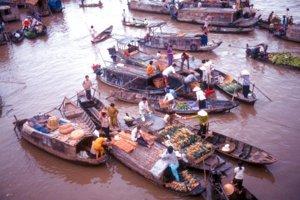 Image ©
2000 Lou Dematteis
The Mekong. You could spend a lifetime exploring it.
One of the world's great rivers, the source lies on the Tibetan Plateau at more than 16,000 feet. The Tibetans call it Dza-Chu, the Water of the Rocks.
It then runs 3,032 miles through China, where it's known as the Lan-Tsan Kiang or Turbulent River, and Southeast Asia to the South China Sea.
The Vietnamese call the Mekong the Song Cuu Long, meaning River of the Nine Dragons, since it divides into nine smaller waterways at the Mekong Delta. However, if you decide to go and count the dragons you will probably only find seven since one has silted up and one is so small it is barely noticeable.
The Mekong Delta is one of the most densely populated areas in the country. The delta starts about 30 miles south of Saigon and covers 23,000 square miles of southernmost Vietnam. Flat, green, lush, it includes some of the country's most fertile land and its farmers produce rice, sugar cane, oranges, jackfruit and seafood.
Where the largest tributaries and canals meet are towns like Can Tho and Long Xuyen. These towns have become rich agricultural, transportation and commercial centers.
Photographer Lou Dematteis recently traveled to the Mekong and brought us a look at life on the River of the Nine Dragons.
---