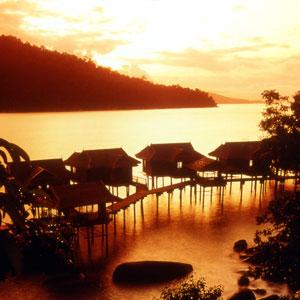 Image ©
2005 YTL Hotels & Properties Sdn. Bhd.
Being Malaysian, it is very easy for me to take my country for granted. I mean, come on... I see it everyday of my life. I opened up my windows and there it is, the Twin Towers in the distance. It's free view for me - a view that many people from abroad had to pay and travel far to see.
Malaysia has its fair share of beauty and nature. It's a melting pot of culture, tradition, languages, and food. In the bigger cities like Kuala Lumpur, visitors will get all the modernity that they require. Food choices are aplenty while the large shopping complexes will satisfy even the most hardcore shoppers.
Away from the hustle and bustle of city life, eco freaks will simply love the wondrous nature that Malaysia has to offer. The country is abounded with reserve forests and national parks. Encircling the peninsular are many beautiful sun-kissed islands with crystal clear waters and rich marine life. Although having taken my country for granted and preferring Hawaii to Langkawi Island, I was in for a pleasant surprise after having discovered a beautiful island known as Pangkor Laut.
Like a gem lazing idyllic in the pristine ocean, Pangkor Laut is a privately-owned island that is the country's pride. An internationally-acclaimed resort, Pangkor Laut is located just three miles off the west coast waters of the Straits of Malacca. Made up of the Royal Bay, Emerald Bay and Coral Bay, each bay is distinctive in its own ways. Spanning over 300 acres of land, majority of the island is still covered in lush rainforest that is as old as two million years of age and only a small part of it is used for development.
Pangkor Laut is the perfect spot for many occasions, be it a special once-in-a-lifetime event or a business meet. It could be a place for weddings, honeymoon or just a romantic getaway for the couple. Business meeting packages are also available for corporations who wished to combined business with pleasure.
An extremely romantic location, a visitor stepping foot onto Pangkor Laut will soon realize that they have reached paradise-on-earth. Be prepared to be pampered from head to toe by the many facilities offered on the island. Beautiful scenery, delicious cuisine, relaxing spas, exotic accommodations... these are some of the treats awaiting each visitor. As proof that Pangkor Laut is indeed a world-standard resort, U.K. Conde Nast Traveller magazine (October 1999 issue) voted it the Top 2 Island Resort in the World!
Before leaving home, you will of course be required to make prior reservations to avoid disappointment. For accommodations, you have a choice of either luxury spa villas, sea villas, beach villas, hill villas, or garden villas. Room rates vary with each accommodation type. Apart from these 148 Malaysian-styled luxury villas, there are also eight gorgeous Estates that are situated in a secluded cove. As the resort aims to keep a green theme, all of the accommodations are expertly designed and furnished to blend in with the surrounding environment.
Basically in choosing an accommodation, you may want to consider the number of travelers. For couples on a romantic getaway, they can choose the villas, which are designed to accommodate two. All villas come with five-star hotel facilities, but here are the distinct differences.
Firstly, the Sea Villas, which is the island's signature accommodation, are elegant homes on stilts. Each villa is linked by the wooden walkway and is a large and airy place. Its uniqueness is the oversized tub that opens out to the sea! Imagine how romantic it would be to bathe under the moonlit sky with the waves gently breaking on the shoreline.
The Spa Villas is quite like the Sea Villas except that it is built to offer direct access to the Spa Village. It also has an oversized bath with a ceiling-mounted shower and a large balcony for private sun bathing. The view from there is a breathtaking one of the Pangkor Straits.
You also have the option of choosing a Beach Villa that is built a short distance from the sandy beach. Each offering you stunning view of the sea, these bungalows comes with a large bathtub that is located in a private outdoor courtyard.
If you can't decide between a seafront view and a green view, then choose the Hill Villas. This accommodation choice will offer you the best of both worlds. As the name suggest, the Hill Villas are built on the hillside enveloped by the lush rainforest, thus offering you a grand view of the ocean as well as the beautiful tropical gardens. Each Hill Villa is a double-storey unit where the ground floor units comes with a large bathtub that is built in the private open courtyard whilst the upper floors will have bathrooms opening out to the rainforest.
For those who simply love to be close to nature, choose the Garden Villas. It is located amidst the thick tropical gardens of the Resort and comes in double-storey units. Just like the Hill Villas, the Garden Villas also have two large baths. The one on the upper floor opens out to a view of the surrounding rainforest whilst the one on the ground floor is in a private courtyard. If you are traveling with your children or other family members, you may even ask for the adjoining villas known as the Family Plan Villas in which two ground floor units are linked for convenient access.
Other than the villas, Pangkor Laut also offers you a choice of Estates accommodation. These Estates are built along a secluded bay and are tucked away from the main Resort. Those who crave privacy or total solitude should consider the Estate. Each of the residences is built with references to historical architecture, of days gone by, and is enclose within a beautifully landscaped garden. A unique accommodation, the Estates are built resembling Malay architecture - so this is a great place for visitors who love cultural fusion during their trip. Of course, the highlight of this accommodation is the swimming pools. The pools are strategically built so that any swimmer will be able to take advantage of the best views in the area. Tranquility, privacy and luxurious comfort are the main theme of the Estate accommodation. Together with princely décor and subtle tones of polished tropical hardwood floorings, the aftereffect is one of warmth and coziness.
If that is not luxurious enough, a visitor will be glad to know that an Estate Manager will always be present to attend to your every whims and desire. Daily, there will be two attendants and a Chef to prepare your meals and handle any housekeeping jobs. Generally, a visitor will be pampered to the max and be allowed to enjoy his or her stay there with as much privacy as possible.
Not only is Pangkor Laut famous for its beautiful beaches and luxurious service, the food also promises a delightful experience. The location of each restaurant is well thought out and the choices of cuisine are wide. From Malay to Chinese fare, romantic to corporate spots, Pangkor Laut dishes out almost anything that one's heart desires.
Right now there are ten dining places altogether, namely The Samudra, Palm Grove Café, Uncle Lim's, Royal Bay Beach Club, Sri Lagenda Lounge, Oasis Bar, Chapman's Bar, Dinner on the Rocks, Sunset Dinner at Sea, and Fisherman's Cove. Each of these dining spots has its unique cuisine, ambience and purpose.
You can always start your day out at Palm Grove Café where there is an extensive buffet to tickle the taste bud. The café is opened daily. If you are still craving for food after that heavy buffet and a swim in the sea, you can always head over to Chapman's Bar - a bar named after the famous British Colonel, Freddy Spencer Chapman. The bar serves light lunches such as salad, sandwiches, seafood dishes and even satay (BBQ meat on skewers). You can also get lunch at the Royal Bay Beach Club, which is located near to the lap pool. There, a live band will accompany your after dinner drink. If you are just looking for drinks throughout the day, the Oasis Bar would be the best place for it. You can find it next to the Royal Bay Beach Club.
There are more choices of dining spots for dinner where the variety is larger and the scenery more beautiful. As the sun sets, you can always opt for the ultra-romantic "Sunset Dinner at Sea" where you will be taken on a leisurely cruise around the island. To add to the mood, the boat in which you will be traveling in is a tongkang-style* teak wood boat. The boat will then be anchored at Emerald Bay so that you will get the opportunity to witness a most spectacular sunset. After that, you will enjoy a four-course meal along a quiet cove.
* A kind of boat or junk used in the seas of the Malay Archipelago
If you want to be grounded and yet enjoy the beautiful sunset, you can choose to dine at "Dinner on the Rocks" - another great spot for watching the sun set over Emerald Bay. There will also be a romantic four-course dinner at a wonderful location that is surrounded by tropical rainforest accompanied by the sounds of waves lapping nearby.
Another great place for "dinner with a view" is at The Samudra. This beautiful restaurant is built on stilts overlooking the sea therefore "dinner with a view" is guaranteed. Cuisine offered here are authentic Malay dishes and international fare. To give it an even more "Malay-feel", there will be live Gamelan* music accompanying you as you eat.
* A gamelan is a traditional Indonesian instrumental ensemble comprising mainly percussion: gongs, metallophones, xylophones, drums, cymbals, flutes
Uncle Lim's is also a great place for dinner. Named after the chef, this restaurant is where you will be able to find great Eastern cooking with a home cook feel. Each dish is made to suit the taste of the diner. Nyonya and Hockchew cuisine are their specialties.
Nearby to Uncle Lim's is the Sri Lagenda Lounge. This is where you should head to if you are not ready for dinner. The lounge offers pre-dinner drinks and a strategic spot to view the sun setting in the distance.
Apart from the pampered accommodation and delicious cuisines, Pangkor Laut can also indulge you in many other ways. Apart from swimming, working out at the gym, going jungle trekking, or playing a few rounds of tennis/squash, you can always opt for the less strenuous indoor activity - a spa treatment!
A luxurious Spa Village is the place to head to if you are looking for the ultimate in pampering services. A building with lots of natural resources, it is the place to obtain complete rejuvenation. Designed to soothe and refresh the senses, the Spa Village is made up of several low buildings with indoor and outdoor spaces, an herb garden, lotus ponds and reflexology path.
"The complex comprises eight treatment pavilions, a deluxe Belian Treatment Pavilion, "Healing Huts," which include Chinese herbal, Ayurvedic and Malay Huts, a "Wrap House", where the menu changes daily with Ayurvedic Herbal, Seaweed and Chinese Herbal Wraps, 2 Bath Houses, 3 Thai Pavilions, 3 Nap Gazebos, a Herbal Garden, a 50 meter lap pool, Fisherman's Cove Restaurant, Jamu Bar, Library and Spa Boutique. 22 brand new Spa Villas situated over the sea offer direct access to the Spa Village."
- Excerpt from the official website
There are various spa packages at different pricing to suit the individual. The Ultimate Spa Experience package comes in either half day or full day package. There is also a Custom Package or Traditional Package. Then there are Body Treatments and Massage Therapy. You can have it the Malay, Thai, Balinese, Swedish, Shiatsu (Japanese pressure point technique) or Aroma Massage style. For more pampering, you can also go for a facial, manicure and pedicure. Hair care is also part of their services. In fact, the Spa Village provides so many different kinds of luxurious services that it is really up to you to check it out. There are Tai Chi Quan, yoga, healing programs, Ayurvedic oil therapy, and so much more. There are also private consultations offered by the Chinese and Ayurvedic specialist.
All in all, a visit to Pangkor Laut has only one main purpose - to be in tune with God and nature, and to experience the most relaxing moments ever. A good quote to sum up the place is taken from Luciano Pavarotti, the famous tenor who once stayed at Pangkor Laut. He proclaimed--
"This place is enchanting. It is paradise. This morning when I woke up, I went out and I was moved, almost crying to see what beautiful things God has done."
---