A motorbike day trip around Hanoi
---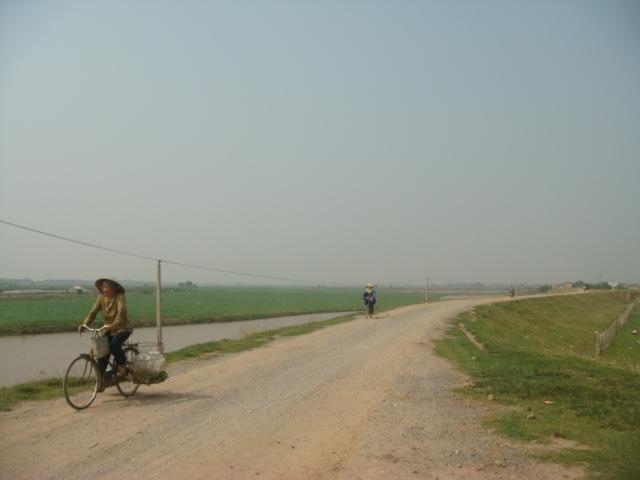 Image ©
2012 hiep nguyen dinh
After crossing the Red River by Chuong Duong bridge, follow along the dike towards Bac Ninh province. By choosing this road, you just avoid dense urban traffic of Hanoi, and enjoy the fresh air from the Red River. After Duong Bridge, you turn right to continue and follow the recommended path along the river road, and now you are really in the countryside of northern delta of Vietnam though you just get out only 7 kilometers from the city center. Green rice fields, old houses, herds of cattle grazing on dike, the fragrant lotus ponds, vegetable gardens, fruit trees along the dike create beautiful scenery.
Dong Ho village located at 35 km from Hanoi will be your first stop, you have the opportunity to participate in a painting class organized and teaching by Mr.Tam, the most famous painter of the village. The picture you paint will be as a gift for you after the class. You can also have lunch at his house with different Vietnamese traditional dishes;the family's rustic foods but very tasty. If you really want to learn more about how to make traditional paintings, you can also sleep here, in the cool house with palm leaf roof.
After lunch, you continue to ride 7 km more to arrive at But Thap Pagoda, one of the oldest Buddhist pagodas in the northern delta of Vietnam. You will admire and explore the unique building architecture of the pagoda, see many old wooden statues made since hundred of year. If you visit the pagoda at the 15th lunar month, you will meet hundreds of Vietnamese people to attend the pagoda for pray and you will be invited to taste the real Buddhist food by the bonze.
---