The Price Of Love. The Taj Mahal - The Ultimate Valentine's Present.
---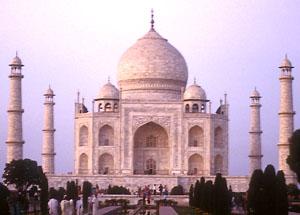 It gleams in the moonlight, a ghostly ice-structure mirrored in the rippling water. At dawn, it's aglow with shades of violet, rose pink, and muted gold. In the early morning, shrouded in mist, it seems to float ethereally into the sky. And if you put your ear close to its skin smooth surface, you can hear it sing - sometimes a mournful dirge and sometimes a song of great joy. It is a painting, a sculpture, a poem and an ode to love: but more than anything it's arguably the greatest gift one person ever gave to his beloved.
Be My Valentine: chocolates, lingerie, jewellery or a three day weekend pale into insignificance against the incomparable Taj Mahal, built by Shah Jahan for his wife Mumtaz.
Straddling the banks of the river Jumna at Agra, northern India, the magnificent Taj is one of the world's legendary places. Born of inspiration, it has inspired visitors with its sense of beauty and harmony for more than 300 years. If emotion can be embodied in architecture, then the love of Shah Jahan for Mumtaz is immortalised in the gracious lines, the elegant sweeps and the harmonious balance of a structure that from every angle with take your breath away.
Shah Jahan, like his Moghul ancestors, was a man of action and a cultured patron of the arts, particularly architecture. An able military commander, he earned the respect of his father, the emperor Jahangir, by leading imperial troops against rebellious tribesmen.
Shah Jaham first met his wife - the 19 year old Arjumand Banu - while she was selling trinkets in a bazaar. But she was no impoverished vendor: a true noblewoman with Persian blood in her veins she was participating in a Muslim New Year's celebration when courtly ladies had the opportunity to sell things to noblemen at exorbitant prices and participate in innocent flirtation.
Their wedding day on 30 Paril 1612 was favoured by astrologers. Agra buzzed: there were fireworks and colourful processions. Her married name became Mumtaz Mahal which meant Chosen One of the Palace. The couple were deeply in love and devoted to each other. Mumtaz was a charming, intelligent woman who offered her emperor discreet counsel, of a nature unlike her scheming aunt Nur Jahan, wife of the emperor Jahangir. When the emperor went off on campaigns, Mumtaz joined him.
In Deccan, 1200 kms south of Agra, in June 1631, Mumtaz died during the birth of their 14th child. Shah Jahan was inconsolable. He cancelled all public engagements, refused to listen to music, eat rich food or wear regal clothes. His hair turned grey and he cried frequently. He let others take over his military burdens, preferring instead to stay in his capital.
He was in mourning for two years, his only solace being to fulfill his beloved wife's dying request - that he build her a mausoleum unrivalled for its beauty anywhere else in the world. With singular conviction he diverted his grief into something truly creative, as he set about building the greatest monument to love in all the land.
He supervised design proposals and judged the submitted wooden models. Nobody knows for sure if there was one architect responsible for the finished design, but legend has it that the Taj's chief architect was beheaded by the emperor to ensure that another monument of equal splendour was not built.
The Taj took 22 years to complete, employing over 20,000 labourers and craftsmen. No expense was spared. Marble was transported by elephant from Jodphur, 200 kms away. Precious stones were sourced from far and wide - lapis lazui from Ceylon, malachite from Russia, carnelian from Baghdad, turquoise from Tibet. Gold and silver were used as commonly as ordinary metal and marble used like stone.
Calligraphers, masons, carpenters, inlay specialists and a host of craftsmen combined their skills and the Taj and its surrounding buildings were finally complete in 1653.
Rudyard Kipling said of the Taj that it seemed "the embodiment of all things pure, all things holy, and all things unhappy. That was the mystery of the building." The Moghuls, it is said, built like giants and finished their work like jewellers. The pietra dura - the inlay work - was created by Moghul craftsmen who cut the desired shape out of the marble and inserted precious and semi precious stones, chosen for their colour and texture - a practice that needed great skill as a single inlaid flower can contain 60 pieces of gemstone.
Inlay is a significant feature of the Taj - the apparent smooth marble surface is decorated with inlaid floral and arabesque motifs, intertwined as two lovers should be: above the doorways calligraphy verses from the Koran flow. The great dome rises 70 metres into the sky, like a giant flower bud reaching for the heavens. Beauty, order and balance are created by the reflective pools, cuppolas, domes and minarets, arches and columns, lattice and filigree.
The Shah's reign ended in 1658, when his cunning son Aurangzeb took over the throne and imprisoned his father in the Agra Fort, from where he was forced to gaze for the rest of his days across the River Jumna from the high walls at the voluptuous curves of his wife's memorial.
When Shah Jahan died, he was finally reunited with his beloved Mumtaz in the mausoleum's crypt, where they lie side by side under a great marble dome for eternity.
* * * * *
---