The(com)Promised Land Dispatch 1: Tel Aviv
---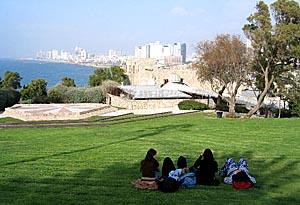 Image ©
2004 Jeff Greenwald
23 February 2004 / Heathrow
To A Scary Place
A deep and scary place, Israel. It seems almost unsurprising that, on the Piccadilly line on the way to London Heathrow, I spied the headline on the first page of the Financial News: Suicide Bomber Kills 8 in Jerusalem. The detonation, which wrecked a rush hour bus and wounded 60 others, came on the eve of the World Court hearings on the legality of the barrier wall, meant to fence out potential terrorists while, paradoxically, fencing some Israeli settlers in Palestinian territory. The sight of the headline put a blade of fear into me; I had hoped, foolishly, impossibly, that the tenure of my visit would be blessed with a lack of violence, a temporary respite in the past half century of unmitigated violence.
I've spent the past hour in the airport pub, dodging cigar smoke and reading Lawrence Hoffman's "Israel: A Companion for the Modern Jewish Pilgrim." I especially like the notion that this, this pilgrimage I am making, represents an aliya: a Hebrew word that means "to go up." During the past 12 decades there have been numerous aliyas. The first two - in the late 19th and early 20th centuries - were a response to original calls for a Jewish state. They brought some 60,000 Jews to the Holy Land, and had a profound political impact on the region. Aside from worrying and embittering the resident Arabs, they probably helped inspire the Balfour Declaration: a 1917 edict that declared Britain's support of a Jewish homeland.
Hoffman's guide is filled with information well worth remembering in my dispatches. It was through Hoffman's book that I learned the word kavvanah, "the rabbinic term for focusing attention on the spiritual challenge of the moment and not letting your mind wander." It's interesting how close this expression is to the phrase I carried with me during my pilgrimage around Mount Kailash in Tibet: Kham sher, lam khyer: "Whatever arises, bring it to the path."
* * *
Tel Aviv - a city whose name stands for the blending of the old with the new - is a very strange place, not exactly the Israel of my dreams, but I probably won't find that particular place anywhere in this country.
The highlight of my first day in the country was a visit to The Museum of the Jewish Diaspora, a remarkable place dedicated not to the oppression and destruction of the Jews as much as to the history and genius of the Jewish people. Sadly, the museum is on the verge of going bankrupt; local Jews don't often come, military get in for free, and tourism in this country is shriveling like a slug in the Dead Sea. Our guide was a non-stop geyser of facts, figures, and opinions who left us utterly exhausted. But of all the things we saw - from the scale models of historic synagogues to the diorama portraying the burning of the Great Synagogue in Alexandria - nothing moved our small group as much as the image illustrating how, two millennia ago, huge signal fires were lit on far-flung hillsides from Jerusalem all the way to Babylonia, to let people in the Far East know when the new Jewish month had begun.
"Oh, my God," exclaimed one of our troupe, "that's exactly what they did in The Return of the King!
* * *
Moshe Gilad, a tall, droll freelance writer and editor who was responsible for the Hebrew edition of Shopping for Buddhas, took me out to dinner last night at Manta Ray - an upscale seafood restaurant on the shore of the Mediterranean. We were joined by his lovely wife Iky (a professional puppeteer), and a very animated journalist and soap opera writer named Nili. Around 10 p.m., as we left the restaurant's parking lot, we exited over one of those spiked "Do Not Enter" barriers meant to puncture tires. I told Moshe that these barriers were outlawed in some parts of America. He laughed heartily.
"No one has ever succeeded," he quipped, "in outlawing a barrier in Israel."
It is just such a barrier, of course, that is galvanizing Israel now, as the West Bank and portions of Palestinian territory are walled off from the rest of the state. The issue, as a letter writer in this morning's edition of Ha'aretz put it, isn't that Israel lacks the right to protect itself; it's that the wall encroaches on Palestinian turf. This week the matter is being debated in Holland, and last Sunday's bomb was probably a punctuation in that process. I say "probably" because no one really knows exactly why anything happens here. No one even knows for sure why what Israelis call the "Second Intifada," or uprising, which began about three years ago, has erupted. "They had a choice," Moshe reflected somberly. "Either make peace, or this. And this is what they chose."
(The situation has gotten even worse during the past 36 hours, after Israeli forces closed and confiscated huge Palestinian bank accounts they claimed were aiding acts of terror. There was rioting yesterday and this afternoon in Ramallah; I don't know if it's true, but reports say three Palestinians were killed today. Security has been especially tight, so it may be true.)
My second afternoon in Tel Aviv, Mosit (Moshe's nickname) picked me up at two, and we strolled around Neve Tsedek - once a low-rent area and now the trendy, upscale digs of Tel Aviv - stopping for hummus and falafel at a corner café managed by two young, orthodox women in headscarves, before hopping into his car and driving the short distance south to Jaffa. Jaffa is more or less the Arab quarter, meaning that Arab-Israeli citizens live there, but as the land is relatively underdeveloped and inexpensive it's experiencing a boom of Jewish buyers, and the unwelcome process of gentrification (as far as the local Israeli Arabs is concerned) is already under way.
The picturesque parts of Jaffa are the Port and "old Jaffa," a slickly reconstructed tourist haven with art galleries and pricey restaurants overlooking the sea. More funky, and a hundred times more fun, was the daily flea market, where all manner of detritus sat arranged on folding tables: stuffed alligators, hunukkiahs, 1950s lighting fixtures, tarnished Seder plates, used accordions and hookahs, dishes and obsolete film projectors. Fun to photograph, but not much stuff you'd want in your house - although I was tempted to bargain for an illuminated world globe, lettered in Hebrew. If you find yourself in the vicinity, be sure to stop in at Puaa: a great little open-air café with Persian carpets and the loveliest mint tea I've ever tasted.
Jaffa's hindquarter is a district called Ajami. It's a squalid paradise, something like Oakland in the 1980s, but built up on sandy hills by the sea. Drug deals and the occasional killing keep out most sensible families, but a few hard-core artists and writers have settled here. Mosit drove into a litter-strewn car park alongside a renovated three-story Arab-style house, and fixed "The Club" to his steering wheel. This was the home of his friend Tsur Shezaf, an Israeli journalist, activist, and artist who may be one of Israel's most outspoken left-wing luminaries.
Tsur, 45, greeted us in blue-and-white quilted pants and a Leonardo (Da Vinci) T-shirt, his round glasses framing eyes full of wry (and probably perpetual) cynicism. The table in his kitchen held a small aquarium with two goldfish, a bowl of artichokes, and a dozen flasks full of home-cured olives. He poured us wine while he brewed up espresso, which fumed with such a roar that I wondered aloud if it might explode. "Of course," Tsur shrugged. "This is Israel." It was a refrain I'd heard several times already from Mosit, and would hear many, many times from Tsur. At one point, talking about the problems in his neighborhood, Tsur commented on the bittersweet quality of life in a Jewish/Arab barrio: mainly the drug problems, the hopelessness, and the way the Arab communities have been left, through a combination of exasperation and racism, to more or less fend for themselves.
"So it's the Jews who are creating the problem?" I asked.
"Of course the Jews are creating the problem," Tsur replied dryly. "It's a Jewish state."
Our host's credentials were impressive, to say the least. His footage of the Iraq/American conflict has appeared on CBS; he's shot films for National Geographic, published half a dozen books, and currently has an exhibition of his photography entitled "Where the Earth Shakes." He restored the house, and he's an excellent cook, as well. It was easy enough to believe from the olives, although I turned down an invitation to sample his famous roast beef - offered to me cold, and straight from the pot, in archetypical Jewish mother fashion.
Tsur and his wife (a biology teacher) are brave souls. There's garbage stacked outside his door, drug deals going down on the beach, and tempers flaring and falling with the tensions around the rest of the country. In spite of all this, they're raising three young girls amid the chaos. The stakes are raised when Tsur has to go off on one of his frequent assignments, leaving the family alone. Just a few weeks ago, Moshe told me later, Tsur's house was broken into, and his computers stolen. But, like so many Israelis, these kinds of hardships are merely inconvenient in a country where buses explode, bricks fly, and armed guards and traffic barriers greet patrons entering nearly every sidewalk café and seafood restaurant.
"This neighborhood," Tsur told me, "is typical of Israel. It's warm, the views are wonderful, the food is terrific, the people are great -and the place is total shit."
Not my experience, so far - the last part - but Tel Aviv, I've heard, is an order of magnitude more relaxed than my next port of call: Jerusalem.
Visit again for my dispatch from the most hotly contested sacred ground on Earth - hopefully appearing on February 29th.
* * * * *
---