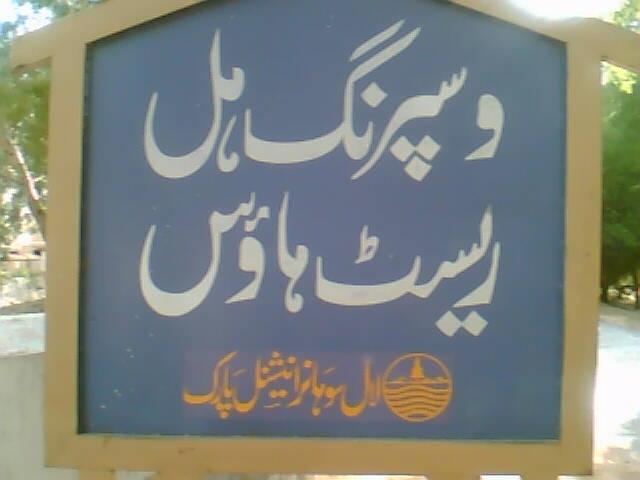 It is near Bahawalpur, it is a part of Lal Suhanra Park which is known to us as the Pakistan's largest forest and wild life reserves featuring a lot of deers and variety of birds besides other animals.
On my way to Lal Suhanra Park, I saw many school and college busses also on their way to Lal Suhanra Park so I decided not to go there first but to the Whispering Hill and on my way there, it amused me to see natural beauty at its best.
I reached Whispering Hill  which serves as an artificial lake made in the time of Nawaz Sharif ( the former Prime Minister of Pakistan) for his own relaxation. But after the fall of  his governmant, it has been declared as a public place and now it is open for everyone from everywhere and serves as a  nice picnic point.
There is also a rest house  where you can refresh and can rest for a while all at the same time.  Boating facilities are also there for all of us to enjoy the natural beauty of the lake. At whispering hill, you will find a artificial lake surrounding with natural beauty giving it a factual touch. Not to talk about lake, there you will also find many old, thick and beautiful trees adding to the fabulous beauty of this place. 
A helicopter landing pad is also there, probably made for the former prime minister and his collegues but now it of no use. Near helipad, there are also some attached bathrooms probably for the workers. 
And in the end, I want to mention that prominent Eucalyptus tree( Safaida ka Darakhth in Urdu) which was the attention for all as it was looking beautiful with all the marks on it.
  Whispering hill is a marvelous and breath taking  place  worth for visiting.
---