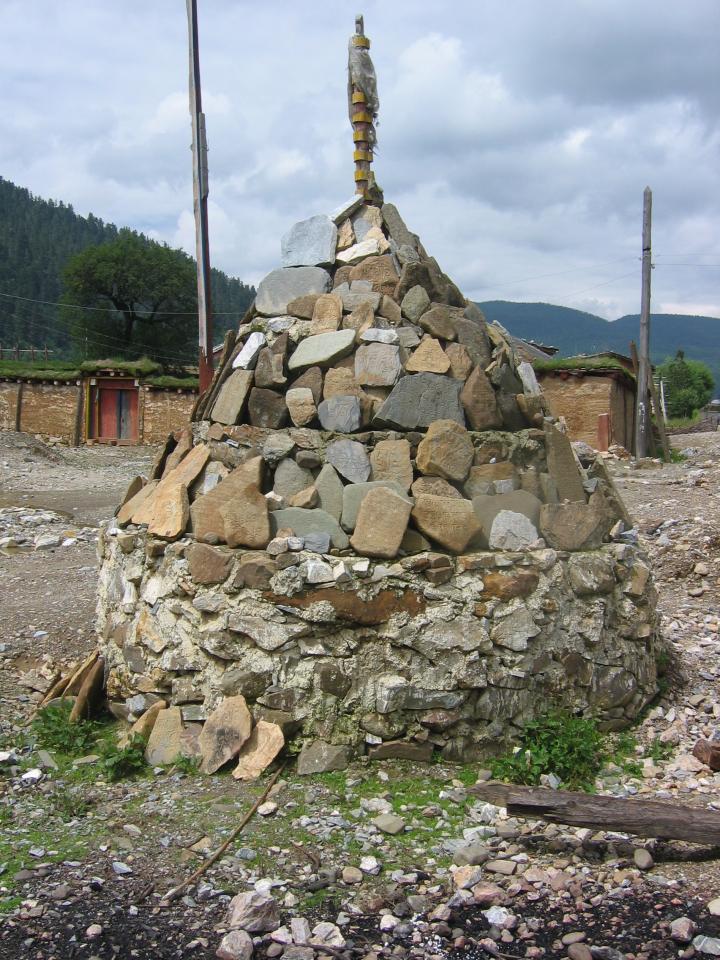 Image ©
2009 MaryLou Driedger
A wish and a prayer. Traveling through the Chinese province of Yunnan I was struck by the many opportunities we had to make wishes and offer prayers. The people of Yunnan practice a religion that is a curious mix of Taoism, Confucianism, and Tibetan Buddhism. As we explored the way this unique faith is practiced in everyday life we were graciously and kindly invited to participate in rituals that promised to enhance our future.
         In the village of Baisha, Taoist Dr. Ho offered us some of his world-renowned herbal tea. We were assured it would cure any ills we might have.  The legendary travel writer Bruce Chatwin made Dr. Ho famous by featuring him in a Lonely Planet Guide. Now people flock to his apothecary from all around the globe to find relief from various ills. Although we assured Dr. Ho we were perfectly healthy he insisted we try his tea. He was sure we'd feel so much better after drinking it that we would want his tea leaves mailed to us for many years to come.
           Hundreds of locks adorned the railings around a Buddhist temple beside the Black Dragon Pond in the city of Leijiang. Each one had the name of a person, a date and a wish engraved on it. I read a few of the inscriptions. Chloe needed a new boyfriend, Robert was looking for success in his career and Francesca longed for a better relationship with her child. For a small fee a priest would etch your name and hearts' desire on a golden lock. You fastened your lock to the fence and left it there, taking the key with you. Apparently the luck of the sacred place continued to work its magic long after you had left.  Eventually your wish would come true.
                   One afternoon we took a chair lift up Jade Dragon Snow Mountain. A lake nearby was a lovely turquoise colour because of the various iron deposits it contained. "Wash your hands in it" our guide urged me, "and you will live for a long, long time." I told him the water at such a high altitude was bound to be freezing. At any rate I had already assured myself of long life the day before in the city of Kunming when another guide had insisted I stroke the back of a giant stone tortoise five times. He appeared so crestfallen at this news however I quickly squatted down and dipped my hands in the icy water. His happy look made the effort worthwhile.
        I had never seen a stupa until I visited the city of Zhongdiang. The surrounding villages contain many of them. These are huge mounds of stones. Each stone has a Buddhist Scripture written on one side and a personal prayer on the other. People carve these stones and then place them on the stupa. We were offered a stone and the chance to write our prayer on one side and place it on the stupa as well.
               Our guide Pei was a devout Tibetan Buddhist who wore a bracelet of yak bone beads. He told us that when he really needed an answer to prayer he fingered each bead in turn, repeating his request to Buddha every time. He took us to a Buddhist temple where the priests gave us wooden bead bracelets that served a similar purpose. 
          During our week in Yunnan we were also introduced to prayer wheels. Turn them enough times and your luck will change. We had the chance to buy one of the colourful flags flying over traditional Tibetan homes. They bring good fortune, peace and prosperity to its inhabitants.
            Like most people in the world, the citizens of China's Yunnan province have a firm belief that a power greater than themselves can influence the direction of their lives. We were privileged to have a chance to learn about their spiritual practices for offering wishes and prayers.  
---