Basic Training for Tourists
---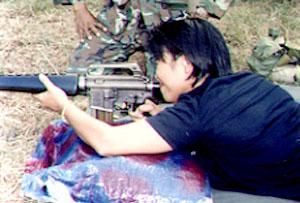 Where else in the world can a tourist be a soldier for a day or two, shoot off an M-16, jump from a parachute tower, climb rocks, ford streams, and hike through the jungle? These are but a few of the martial activities that tourists can participate in at Thai military bases all over the country.
Our two days of very basic training began at the military base in Lop Buri (154 km's north of Bangkok), which is the second biggest one in all of Thailand. Thirty-five temporary recruits (men, women, and teenagers) from all over Asia and the West, wearing khaki vests and black baseball caps emblazoned with the winged logo of the Royal Thai Airborne, gathered in a clearing for a demonstration on how to catch poisonous snakes. Spinal cords slithered and women gasped as a Thai officer showed us how to trap a writhing cobra by putting his boot down on the serpents' head. And then he picked it up by the tail. Although the snake-handling lecture he gave was in Thai, Sergeant Paitoon was on hand to provide the Westerners with a running translation in English.
As we hiked down a dirt road nearby, surrounded by palm trees, we saw a 10-metre-high jumble of rocks, off to our left. Suddenly, a mortar shell exploded, and soldiers started yelling. Were we under attack? Everyone looked up to see two Thai soldiers standing on the peak. Yelling and grunting, a rope tied around his waist, one of them leapt, bounced, and abseiled down the rock face.
After this demonstration, another soldier showed how us to tie the ropes around our waists and attach them to the clip on our belts. Wearing gloves and motorcycle helmets, we then practiced walking backwards, our ropes tied around the trunks of trees. After that, some of us were ready to take the blind plunge into thin air.
If becoming a soldier means learning to conquer your fears and trust the men in your unit completely, this was a great way to learn the ropes. While rock climbing is a potentially dangerous thrill-sport, the Thai military took such good care of us that nobody suffered anything worse than a few scraped knees, some heart palpitations, and an excessive dose of adrenaline.
If you don't feel like participating in any of the activities, however, there are no nasty sergeants with machine-gun tongues forcing you to do them.
After a 10-minute ride across a nearby lake in a big, rubber dinghy, we hiked through the jungle to a shooting range. There, one of the soldiers, wearing a red beret and black shades, showed us how to load, aim, and fire an M-16. Each of us was then given five bullets and a pair of earplugs. While we loaded our guns, the soldiers knelt down beside us to give shooting tips, and to ensure that no latent psychopaths were allowed to go ballistic.
Shooting an M-16 is a powerful kick. As one young Australian man said, "It feels a bit like playing god. You can see what Chairman Mao meant when he said, 'Power comes from the barrel of a gun.'" At the same time, it was a bit frightening to realize how gunning someone down on the battlefield could be so easy and so impersonal. The paper target we were shooting at - meant to look like an enemy soldier - was about 20 metres away. I was reminded of a US Marine telling me in Bangkok how he'd shot two people crossing a river in El Salvador: "It wasn't like killing real people, man. Sad to say, but it felt like target practice."
Nonetheless, I don't think the Green Berets will be recruiting me any time soon; all of my shots went wide of the target. In marked contrast, the young Thai woman beside me, who smiled each time she squeezed the trigger, could probably freelance as a hit-woman. Each of her bullets pierced the paper heart of the enemy soldier.
As the night cloaked the sky in a deep indigo, and the jungle in shadowy black, our brigade sat on chairs in a clearing, watching another sergeant from the Airborne Division of the Royal Thai Army show us what kind of leaves are edible, and which vines contain water.
While they grilled feral pigs and rice inside a piece of bamboo on a makeshift barbecue, the soldiers demonstrated how to broil fish when you're nowhere near a microwave. Inside a square metal tin, they stood the fish upright in a circle. Another soldier then put the top on it and burlap bags around the whole tin, before setting the sacks on fire. Ten minutes later, when the sacks were blackened rags, he removed the lid like a magician and - presto! - the fish was perfectly broiled.
For our open-air feast that night, we sat cross-legged on mats, in the usual Thai style, and ate a huge communal meal of barbecued pork, broiled fish, rice, and tom yam goong (a chilli-laden soup with shrimp and lemon grass). There were slices of sweet mangoes and guavas for dessert.
Since nobody knows how to party like the Thais, it wasn't time for bed yet. Instead, we went to another pavilion where local folk music, composed of rhythmic backbeats, trebly vocals, and a bamboo flute solo, blasted from the sound system. Some of the women got up to do traditional dances. Soon, the military men had most of the crowd on their feet and dancing and clapping along. Seeing as my feelings about dancing are summed up by the title of a Norman Mailer novel, Tough Guys Don't Dance, I wanted to go AWOL. But one of the sergeants came over, smiled, patted me on the back, and said, "You, come on." So I jumped up and saluted him, saying, "Yes, sir, general," which made both of us laugh.
A few of the soldiers also got on-stage to play a local party game. The announcer called out the names of different fruits: rambutan, papaya, banana, and mango. Then the soldier had to do certain movements like shaking his hips or wiggling his butt. Given the Thais' racy sense of humour, it wasn't too surprising that the troopers had to do pelvic thrusts to the tune of "glooay, glooay" (the local word for banana, which is quite similar to the one for a man's closest friend, anatomically speaking.) All of the locals were in hysterics.
With our leg muscles grumbling and begging for rest, we then headed off on a one-kilometre, moonlit hike through the jungle. But I couldn't complain too much because I had two Thai women, both in their late 20s, clinging to each arm. Since beliefs in the supernatural run rampant in Thailand, the two ladies were terrified of encountering some malicious jungle spirits.
After bedding down for the night in two-person tents, the soldiers woke us up the next morning at the perverse hour of 6 am. The highlight of day two was a three-hour trek through some lush jungle in a wildlife sanctuary. We marched along the trunk of a huge uprooted tree, crossed streams on slippery stepping stones, waded through knee-deep water in a cave, climbed up ropes beside gushing waterfalls, and soldiered on to a well-earned break beside a big lagoon with aquamarine water so clean the Thai military men drank from it with cupped palms.
Considering the fact that some of these paratroopers are decorated veterans who fought alongside the Australians and Americans in Vietnam, it was surprising that they were so boyish and friendly. One of the older guys, for instance, kept swinging past us on vines while laughing and shouting, "I am Tarzan."
In a way, though, this friendliness is very much in the tradition of the Thai military. During World War I, Thailand sent several thousand troops to Europe to bolster the Allied forces. Although their bravery on the battlefield was legendary, so was their compassion. After Germany was defeated, the Thais, along with many other Allied troops, were sent to the country to help round up soldiers who hadn't surrendered yet. Soon, the German renegades said they would only give themselves up to the Thai brigade because they treated their prisoners so humanely.
On the second night, a local professor, who teaches the soldiers about astronomy and meteorology, set up a telescope in the clearing beside our tents. It was a perfect night for stargazing, the forest and clearing tinted silver by a mother-of-pearl moon.
The scariest part of the weekend was the jump from an 11-metre-high parachute tower. Even the high-flying members of the Thai Airborne go to pray at a nearby shrine to Ganesha, the elephant-headed god of the Hindu faith, before they do a jump. After paying our respects to the deity, we listened to a lecture, and watched some demonstrations about how to put on the parachute, and how to jump, keeping your elbows by your hips and your forearms straight out in front of you.
I had some second, third, and even seven and eighth thoughts about doing the jump - most of them revolving around death, pain, and wheelchairs - but I wasn't going to let a 13-year-old Singaporean girl make me look like a total wimp, now was I? Ever the trooper, I scaled the wooden tower, the straps of the parachute molesting my groin, and waited for my turn. Five of the lines were operational, which meant that five rookie parachutists could jump at a time, one after the other. A Thai soldier connected the cable to my vest. After an excruciating wait, I was first in line. Someone tapped me on the back and yelled, "Go!" With my stomach doing somersaults, I leapt, keeping my eyes on the distant trees. After free-falling for what seemed like an eternity, the cable snapped tight, and I flew down the line, grinning at the distant mountains.
That afternoon we did a brief reconnaissance mission of the Military Museum. Then there was a special ceremony, where a high-ranking officer pinned badges (bearing the insignia of the Royal Thai Airborne) to our shirts.
For Bht 2,500, which includes meals and accommodation, it's a thrilling and inexpensive way to "get your wings" - and you don't even have to clean any latrines.
* * * * *
Hitting the Road
From the new Northern Bus Terminal in Bangkok, buses depart for Lopburi every 20 minutes, between the hours of 5.30 am and 8.30 pm. The three-hour ride costs Bht80 for an air-conditioned bus. You can also catch a train heading north from the Hualamphong Station. Beginning at 4.20 am, they depart every hour. The train fare is a little bit cheaper than taking the bus.
Other Bases
Up in the north of Thailand in Chiang Mai, tourists can also participate in many of the same activities, as well as mountain biking, at the base for the 2nd Special Force Division. Much closer to Bangkok, in the eponymous capital of Nakhon Nayok province, is the Chulachomklao Royal Military Academy. Besides having luxurious air-conditioned rooms in a guesthouse that come complete with TVs, hot water, and mini-bars, weekend warriors can also play a round on the 18-hole golf course, go wind surfing on an artificial lake, or paddle a canoe through the nearby rapids. All the other soldierly activities are on offer as well. An added attraction at this popular tourist destination is the lovely presence of Miss Thailand 1994, Areeya Chumsai. The friendly 2nd Lieutenant teaches English to the soldiers there, and is often seen chatting with tourists in the officers' club. For more information on visiting any of these bases, or other ones, call Reuangsaeng Sripaoraya at the Tourism Authority of Thailand at (66) (2) 694-1222 ext. 1542.
* * * * *
---