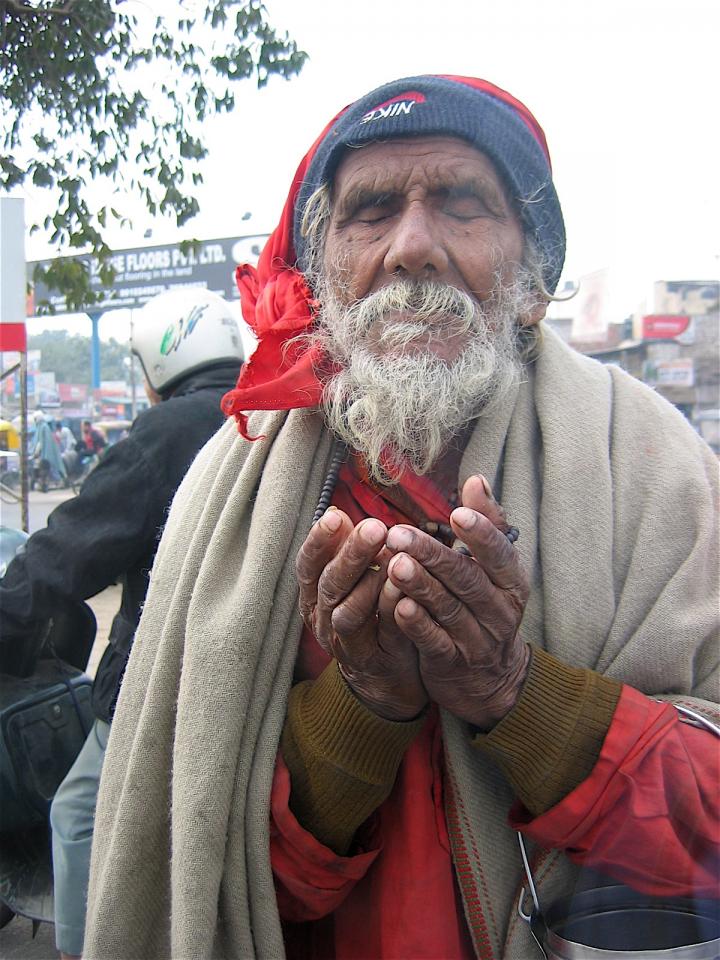 Image ©
2008 MaryLou Driedger
A blind man stands outside our van window, his cupped hands raised in a silent plea for money.  Two children dance along the street at our side, their hungry eyes imploring us to share the cold fruit drinks we've just purchased.  A family huddled around a fire on the highway median breaks rank as our vehicle approaches. They jump up and down begging for rupees.
          The images of India that will haunt me the longest are the faces of the beggars. I'm ashamed to say their persistence exhausted me, but we could hardly walk a step in India without being stubbornly followed, repeatedly touched or verbally assailed by beggars.
         I admit at times I was honestly afraid of the beggars. It embarrassed me, especially because most of them were elderly or children. One late afternoon we were walking down the streets of Jaipur and my husband decided to take a short cut to a coffee shop, by crossing an empty lot where a group of gypsies were camped. Indian cities are full of these communities of itinerant workers who come in from the countryside to do construction jobs. Their families accompany them and using sticks and blankets create makeshift shelters anywhere they can find space. They have no water supply, dependable food sources, or sanitation facilities and their children don't attend school. Many rely on begging to supplement their meager temporary income. My husband was walking quickly and was way ahead of me when a whole group of gypsy children surrounded me asking for money. A half dozen of them were shouting, grabbing my arms, snatching at my purse and pulling on my clothes. I was scared I would fall down or be pushed down. I shouted for my husband. He turned around and took a step back towards me. This was enough to send the children flying off in all directions.
       It was difficult to know if we should give money to beggars. We were advised not to do so by our tour guides. I had read Rohinton Mistry's book A Fine Balance before going to India. It paints a moving portrait of beggars in India but also makes one aware begging is really a profession with many different middlemen and entrepreneurs involved. Often the beggars themselves receive little or none of the cash they collect.
    We spent an evening in Delhi at the family home of one of our teaching colleagues. Our colleague's sister is a doctor. She told us about a Delhi physician arrested recently for operating on homeless children to deliberately maim them. The children's 'bosses' had arranged for these surgeries to make the beggar children seem more pathetic to potential donors.  Our colleague's father, a retired newspaperman, told us people routinely fly into Delhi from different Asian countries to make their fortune begging on the streets. They dress up to look destitute and once they've raked in enough cash they head back home.
        I'm sure it is best not to give money to beggars, but it is very hard to turn your back on them. My husband found this particularly difficult and I would often see him slipping money to people.
        One way I dealt with the situation was to offer the beggars rupees for taking their photographs. It gave them a way to 'earn' money, but perhaps I was only taking advantage of their desperate situation. I certainly don't need photographs to remind me of the beggars of India. Their faces will continue to haunt my memory for a very long time. 
---