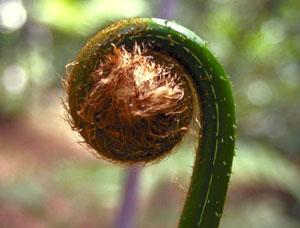 Image ©
2000 Mick Shippen
Hidden away in a quite corner of Malaysia's continually urbanizing Klang Valley lies Rimba Ilmu - the 'Forest of Knowledge'. A mere stones throw from the busy streets of Kuala Lumpur's very own concrete jungle, 80 hectares of greenery are defended by a regiment of abandoned rubber trees, loyally guarding against any further encroachment. At the centre of this verdant parcel of land lies one of the most important biological conservatories in the country.
Its roots first took hold back in the early 1970's when it was established as a research centre within the University Malaya and with time a splendid tropical botanical garden has blossomed. It currently boasts a collection of over 1200 different plant species and although scientific study is still one of the main functions of Rimba Ilmu it has matured and adapted in response to growing environmental concern. As you might expect conservation and education have a big part to play, and with the habitat of many plants destroyed or currently under threat, it is a role that is taken seriously. Sowing the seeds of change is Dr. Wong Khoon Meng - Botanist and Associate Professor at the centre. A man of calmness and clarity, Dr. Wong's enthusiasm and commitment to the project is evident.
'Our aim here is to continue important research and also act as a repository for many rare and endangered plants. Equally important is our role as educator. I see the centre as a window from which people can get a glimpse of the stunning diversity of plant and animal life in the region. Raising people's awareness and getting them involved is an important part of our mission if we are to protect Malaysia's incredibly complex ecosystem'.
That complexity and fragility is made apparent by an impressive exhibition entitled the 'Rain Forest and Our Environment'. Entering the room visitors are welcomed by veritable symphony of forest activity. The strange whoops and clicks of jungle dwelling creatures emerge from a sound system and fill the air with an atmosphere of mystery. A display of striking imagery and informative text -in English and Bahasa Malaysia - completes a journey that transports us to a place where many would never normally dare venture. Indeed the strength of the exhibition lies in it's ability to bring this world to our doorstep, open our eyes and make us feel connected to it. Astounding facts abound leaving nobody in any doubt that Malaysia is a truly unique and wondrous country. Such is the scope of the information available that in order to digest it fully visitors may well need a second visit. But it is not all passive viewing. In 1997,the Malaysian Nature Society established an environmental awareness programme at the centre, which targets primary and secondary school students as well as undergraduates and the general public. Activities include bird watching and an introduction to plant ecology, while an on going lecture series has in the past covered topics as diverse as 'Tiger Conservation', 'Sabah's Lost World' and 'Bio-diversity: the spice of life!'
Indeed it is, and more of its wonders are discovered during a leisurely stroll around the gardens with Dr. Wong. Revealing some of the many mysteries and uses of plants in Malaysia he explained,
'This country is unusual in that it is home to three active streams of traditional medicine, indigenous Malay, Ayurvedic (Indian) and Chinese. We are continuing to discover uses for local plants and the wisdom behind some folk medicine is being revealed'.
A compelling reason for protecting the habitat of such plants. In fact an entire section of the garden is devoted to medicinal plants which promise relief for anything from fever to flatulence! Other major collections include Palms and Citrus plants and a garden devoted entirely to gingers - of which there are many varieties in Asia - is also being developed. Every now and again Dr. Wong stops, draws attention to a particular plant and imparts a little more of his astounding knowledge. Occasionally reaching out to pluck a leaf from the lush surroundings, the senses are aroused by a burst of pungent and familiar aromas - be it cinnamon or lime - as he crushes a leaf between his fingers. Above, the dense foliage is disturbed by a troop of Long-Tailed Macaques chasing each other in an arresting display of acrobatic ability and death defying leaps. The Doctor remains unimpressed. 'Dazzling as their little act may be, they are really one of our biggest problems. With a veracious appetite the monkeys can soon strip the trees of buds and flowers.'
Moving on from the thrills and spills of the aerial artistry overhead we enter a place of veiled tranquillity, the 'Shade House', and encounter another species that is definitely encouraged - the volunteer! The chances are that many of the people you may see crouched in the shrubbery with their fingers in the dirt or simply showing visitors around, are volunteers. All selflessly devote hours of their time and energy to Rimba Ilmu every weekend because of a love of plants and a strong commitment to conservation in Malaysia. Miriam Jutta is a prime example.
'Working here has enabled me to learn a great deal about plants and nature. Much of that specialised knowledge would ordinarily be very difficult, for a lay person such as myself, to obtain. The chance to be able to pass on some of that knowledge to the general public is very satisfying. I feel in a privileged position,' explains Miriam.
Over time, a team spirit has also developed between the volunteers and the permanent staff with many of the green shoots growing into close friendships. Miriam sees the work being done at Rimba Ilmu as an extremely constructive form of recreation for all involved and for the city of Kuala Lumpur. 'This place really is a 'green lung' within the city. Such places are of great importance and deserve our support.'
The 'Forest of Knowledge' provides sanctuary for the endangered plants of Malaysia and for visitors seeking respite from the hustle and bustle of KL. It gives young and old the chance to learn about our environment and, for those willing, the chance to do something about it. Despite it's obvious success the staff have no intention of resting on their laurels. This year will see the completion of a Fern Enclosure and Rare Plants Conservatory.
Eighty hectares of previously abandoned land has been turned into a professionally run centre for research, conservation and relaxation. It would seem that the rubber trees can stand easy.
* * * * *
Fact File
On the Web
Rimba Ilmu is open everyday (except public holidays) but your journey through the 'Forest of Knowledge' can start by visiting the Rimba Ilmu web site http://rimba.botany.um.edu.my./
Getting there
From KL visitors traveling by Putra Rail Transit system should stop at the University station, from there you can catch a feeder bus into the campus. There is also a regular city bus service (Introkota Bus no. 238 from KL and PJ).
Facts You Should Know
The phrase 'tropical rain forest' comes from the German 'Tropische Regenwald' applied by botanist AFW Schimper. Typically a rain forest will have high temperatures with less than 5° C differences throughout the year and at least 100mm of rain each month.
The UN Food and Agricultural Organization estimates that 38.038 million acres of tropical forest - an area four times the size of Switzerland - are lost each year.
Tropical rain forests occupies less than 7 per cent of the worlds land area but it is thought that they are home to more than half the world's plant and animal species.
The Klang Gates Ridge - just outside KL - has evolved such a specialised habitat that this small area is home to a species of shrub that is found nowhere else in the world.
The family Zingiberaceae - ginger to you and me -comprises of about 1200 species of which about 1000 occur in tropical Asia. About 600 are present in South East Asia.
In Peninsular Malaysia there are over 550 species of the plant Rubiaceae - a member of the coffee family.
There are over 850 types of orchid in Malaysia and 2000 in Sabah and Sarawak.
Pitcher plants eat insects, spiders, snails and even frogs. At the same time some creatures, such as crabs, have adapted to life inside the plant.
The Rafflesia plant, of which there are 14 species, can have a flower up to 1 metre across.
There are 93 species of frog in Malaysia, 142 in Borneo. They are forest dwelling and sensitive to disturbances of their environment.
Malaysia is home to the largest insect in the world - the Malayan jungle nymph - a type of stick insect. There are 150 types of stick insect in Malaysia, 300 more in Borneo.
* * * * *
---