Northern delights - in search of Kao Soi
---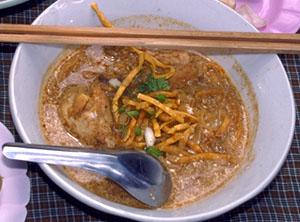 Image ©
2002 Mick Shippen
Of all the wonderfully exotic foods in Thailand nothing strikes a chord like the mention of Kao Soi. A dish of deceptive simplicity it is capable of warming the soul when the cool season mornings begin to bite, can lift your spirits when the rains have dampened them and as the mercury rises and the air is thick and heavy, it sends out a clear signal that you can handle the heat.
The roots of this now famous noodle soup may be in Burma but they have spread with vigour over the border and have long since taken hold in Thailand. It is now an accepted part of the celebrated and eclectic Thai cuisine. Indeed Kao Soi has come to be held in high regard by many, so much so that it is now considered a northern speciality - even making an appearance on the well dressed tables of the swankiest resort hotel in the north of the country, The Regent. A source of local pride, Kao Soi shops pepper the streets of Chiang Mai and a visitor to the city would be ill advised to miss this culinary experience. In fact a local adage even goes as far as to say that you haven't really been to Chiang Mai unless you have eaten the local Kao Soi. The dish itself is a rich curry soup containing either pork or chicken served with a nest of egg noodles. Condiments include pickled cabbage, limejuice, chillies and red onion. It is a fiery broth guaranteed to add spice to the life of all those who have a serious chilli addiction and put a spring in the step of those who don't.
In Burma the dish, known as 'oh no kao soi', is thickened with chickpea flour - distinctly Indian. The influence of the dish has even spread as far as Malaysia where it goes by the name of Laksa Lemak and is served with prawns, a garnish of thinly sliced omelette, spring onion and buds of fresh ginger. The Thais however, with their own inimitable style, have adapted this soup of such humble beginnings with flair and imagination to suit their tastes and in doing so have produced a broth that may be considered one of the finest you will ever sample. Once experienced it is easy to understand those who have developed a real passion for it and will travel a considerable distance in order to satisfy their craving. Undoubtedly one of the joys of Kao Soi is that no two noodle shops serve exactly the same dish. Your bowl of soup may well arrive at your table with speed but it is a world away from the blandness and conformity of fast food. Each bowl presents to you the personal taste, story and idiosyncrasies of the cook. Recipes vary from shop to shop thus creating the need to hunt out every known location serving a bowl of this delectable potage in case it dares to surpass your personal favourite. It is easy to be seduced by the charms of this golden brew and become caught up in the pursuit for the ultimate Kao Soi.
If it's good, it's really good. No. It's a delight! So, where do you go to find this golden brew? Genuine Kao Soi shops by their very nature are unassuming, modest affairs that are easily missed, consequently there is often a need for a little 'inside information'. Don't let appearances fool you, in need of a good scrub down and a lick of paint they may be but even the most rundown looking noodle shop can be the home of an exquisite soup. Ask any local in Chiang Mai and they will be happy to give the name of their favourite shop but talk to a real connoisseur and all roads lead to the same place.
The plain looking 'Lamduan Faham' noodle shop on Faham Road in Chiang Mai has a history that is as rich and delightful as the Kao Soi that it has served up everyday for the last sixty years. Staring into the face of the owner as she recalls her story, it is hard to believe that this diminutive grandmother is all of 77 years old.
'I started this business just before the Second World War. That's me when I was just seventeen years old', she says, pointing to an old black and white photograph that has forever captured the youth and beauty of the old woman before me.
'Originally I sold a plain noodle soup from a simple roadside stall just down the road from here. That kind of food was common in Chiang Mai at the time but later on I was given a recipe by my new neighbours who had recently arrived in the area.'
Given the history of the dish one would expect her neighbours to be Burmese but the story that Lamduan tells fly's in the face of all that has been written in cookery books of the region.
'I got my recipe from some Haw Chinese people who came to live here. They moved from China during the war, first to the town of Fang, not too far from here, and eventually to Chiang Mai. At the time I used to buy white, rice flour noodles in the local market but it was bombed during the war and the noodle seller was killed. It was the Haw Chinese that showed me how to make the distinctive yellow noodles, as well as the soup'.
The Chinese connection certainly does seem plausible, as Nonya people - the offspring of ethnic Chinese who married into Malaysian society when they first arrived in that country - introduced Laksa Lemak to Malaysia and the noodles are certainly Chinese style.
Lamduan altered the soup to suit the Thai palette, a mixture of sweet, sour and spicy, and it is her modified recipe that is still used in the shop to this very day. It wasn't long before her Kao Soi was known throughout the city. As well as the locals her customers during the early years of business included Thai and Japanese soldiers. One of the regular visitors to her stall was a young soldier from Bangkok called Neung.
'He used to come to eat at my stall everyday', she recounted with a sparkle in her eye. 'There is an old Thai saying, "If a woman's charm comes from the end of a spoon the man will love her till he dies", and this must be true because it wasn't long before we fell in love and eventually married. We've been together ever since and have five children'
Lamduan speaks with a sense of pride of the time a group of local officials took her to set up her stall near Pu Ping Palace on Doi Suthep Mountain. She cooked her now famous Kao Soi for the guards and then they took some into the Palace for the King.
'Although I never met him, every time the King stayed at his Palace in Chiang Mai I was taken up the mountain to cook Kao Soi for His Majesty'.
As a result of this royal connection, business boomed and the shop has continued to provide a good living for her family ever since. Such fame and good fortune however, clearly fosters jealousy and rivalry, as Lamduan later discovered. A regular customer of hers showed a real interest in the dish and one day asked if she would give him the recipe so he could make it at home for his family. Lamduan kindly obliged. Within a few weeks he had set up a Kao Soi shop just a little further down the same road. She shrugs this off by saying, 'It never really bothered me. You see, it's not just the recipe that's important. You have to know how to cook it. I've been doing this for years and have my own method, what goes in when, how long to cook it for and so on. It's the cook that makes it taste good, not just the ingredients! In any case people know my shop and many of my customers have been coming here for years. Some may try other places but they always come back'.
Her secrets have been passed on to her daughter-in-law, Tim, who now runs the place so Lamduan can enjoy a well-earned rest. Rising at 3.30 every morning she prepares the Kao Soi that has now become an inseparable part of the northern Thai menu. By 8 a.m. everything is ready for the steady stream of customers that begin to arrive soon after. The counter in the kitchen is covered with colourful plastic plates, all adorned with wedges of lime and a slice of red onion, neatly stacked. Rows of large ceramic bowls wait to be filled with the celebrated brew that bubbles away in an outsized saucepan.
To be presented with a large bowl of Kao Soi is indeed a great pleasure. First you are warmed by the golden colour and then enticed by the fragrance of Thai and Indian spices blended together and enriched with coconut milk. It is at this point that the diner enters into what is an act of almost ritualistic preparation. To begin with, a generous squeeze of limejuice is added to the soup followed by a seemingly innocent looking spoonful of "nahm prik pow"- a thick and sticky concoction of fried chillies that fans the coals, adding fire, yet beautifully complimenting the flavour of the dish. It would be unwise to leave it out. If it is to your taste a sprinkling of pickled cabbage and a slice of onion completes the dish. Taking up the chopsticks that have been laid across the bowl and mixing the noodles with all the concentration and anticipation of a conductor preparing for a symphony, you are ready to eat. Despite its undeniable spicy kick, Kao Soi delivers a range of flavour that is both as subtle and complex as grand opus. A deceptively simple mixture of chicken stock, curry powder, shrimp paste, onion and garlic, all ladled over thick, fresh, egg noodles and a piece of chicken, the amber liquid flecked with coconut milk is topped with a tangle of crisp, deep-fried noodles - one bowl is never enough. Whether you head straight for Lamduan Faham or decide to conduct your own investigations I think you'll find that this 'hearty meal with a history' is well worth searching out.
* * * * *
---