An Enduring Classic: Ann Caddell Crawford's Customs and Culture of Vietnam
---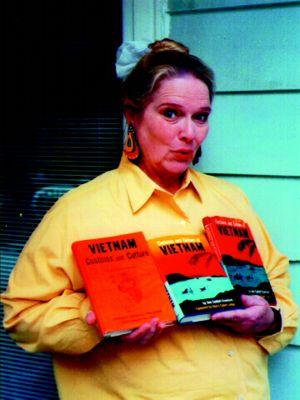 Image ©
2000 Global Directions, Inc.
If you poke around any book shop in Vietnam that sells foreign language books, one of the first titles you are likely to encounter is Customs and Culture of Vietnam. Authored by Ann Caddell Crawford, this book was one of the first--perhaps the first--guides to Vietnam penned for American readers. Various original and bootleg versions of the book have been sold in Vietnam since the first printing in 1966. Since then thousands of Americans have referred to this book for help in understanding the exotic, unfamiliar nation of Vietnam.
The genesis of the book dates to 1963, when Ann Caddell Crawford arrived at Saigon's Tan Son Nhut Airport with her three pre-school children. Crawford had a fever and felt nauseous; she and her children were exhausted from an epic air journey originating in Birmingham, Alabama involving stops in San Francisco, Hawaii, a typhoon-battered Guam and the Philippines. To top it all off, when the four of them disembarked from their 707, Crawford's husband Roy, then serving as an officer in the U.S. Army, was not waiting to pick them up as planned. Crawford's trip to Vietnam had gotten off to a rough start.
Fortunately, Roy Crawford arrived an hour later with a pair of army jeeps, one for his family and one for their luggage (six duffel bags, two trunks and a brace of suitcases). Crawford's fever passed; she and her children got some much needed rest in their new home in Saigon. What had seemed like the beginning of a disastrous experience quickly transformed itself into the start of a deeply rewarding relationship between Crawford and the people of Vietnam.
Unlike many Americans in Vietnam at that time, the Crawfords did not live in a segregated expatriate compound walled off from the rest of the country. Instead they lived in a rented home at 164 Phan Thanh Gian street in Saigon and experienced the rhythm of the city's daily life first-hand. Crawford soon got to know her Vietnamese neighbors--her Polaroid camera served as an ice-breaker--and also met hundreds of students while teaching at three different places, a Chinese Catholic school and two Vietnamese schools. She taught English and recalls that some students chose special "in-class" names, so, sometimes, her groups had an all-star cast that included John F. Kennedy, Sophia Loren and George Washington.
Living and working among the people piqued Crawford's interest and led her to write Customs and Culture of Vietnam. Crawford credits one of her students, 15-year-old Hau Dinh Cam, with helping to put the book together. Hau Dinh Cam, who took the English name of Frances, guided Crawford around the countryside and helped explain the subtleties of Vietnamese culture. She also illustrated the book with the graceful line drawings--though she possessed no formal art training--that still adorn the bootleg copies available today.
Crawford penned the book with American servicemen and women in mind. She believed that U.S. military personnel needed a guide to the foreign country where they would be serving for at least a year. She also felt that American high school students could use a book on Vietnam. Because no such basic reference book on Vietnam existed, she decided to fill this gap with a book of her own, and succeeded brilliantly. It won the National Press Women's Book Award for Nonfiction in 1967. The U. S. military issued the book to personnel bound for Vietnam, which spurred over a dozen printings of the book. The book has proven quite durable, as thirty years later bootleg copies are still being read by western visitors to Vietnam.
With their characteristic bright orange covers, these bootlegged copies are fascinating in themselves. Not long after the first printing by Charles E. Tuttle Company, Crawford found rice-paper counterfeits of her book produced in Taiwan. Today's bootlegs are published in Vietnam under the slightly different title of Vietnam Customs and Culture. The original contents of the book have been faithfully reproduced right down to the "Charles E. Tuttle Co., Inc. All rights reserved" copyright. Additional text on Vietnamese food and dress--itself pirated from other books--has been inserted somewhat haphazardly on hand-numbered pages, giving the book an eccentric but endearing flavor.
Bootleg or not, Customs and Culture of Vietnam still begins with an introduction by no less an eminent person than Henry Cabot Lodge, then ambassador to the Republic of South Vietnam. Crawford met Mrs. Lodge at the pool of the Circle Sportif, a club for expatriates and well-to-do Vietnamese. When they discovered that both their families would be heading to Hawaii at the same time, the Lodges offered to fly the Crawfords on the embassy plane. Ann recalls being impressed by the comfort of the airplane (it even had tiny bunkbeds) and by the Lodges' gracious hospitality. She worried that her three young children would get antsy on such a long flight, but admits that in any case Ambassador Lodge was caring for two pet poodles who had also managed to hitchike a ride as a favor to someone at the embassy.
Although he wrote the introduction thirty years ago, Ambassador Lodge's words still hold true: "To Americans who come to Vietnam without having first acquainted themselves with the customs of this ancient nation, Mrs. Crawford's highly readable book will be of great assistance."
The approximately 250-page book (the amount of pages varies between the original printing by Tuttle and the assorted bootleg versions) presents an exhaustive array of topics in a dozen chapters. Subjects covered include religion, education, language, customs, arts, agriculture, industry, festivals, holidays and legends. The book offers a treasure trove of obscure facts and details. For example, Vietnamese superstitions hold that one should never hand someone a toothpick. In addition, one should never overturn musical instruments or cut their fingernails and toenails at night. All this will bring bad luck or worse.
Indeed, where else but in Customs and Culture of Vietnam could you learn that the sap of the aptly named Antiarus Toxicaria (a.k.a. the sack tree) has long been used on the tips of poison arrows? Or that the Vietnamese are ichthyophagous (fish-eating people)? Or that Vietnam exports such fowl products as duck eggs, duck feathers and edible sea-swallow's nests? Or that a dubious U.S. government program called "Atoms for Peace" supplied the South Vietnamese government with its very own nuclear reactor in the hills of Dalat?
The Crawfords left Saigon in 1964 when Roy received a new assignment in the United States, but three years later the army sent Roy back to Vietnam. Due to the increased level of fighting in the south, however, Crawford and her children lived in Bangkok (arriving with only four suitcases this time, she notes). During this period, Ann made frequent trips to Vietnam where she visited her husband and worked as a freelance correspondent.

Crawford wrote articles for Newsday and The Copley News Service, as well as the Pacific edition of the American armed forces newspaper, Stars and Stripes. Her stories often focused on the Vietnamese and American women she met in her daily life. Topics ranged from the use of paper plates to a piece entitled "Irene the Village Queen," which was the story of a Vung Tau bar proprietress. Crawford avoided what she refers to as "hard news" that involved dangerous assignments and "tromping around jungles." Nonetheless she encountered her share of dangerous situations, particularly in 1968.
Crawford had gone to Nha Trang to visit her husband during the Tet holiday. Unfortunately, her visit coincided with a nationwide military offensive. Shooting erupted throughout the city as the surprise assault began. From 11 p.m. until dawn, the family took cover in the American BOQ (Bachelor Officers Quarters) until the South Vietnamese forces regained control of the city, although there was still fighting in pockets around the city. Roy rejoined his unit and went on to earn a Silver Star; Crawford happily flew back to a more tranquil Bangkok. Ironically, the original cover of Customs and Culture of Vietnam featured a beautiful sunset view of the Nha Trang coast, and Crawford still cites Nha Trang and Saigon to be her favorite places in Vietnam.
Life for the Crawfords is just as exciting today, if not quite as dangerous. They now own and operate the Virginia-based Military Living Publications, which caters to the large community of active duty and retired military personnel in the Washington, D.C. area. The enterprise began in 1969, when the army assigned Roy Crawford to the Pentagon. As an army wife, Crawford was frustrated by the lack of information on base facilities available for her family's use. Each of the D.C. area's many military installations tended to function as an independent entity and no central directory of information existed to inform the military community, for example, that the new bowling alley in one camp had just opened or that the PX on another base was holding a sale of electronic goods.
To remedy this situation, Crawford decided to start a magazine titled Military Living. Crawford envisioned it as a sort of community bulletin board linking the military bases of the D. C. area. The focus would be on the day-to-day life of military families. Advertising would be geared to the thousands of these families living in and around the capital and the articles would describe services available to these families.
With $100 from her checking account, a friend's car and a Texaco credit card, Crawford began canvassing the Washington area in search of advertisers for her new project. The idea went over well and in two months, she'd lined up enough ads to pay for the first print run of 20,000 copies of Military Living. The company took off from there, and when Roy Crawford retired with the rank of colonel from the army in 1982, he put his Ph.D. in business administration to work and joined his wife at Military Living Publications.
Today the publication has a circulation of 50,000. The magazine is entirely advertiser-supported and is distributed free to its readers. Military Living Publications has become the largest publisher of travel-related military books, maps and atlases in the nation. Their titles, which the company strives to keep affordable for military families, are distributed at some 500 military exchanges around the world. The firm also puts out a travel newsletter titled R&R Space-A Report . Recently the company has even gone on-line, and can be reached at http://militaryliving.com.
Vietnam remains very much a part of Crawford's life today. She keeps in touch with people she knew who have since settled in the United States, and even corresponded with Tee High, the nanny who once cared for her children in Saigon. Through on-line connections she speaks with G.I.s who remember reading her book during their tours of duty. And most importantly, the Crawfords adopted Frances, the young illustrator, as their foster daughter. They brought her to the United States where she resides today as an American citizen.
Although Crawford has no immediate plans to return to Vietnam, she considers her experiences there to be among the most memorable of her life. Crawford's affection for the country is obvious and may well be the book's greatest strength--that and the fact that three decades after its publication, the book's insights into Vietnamese life are as relevant now as they were in 1966.
Unfortunately, Customs and Culture of Vietnam is no longer in print. To find a copy you'll have to browse your local used bookstore or haunt the stacks of your public library. Or you could always try to purchase a bootleg version once you get to Vietnam, though the enforcement of new anti-piracy laws may soon make such counterfeits harder, but by no means impossible, to find. Regardless, be sure to track down a copy of this classic book; it can only enrich your travels.
Editor's note:
If you are interested in knowing more about her publications, write to:
Military Living Publications, PO Box 2347, Falls Church, VA 22042-0347
E-mail: chinasea@aol.com
http://militaryliving.com
---