The Extraordinary Sultanate of Brunei
---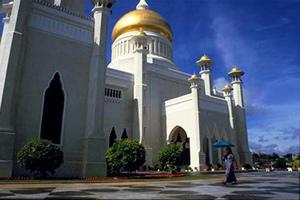 Image ©
2000 Leslie Nevison
It is possible not to recognize the uniqueness of a destination. I might have continued to overlook Brunei, hidden as it is on the island of Borneo between two East Malaysian states and Indonesia, if I hadn't spent a year in the Middle East's Sultanate of Oman.
Geography aside, Brunei and Oman possess similarities. Both are Islamic monarchies ruled by a continuous line of absolute, benevolent sovereigns. Thousands of years ago, Oman controlled the lucrative frankincense trade. Its later maritime empire included East Africa. Brunei was also a major sea power, dominating all of Borneo in the sixteenth century. In modern times, Oman and Brunei were British protectorates. More recently, their fortunes have continued a parallel course with oil discovery--revenue that has resulted, under the able leadership of their sultans, in rapid progress and prosperity.
Amidst the signs of modernity--tidy and landscaped cities, luxury cars and 3,500 kilometers of paved highways when thirty years ago there were six--the Omani remain traditional by choice. They wear their national dress, eat local foods and follow family and tribal customs. The Omani identity was never weakened by the transformation from tribal society to unified developed nation because Oman could afford to advance without undue foreign influence. Mass tourism for example, wasn't necessary income and is only now being considered under ecotourism conditions. What Oman will offer at a price is miles of pristine beaches and unsullied seas.
Brunei enjoys the same freedom of choice. While the rest of Asian cities are in continual metamorphosis, the old making way for the new or the replica of old, half of the population of Brunei's capital, Bandar Seri Begawan, who have one of the highest Asian standards of living, reside in the stilt houses of their past, resisting all attempts to be resettled. Brunei owns the least exploited jungles of Southeast Asia; rainforests cover eighty percent of Brunei's compact 5,700 square kilometers, the world's highest percentage, of which sixty percent are virgin. Even without the indigenous peoples in long houses that attract travelers to Malaysian and Indonesian Borneo, Brunei's forests offer opportunities for ecotourism. In my itinerary, I included two days at Brunei's first such rainforest project.
Borneo's coastal peoples embraced Islam before tribes in the inaccessible interior, a belief that arrived in the fourteenth century with successful sea merchants who took over the island's already profitable trade, positioned as it was on ancient sea routes that linked China, Java in Indonesia and Malacca in peninsular Malaysia and India. The marriage between one of these men and a daughter of a Malaysian sultan marked the inception of Brunei's monarchy in the fifteenth century, one of hundreds that proliferated throughout the Malay archipelago at that time and of which Brunei is the sole flourishing survivor. When Italian Antonio Pigafetta (crew historian of Ferdinand Magellan's celebrated voyage around the world) arrived in 1521, he noted Brunei's affluent cosmopolitan society and refined royal court under the sixth sultan that is now referred to as the sultanate's "Golden Age." Brunei was eventually forced into decline by colonialism, its vast territories reduced incrementally to its size today--one of the world's smallest countries.
The Brunei capital of Pigafetta's time consisted of elevated houses of wood and nipah palm over water connected by boardwalks and piers, a solution to Borneo's swampy coastline and riverbanks. It remained unchanged until the 1970s when, fueled by oil exports, a contemporary city was developed onshore. Pigafetta might still recognize Kampung Ayer, however, clinging tenaciously to the banks of the Brunei River.
The Brunei government, citing concern for the overcrowded conditions and the sultanate's image, has failed not only to persuade some 25,000 villagers to vacate the village but also to stop its expansion into the world's largest of its kind. A visitor must take a boat ride through Kampung Ayer's churning canals, humming with water taxis that ferry people about, or lose himself in the maze of its busy wooden walkways, to understand its merits. It lacks nothing: Kampung Ayer has schools, mosques, medical clinics, shops and gas stations. Floating markets bring sundries, fruits and vegetables wharf-to-wharf, household-to-household. The traditional livelihoods of fishing and boat building endure. There are no traffic jams or parking problems. Dependency on the rivers was once necessary for Borneo: they were the only way to unite trade and people. The pervasive energy of Kampung Ayer, the heartbeat of modern Bandar, preserves this symbiotic relationship of water and life.
While history floats on its periphery, the new Bandar is secured to the mainland by the Omar Ali Saifuddien Mosque, a vision of white paint and gold-leafed domes, illuminated green at night, the favorite color of a desert religion. Built in 1958 at a cost of millions of dollars by the present sultan's father, it is one of the first signs of oil wealth but the results are more elegant than lavish. A mosaic of three million pieces of radiant Venetian glass decorates its central dome. Its imposing interior space--225 feet long by 86 feet wide--is fully air-conditioned.
In 1992, the largest mosque in Brunei was opened in the commercial suburb of Gadong. I hired twenty-six-year-old Sofian to take me there. There is nothing restrained about the Jame 'Asr Hassanil Mosque: cupolas of 18-carat gold; separate prayer halls that hold 3,000 men and 1,000 women; one-and-a-half ton chandeliers of Austrian glass; hundreds of handmade wool carpets; walls of burnished tropical hardwood; and resting upon a massive stand of Italian marble, an antique Koran, the biggest in the world. The most magnificent mosque in Southeast Asia, it is meant to humble. As I walked through its enormous empty rooms, I watched televisions tuned live to the great mosque of Mecca, Saudi Arabia, filled with thousands of worshipers at dawn whose sheer numbers make Islam so dynamic. It was raining when I departed, a thick tropical downpour that showered my face but the desert seemed an eye blink away.
Without the bustle of the water village, Bandar is a small town by all appearances, with the advantages and disadvantages of one. The tallest architecture is religious and there is only one fashionable shopping center selling the designer merchandise so pervasive in other Asian capitals. There is a national museum with an excellent Islamic art collection and a solitary cinema. A riverside market, the Tamu Kianggeh, becomes active at night, when Bruneians opt for take-out dinners. Expatriates assume busier social lives in response to Brunei's regimen of faith, family and friends although this isn't a lifestyle entirely of their creation. Hospitality is customary in convivial Islamic society. For those who seek alternative entertainment, there is Jerudong.
Opened in 1994, Jerudong Playground, a state-of-the-art amusement park, is another benefit of oil-wealth along with free education and health care, subsidized housing, gas, utilities and food. Its only entrance requirement is a conservative dress code, a royal generosity that extends to neighboring Malaysia, whose citizens arrive in crowds on weekends, but is about to be curtailed because of the Asian economic slowdown. It was deserted when I visited: my obliging driver Sofian, dressed nattily in a red silk shirt with gold buttons, and I had our selection of gravity-defying rides.
The playground, big enough to warrant several visits, belongs to a larger recreational complex called Jerudong Park that includes, for royal use only, a polo club, stables, a hospital, and the palace of the Sultan's second wife. Nothing about Jerudong is understated but neither is it ostentatious, with one exception. A freestanding arch the length of a city block set within gardens advertises the park, a neon spectacle at night of arabesque and royal emblem. Like Oman's similarly sentimental public decorations--towering models of incense pots--it is not an empty symbol of national achievement. Rumors of a sultan's excesses are less important than the respect in which he is held. Thousands of Omanis line the street if the royal motorcade is to pass. At the end of the yearly month-long religious fast, Brunei Sultan Hassanal Bolkiah and his first wife, open their residence to their citizens, who, dressed in traditional gold brocade fabric called kain tenunan, wait for hours to shake one of their hands.
Although it isn't everyday attire, Bruneian men wear the tenunan over loose pants to Friday prayers. By late Thursday afternoon, women are in fine floral sarongs and long matching tunics, a sign of the approaching Islamic weekend. In contrast, and in preparation for the rainforest, I was in utilitarian gear and I was reminded of an Omani friend who had pitied me for my uninteresting wardrobe.
Ulu Temburong, the country's first national park, is located in the isolated, rugged eastern half of Brunei, separated by Sarawak, Malaysia as a result of a late nineteenth century treaty. Rivers provide the best access: a public speedboat swept me from Bandar, through a mangrove forest on either side of the Brunei River, briefly into Malaysia, through open sea, and finally up the Temburong River to Bangar town. A hired vehicle brought me the short distance to Batang Duri, where another boat took me eight kilometers upstream to the park's headquarters. I was fortunate: the river level was high enough that I didn't have to hop out and help push us over the many rapids.
Nearby was the Kuala Belalong Field Center, established for biodiversity research in 1991 by the University of Brunei and the Brunei Shell Oil Company. Visitors used to stay here with prior permission before the tourist cabins were built, wooden huts at the top of a hill the height of a minaret. Once I was settled, only dinner necessitated descending: the staff cooked breakfast in my kitchen so I could enjoy coffee among ancient trees, insect whines and birdsong, while condensation dissipated from the river below.
The climb from river to accommodation was a mere warm-up for the forest where a seven-kilometer wooden stairway has been built to access the hilly terrain. Eight hundred and ninety-seven calf-tightening steps ascended to the halfway mark of the canopy-walk, a metal footbridge suspended in the tree-tops that allows two-legged creatures the perspective of arboreal ones. At 130 feet I didn't see the monkeys and hornbills that thrashed branches or took flight with heavy wings. The view was of jungle, complex and simple, dramatic and silent, 500 steaming square kilometers of it. That morning as I left for my hike with a forestry department guide, a group of young students disappeared into its depths for two weeks with only food, compasses and an enthusiasm for adventure.
We rafted back to park headquarters through the pink light from the sun's withdrawal, a time of day that in Islam is accompanied by the maghrib prayer call. The summons wasn't audible in this rainforest but nevertheless I heard its message: wealth is secondary to landscape and faith.
---