Beyond Trees: Malaysia's Endau-Rompin National Park
---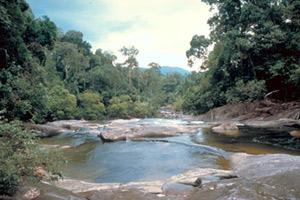 Image ©
2000 Leslie Nevison
I am earthbound in Malaysia's Endau-Rompin National Park, a hushed and darkened rainforest more ancient than the jungles of Africa and South America. I have come to hike and camp for four days among this aged Goliath timber that impairs both my real and inner vision.
It is different outside the forest. When the day's hike is over and I lie in the river is when I most love the jungle. Then I can make some sense of its scale and appreciate its dramatic verticality and picturesque disorder, hear the whoops of gibbons, the whines of insects and whoosh of large hornbill wings and their wooden spoon rattle. From within, old growth forests are a force of many trees; from without, the vegetation closes ranks and becomes one steaming entity. Such fertility doesn't promote existential thoughts, or much thinking at all, although I faintly hope for such harmony with the divine that a herd of elephants will loop tails and breach the water. When I tire of waiting for their trunks to swing aside the vines and creepers like beaded curtains, I return to the campsite where my guides, Dana and Machang, are preparing dinner.
I found Dana, a Kuala Lumpur resident whose hobby is exploring Malaysia's wildernesses, through his email address listed in a guidebook. He warned me of Endau-Rompin's differences: unlike another of Malaysia's protected forests, Taman Negara, there is no resort, restaurant, bottled water, cold drinks, or canopy-walk, swaying footbridges suspended between tree-tops that allow two-legged creatures the perspective of arboreal ones--birds, butterflies and monkeys--found in greater numbers at that elevation in sunlight that never reaches the ground. The natural world of the forest floor is as compelling as a rainforest's roof, but there is no novel method to aid visitors in its discovery other than hands-on experience. Sixty thousand people visit Taman Negara every year, one-tenth that number goes to Endau-Rompin. I made arrangements to meet Dana in Johor Bahru, the Malaysian city across the border from Singapore. "Good," he said, in greeting, "you look strong."
Endau-Rompin National Park's 870 square kilometers, roughly one and a half times the size of Singapore, shares the Johor and Pahang State border. As of 1994, Johor State--where most of the park's attractions open to tourists are located--has assumed its administration. Although a more adventurous approach is nine hours by boat from the coastal town of Endau along the Endau River, most visitors arrive at the park by car through Johor State. As did we, leaving the highway at Kahang to follow a rough, red laterite road that dissected fifty kilometers of palm oil and rubber trees in rows as uniform as fences. Such plantations now cover seventy percent of Malaysia. They are a fitting entrance to the park, reminders of what it strives to protect: one of the best lowland rainforests left in the country; plant species new to man; the last Malaysian habitat of the Sumatran rhinoceros and small populations of tigers and elephants.
It was the dwindling numbers of rhinoceros that spurred the 1985/86 research by the Malaysian Nature Society (MNS) that ultimately led to the park's creation. Ironically, it was a road that allowed them to do it by providing access to publicly funded volunteers who documented hundreds of unique species of plants and animals. It was a daunting task. Fashioned by volcanic eruptions 150 million years ago, Endau-Rompin's terrain alternates between steep mountains and sandy plateaus, a factor which has thus far spared it from developers but which made the conservationists' first forays into the forests that more problematical. The park is divided into three zones on the recommendation of the MNS: an area for tourists and trekkers offering basic A-frame huts, campsites and marked trails; an area for researchers and park rangers that is to remain undeveloped; and a retreat for the reclusive rhinoceros encompassing over half the entire park's area. In high isolated ridges, days of walking distance from permitted paths, are where the rhinoceros roam, estimated at the time of the MNS study, to number, sadly between five and twenty. It is unconfirmed but believed that the rhinoceros count has not increased.
Park regulations require that aboriginal guides accompany visitors. Dana has taken as many as three on longer trips. We hired one: Machang.
Indigenous groups in modern Malaysia, which account for less than one percent of the population, are known collectively as Orang Asli or "the first people." Twenty-one-year-old Machang belonged to the Orang Hulu or Jakun, the "upriver people." Long before he was born, Machang's tribe--traditional hunters and gatherers and fishermen--settled permanently in Kampong Peta, a village of three hundred people just outside of the park and the site of its headquarters. We were Machang's guests for lunch. Fried greens, eggs, a jackfruit curry, rice and chili sauce were placed on the floor in front of us. We ate with our hands. Adult family members, their children and cats too numerous to count, came and went in the wooden house.
Peta felt to me like a remote and precious place, which wasn't entirely a romantic notion because the lack of a surfaced road has kept Peta removed from the outside, and by comparison, it is a sanctuary. It was hardly an accurate assessment, however. Peta, as elsewhere, is in a state of flux. The Asli once poled single log canoes to the coast and back for supplies, an undertaking that took three days, so they rarely went. The forest sustained them. Now their lands are a national park and the Asli its employees. Those who work as guides must seek employment elsewhere during the November to February rainy season when the park closes. They need money for petrol, rice and packaged foods.
After our meal, we divided the supplies between packs. With the men hoisting the food supplies, we then filled a tipsy, shallow, motorized canoe that deposited us somewhere upriver. Dana scrambled into the foliage, leaving his charges to awkwardly follow. It was the last time that my boots were dry or my clothing clean.
This was not my private adventure. I had company, a European couple, who were dedicated amateur astrologers and in Malaysia to catch a solar eclipse. There was portly Ratnam, the driver, second bearer and cook's helper, who was as quiet as Dana was chatty. Dana, with his wild, white hair that another man would have tied into a fashionable little ponytail, deservedly commanded the attention as the impassioned advocate of the environment. He so loved the jungle that he had planted a miniature forest in his own backyard, his jungle away from home, where he sought refuge from city living and the pressures of his career in journalism. Finally, there was Machang, who always brought up the rear on the trails, treading barefoot on brown leaves.
I sat with my feet dangling from the covered cooking platform of Kuala Marang, our camp for two nights. Bed was the unresisting floor of an unstable hut made from strips of bark from a hardwood tree, protection I was nevertheless thrilled to have, even when rain of carwash velocity burst through its roof. Dana was chopping mushrooms and banana leaf flowers for his soup that bubbled on a butane stove. The revelation that we would eat well because cooking was another of his skills and enjoyments was one of those surprising and satisfying bonuses of travel that we wish happened more often. Directly ahead was the jungle vista of my imagination, two rivers cleaving the green at their confluence. A species of cicada cried as though in grief, a sign that night was approaching. Heard only at dusk, the tiny winged insect instills terror in the Asli, who believe that it sucks blood from human victims like a vampire. I looked at Machang who squatted at ease, smoking a cigarette within the circle of gaslight. I found him mysterious. He slipped away and reappeared at will, a spirit whose transformations I continued to miss. While we struggled across rivers with uncertain footing, Machang possessed supernatural powers of locomotion, making him the ideal caretaker of cameras and money pouches. He was never wet. His sense of time completely fluid, he would get up in the middle of the night to eat leftovers or to request an English lesson from Dana.
Machang's people have had contact with the world outside their forests for over 150 years, mainly for economic reasons. Early Chinese loggers to the area gave some of the Asli Chinese names, which they use interchangeably with tribal ones. Some name their new daughters after Malay actresses and singers, known to them from television and magazines. Pictures of celebrities decorated a wall inside Machang's wooden home. In Kampong Peta, the people who were nomads have long since passed on, the forest now an ancestral home, although many still hunt its boar and mouse deer or collect its fruits, roots and nuts. The Asli continue to treat the forest with reverence, not only because it is a new source of income for those employed as guides, but also because they are animists. I was told that it was wise to seek permission from a tree before urinating under it. Failure to do so could result in spirit possession, the effects of which sounded like a particularly nasty way of spending the night. In deference to local beliefs, I muttered "permit me please" when I had to use the woods. Far more worrying was the thought of exposing more flesh to the tenacious leeches.
At night, the jungle was magnificent. All the heavens blazed in the corridor between riverbanks and pulsing fireflies, small suns fallen to earth, were pinpricks of electricity in the trees. But the nights were really about noises: identifiable ones like the river, night hawks, frogs and insects that mimicked footsteps on gravel, the clicking of knitting needles, or telephones; and sounds that defied placement--the rustling that could be insects, leaves, rodents, reptiles or ghosts. I rarely slept well but this was because of an aching abductor muscle, dipping temperatures, my camp mates' snoring, or all three.
The mornings were equally special: dissipating mist rose from the river surface like vapor from a boiling tea kettle, Dana had coffee on and French toast or pancakes in progress. After breakfast, we hiked while Dana instructed: the ages of trees with twenty feet diameters (300 years); palms with barbed branches (aptly known as "traveler's woe"); the winding vines on a trunk that face the rising sun where they twist (a compass); vines that contain potable water (indispensable if you're lost and thirsty); wood that makes the strongest walking stick in the world (also useful for injuries); thick moss that cools trees (natural air-conditioning); purple, wild orchids (exquisite beauty); and moss-green pitcher plants, a flower of fragile and pretty appearance that conceals its carnivorous appetite. To know the jungle was to begin to see beyond the trees.
Batu Hampar and Upeh Guling, the cascades and waterfalls on the youthful Jasin River, were the destinations of our hikes. Waterfalls provide visual and physical relief from sticky heat and are adored in Asia. Upeh Guling was the more spectacular of the two, gargantuan boulders inset with deep depressions referred to as "bathtubs", reputedly formed by trapped stones in crevasses whirled by forceful water over centuries like coins in a washing machine. Above Upeh Guling was the much larger waterfall with the curious name of Buaya Sangkut, or crocodile hanger, reached by a longer and more difficult trail that was not included in our itinerary.
Because I awoke on the third day feeling the onslaught of a miserable cold, I also missed climbing the seven hundred meter high hill called Janing Barat where Malaysian Nature Society botanists had discovered a new fan palm called the Livistona endauensis, which had evolved separately in the poor, sandy soil to the exclusion of other plant life. Janing Barat is a natural plantation of Livistona palms, their sheer numbers and low height depleting oxygen and reducing light. Another sandstone plateau of comparable steepness and height to Janing Barat is Padang Temanbong, believed haunted by the Orang Hulu. The park intends opening it to trekkers next year.
What wasn't in park literature was a place called The Blue Lagoon, named after the corny Hollywood movie by courting Malaysian Nature Society staff, who expended great efforts for privacy because it was a twenty-minute wade downriver to get there. It was neither blue nor a lagoon but its reputation was justified, a transparent pool that reflected a vaulted ceiling of green boughs. While I admired it, a noisy and thick rain descended with drops the size of birds' eggs and the weight of pebbles. It was to continue for the rest of the afternoon and most of the night, silencing the usual string orchestra of insects that, like us in camp, waited it out patiently.
Rain is one of the delights of the rainforest because it eliminates the desire to stay dry, an obsession that can ruin the experience and only when you have sacrificed your last set of clothes to the wet can you fully appreciate it. You will never take a more atmospheric bath than in a rain-charged river with diaphanous condensation clouding the canopy. The aftermath of the deluge is less enjoyable. The river that we had crossed to get to the Kuala Marang campsite had swelled with rainwater and was too high to cross back safely. We had to detour overland to Kuala Jasin, our next camp, a not overly strenuous hike of several hours but the trail was saturated and several bridges that were necessary to negotiate were nothing more than slimy logs. I silently cursed every jungle spirit before it was over. It was the trek, however, that I would remember best, because I finally witnessed Machang's movement from one world to the next. After a colony of nipping red ants repelled us from a blocked trailhead, Machang assumed leadership of the group. After calm and careful consideration, he chose an entry point to the extreme right of where we had attempted to penetrate the overgrowth. We followed him obediently. With his parang, a Malay machete, he slashed a route in a large L-shape; where the letter ended, he began its reverse image, and so on, over and over, creating a link of three-sided squares, until we connected with the trail, clear of debris further in. The Asli use this pattern to forge a new path or seek a lost one, explained Dana. Without a word, Machang encased his knife and resumed his position behind me. When I looked over my shoulder, he was gone.
I realized then that the forest had revealed itself best to me through Machang. Knowing that he shared his future with the forest made me hopeful for the successful outcome of whatever changes they both faced. It was why the image of Endau-Rompin that I took away with me was not just of towering trees, but also of Machang in camp mixing pancake batter, his favorite breakfast introduced to him by Dana. He fried two at a time, one on each side of the wok, applying the same focus that he would to fishing, hunting, tracking, or, as I discovered, drawing. He struck me as innocent, but should a wild boar have threatened us at that very moment, he was capable of killing it...a man as simple as his forest.
---