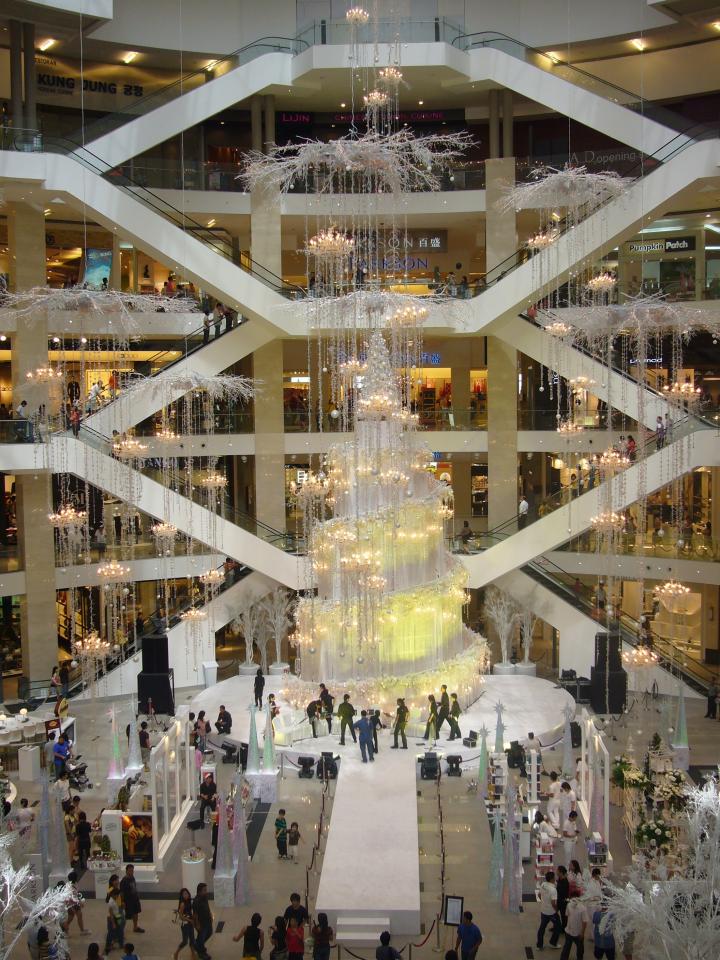 We have 1 Utama, Sunway Pyramid, Midvalley. After that we have the old wing, and then the new wing. Next we have Berjaya Times Square, bigger and better. Now we have class; each better than the one before.
There seemed to be a major growth in the shopping arena in Kuala Lumpur these days. Each mall is either getting larger or classier. Old malls are adding new wings and expanding the shopping space to hundreds of thousands of square meters, each trying to outdo the one before.
Two new additions to the Kuala Lumpur shopping scene are The Gardens and Pavilion. I went to The Gardens first, as it is closer to home. It is located within Mid Valley City and covers an area of 9.7 acres. Part of The Gardens project includes two landmark office towers, five-star residences, and a five-star hotel. Of course, not to forget, the really classy Gardens shopping gallery. The shopping gallery opened its doors to the public on 26 September 2007. It was a flurry of excitement for the general public. In fact, it caused quite a bit of a traffic jam for shoppers rushing to see the latest fashions and brand names yet to be seen in Malaysia before. Two anchor tenants are available at The Gardens, namely Isetan and Robinsons. Following the theme of a garden/nature feel, the place exudes a feeling of spaciousness, classiness, and freshness. There are huge sofas scattered throughout the shopping gallery with "palm trees" flanking it. It is a great place for the tired shopper to put up his/her feet for a moment. Even the floor tiles have little leaf motifs here and there to complete the look.
There are lots of super brands from all over the world at The Gardens – gathered under one roof. There are a total of 7 floors at The Gardens with the lowest floor the "Market Hall" where you can find restaurants and Cold Storage Supermarket. Then the main floor is for fashion. You will also find home and living items, sports, leisure, wellness, arts and theatre, and a lot more. Expect to see big names like Hugo Boss, Nine West, Ted Baker London, Banana Republic, Coach, and so much more. There are also floors dedicated to baby/children with names like Gap, Lego, Levi's Kids, and more. There are about 200 new retail outlets within The Gardens.
As it was about brunch when I arrived with my friends, we decided to hit the lowest floor first looking for food. We headed towards Din Tai Fung as that seems to be the busiest looking restaurant so far. It was a Tuesday morning, a work day, yet the place was beginning to fill up even as early as 11 a.m. By noon, there was a long queue outside the restaurant, with many hungry customers sitting on the available chairs while staring at the mouth-watering menu, each patiently waiting for their table. We reckoned the food has got to be good if people are willing to wait so long for a table. While the food did not disappoint, we were slightly irked by the lack of choices. Most items that we ordered were unavailable. Granted that they have only been opened for less than one week (when I visited The Gardens, it was still the first week I believed), so we forgave them and ordered the dim sum, dumpling, chicken soup, beef noodle and fried rice. They were all superb!
Left with a good impression of The Gardens as the trendsetter of the Malaysian shopping scene, I visited Pavilion within the same week.
What I saw was even better and way classier than The Gardens. Already The Gardens was impressive, but if I have to choose between the two, no doubt Pavilion would be my favorite. It is classy with a capital C. Most brand names like Mont Blanc and the likes occupy a two-storey retail lot. If you stand back a little way, you can actually see that the façade is done to look like a whole shop from the ground floor to the first floor. All the outlets are tastefully furnished and exude an air of top class. Each floor has a theme with the lowest floor being the dining area. It is very interestingly done in a circular fashion and again, each outlet is a feast to the eye. Just ogling and admiring the window display is more than enough for me.
However, everything seems to have a different price tag here. Of course, the higher the floors, the lesser known are the brand names. Most local brands are located on the higher floors. However, for some, the price tag for (say) Item A is costlier at Pavilion than at (say) 1 Utama. But I supposed with that kind of interior decoration cost put into the outlet, some things have got to be priced "differently". Oh, they even have an entire outlet for Thomas Sabo. Therefore, if you are into charms, this is the place for you – the largest Thomas Sabo range is found here. Another thing that everyone is raving about at Pavilion is J. Co Donuts and Coffee. It is a donut and coffee shop, and I believed they are the same people who run Big Apple at The Curve, 1 Utama, and elsewhere. However, till now everyone still claims that the ones in Pavilion taste better than the ones from all the other Big Apple outlets. I have yet to try it, and will definitely brave the queue one day. Yes, some people told me they had to wait for half an hour just to get their hands on a donut. Now, that is food for thoughts.
I went around Pavilion for more than 4 hours (I think, I lost count), quite awed by the high ceilings, décor, and overall grandeur. Here, you will find DKNY, CK, Coast, Trucco, Guess, Banana Republic, MNG and many more. Even CK Tangs (which closed down in Starhill some time back) has reopened Tangs here. The items? Phew, very expensive. From what I can see, there are no dresses that cost less than 4 figures. In this aspect, The Gardens have more affordable items. The tenant anchor is Parkson, which boasts more than 300 brands. But even so, the items sold are pretty expensive. However, you will be able to shop at Parkson without killing your credit card here (compared to elsewhere in Pavilion).
Parking rates is a killer though. I paid RM11.50 as opposed to The Gardens which is slightly better. However, that is the common Kuala Lumpur parking rates. So be prepared to fork out a hefty sum for parking for each visit. Overall, I had a good experience and am very proud that Kuala Lumpur is advancing in the shopping arena. With the opening of The Gardens and Pavilion, it will definitely put Kuala Lumpur down on the map as a shopping paradise.
---