Heaven on Earth: Buddha Mountain and Wat Yan
---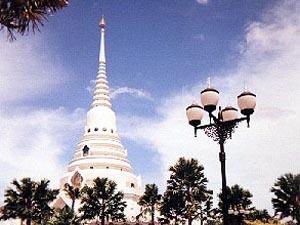 Image ©
2001 Ken Champeon
There are probably as many Buddha images in Thailand as there are people. As Thailand's population is 60 million, this makes for a lot of Buddhas: rare is the day when you don't see one. Usually their effect on you is exactly what their creators must have intended. Regarding the Buddha's shapely body and serene pose, his Mona Lisa-like smile, and his slightly sleepy eyes, you are transported temporarily to the outskirts of Nirvana, the place where no wind blows.
Imagine, then, the effect of regarding the largest Buddha image in the world, located just outside of Pattaya, Thailand.
Unlike most Buddha images, the largest is not a statue, but a cliff face inlaid with gold leaf in the outline of a sitting, Sukhothai-era Buddha. It is 130 meters tall, 70 meters wide, and can be seen from miles away. The image and mountain are alternately referred to as "Buddha Mountain", Khao Chee Chan, or "Phra Phuttha Maha Vachira Utta Mopas Sasada".
Buddha Mountain has a compelling history. During the Vietnam War, the Thai navy was permitted to mine the mountain for stone to be used at nearby U-Tapao Airfield, then an American base. The stone was also used to build a road from Sattahip to Chachoengsao. After the war, the mountain was illegally mined for stone to be sold to construction companies.
In 1976, His Majesty King Bhumibol put a stop to the mining. At his suggestion, his children created the Buddha image to commemorate the King's 1996 Golden Jubilee, the 50th anniversary of his accession. Experts from the Department of Geological Resources and the nearby Asian Institute of Technology headed up the construction. Using American laser technology, the carving was completed in two days, but months were required to fill the resulting grooves with gold. The cost of the entire project was about 150 million baht (over $3 million).
In the park surrounding the cliff are a number of salas provided for meditation and rest. Signs point you graciously to the most scenic viewpoint of the image and to the "homage paying area". Directly in front of the cliff face are shrines, elaborate gardens, and a number of terraced pools stocked with lotus flowers. Pains have been taken to make Buddha Mountain a quiet, contemplative place.
Standing at Buddha Mountain, you can just see a few temples rising out of the jungle. These form part of the enormous temple compound known as Wat Yansangwararam, or Wat Yan for short. To reach it, turn left out of Buddha Mountain and head up a slight hill. After less than a kilometer, the hill will crest and there will be a sign for Wat Yansangwararam in Thai.
This will take you on a winding road that terminates at Viharna Sein (a.k.a. Anek Kusala Sala), a rather psychedelic and kitschy Chinese-style temple. Built to honor Thailand's Chinese population, and opened officially by the King in 1993, the temple houses an enormous collection of Chinese antiques and objets d'art, including giant yin-yangs, multi-colored dragons, terracotta statues, and depictions of scenes from the Buddha's life.
Just across a large fountain-dotted reservoir from Viharna Sein is Wat Yan. Covering 366 rai (146 acres) of land, this temple complex features a wide array of architectural styles and structures, surrounded by verdant gardens and vivid flower arrangements. Among the structures are a Khmer mandapa, housing a replica of a Buddha footprint; a white, 40-meter tall chedi containing relics of the Buddha and his disciples; a Swiss Chalet; and shrines in Indian and Japanese styles. Monuments include statues of King Rama VII and his wife, the beloved Princess Mother; and wax statues of 20 revered monks. The site also contains wildlife preserves and breeding facilities, a school, and a hospital. You can even take a daily meditation course.
In 1976, Wat Yan was dedicated to Somdej Phra Yanasangworn, then the Supreme Patriarch, or head of Thailand's monastic order. The temple was subsequently put under the patronage of King Bhumibol, who established a development program for it in 1982. Over 27 billion baht (~$600 million) is said to have been spent on its construction.
If you stand in the right place in Wat Yan, you can see not only its temples, but also Viharna Sein and -- way off in the distance -- the cliff face of Buddha Mountain. The reservoir fountains are the only sound. The sky is a deep blue. The sun is shining. The benediction of some Buddhist text springs naturally to mind: "May all beings be happy. May all beings be at peace."
* * * * *
Factfile:
Buddha Mountain is located about 20 minutes by car from the seaside resort town of Pattaya. Travelling from Pattaya, you head south on Sukhumwit Road. About 4.5 km after passing the towering Ambassador Hotel, you will see a sign for Khao Chee Chan on the left. The road passes Buddha Mountain and ultimately intersects with Highway 331. There is no admission fee.
Admission to Viharna Sein is 50 baht. Operating hours are from 8:00-17:00.
The Wat Yan meditation course is offered at 6:00 and 18:00. Admission is 30 baht.
* * * * *
---