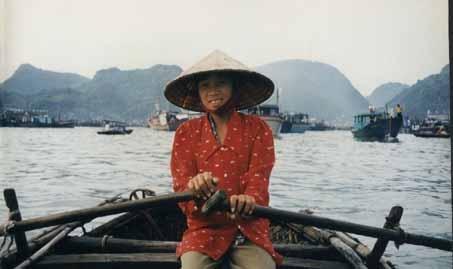 Image ©
2006 Samantha Coomber
I once fell in love on Cat Ba Island. Well okay, it lasted ten days and was doomed to failure. But maybe it was the romantic, wild backdrop that initiated this. And it only ended because I ran out of money and had to get back to the mainland. Who knows what might have happened? Maybe I could have become a Cat Ba housewife; it's not a bad place to spend the rest of one's days.
I first came to Cat Ba in 1998; like most people on a boat package tour from Hanoi.  The largest of the hundreds of islands in Halong Bay, it's de riguer to stop here at least one night, doing a quick trek through the National Park, leaping through crashing waves at sunset at one of the islands sandy coves and dining al fresco along the seafront promenade. You can sit mesmerized for hours after dinner on the hotel balcony, watching tourists and Vietnamese take their evening constitution along the waterfront.   I was captivated from the very first sighting of the fleet of brightly painted fishing boats in harbour, as we sailed around the final curve of the island. I vowed to return and did so on numerous occasions.
The third trip was much longer than intended. I was travelling alone with no fixed itinerary. As I boarded the ferryboat in Haiphong, I told a friend I'd only be gone a couple of days: I ended up staying ten. Cat Ba Island is too magical a place to rush. And if you're smitten with one of the locals, you don't stand a chance.
Most tourists come and go in the space of a couple of days on tour. I spent so long hanging around the island that I became part of the scenery. Well, the main town, lining the seafront and where the majority of the boats come in, is a relatively small place. The locals all got to know me, feeding me up on steamed rice and freshly caught fish. I almost lost the plot and didn't want to speak to any foreigners, for I was now "temporary resident of Cat Ba."  Pursuing the object of my affection could not fill my days: he was otherwise engaged. I had already seen quite a bit of the island, but there was still much more to see and do: there are equal sights inland, as well as the obvious ocean-going delights of surrounding Halong Bay.
I embarked on a guided five-hour trek through Cat Ba National Park. It's quite a challenging trek for the unfit, but it's worth the muscle power.  Veering off the road, our guide took us down into virgin rainforests. Dirt tracks crossing hilly terrain led us to surreal lagoons, full of jumping fish and butterflies.  Eventually, we staggered out into lush paddy fields with the brightest hues of greens I have ever seen, and Viet Hai Village. Here we had a simple lunch served up at a local house; after which, I strolled around more thatched bamboo dwellings and stumbled upon villagers making milk from Soya beans. It involved a bamboo contraption and a stone weight and seemed far too much hard work for my liking: the locals laughed at my futile attempts to help out. At the nearby jetty, a small boat met us and the Captain anchored off one of the countless secluded sandy coves below limestone outcrops. The water was emerald-green clear and warm, like bath water.
For a couple of days I hired a local motorbike plus driver and toured Cat Ba's interior. The spectacular scenery is even more awesome viewed on this form of transport. Climbing the narrow sealed track from behind the town, you can look back over Cat Ba Harbour, the fishing boats framed by the backdrop of Halong Bay. Driving further into the heart of the island, the scenery takes on the mantle of a fairytale grotto, with an inland version of the bay: eerie limestone outcrops covered in thick green vegetation dotted over the landscape. Tiny communities rest below and traditional life carries on: oxen ploughing the fields, locals tending paddy fields and conical hatted women carrying wares. En-route, my driver dropped me off at supposedly nothing by the side of the road. It then transpired, as I climbed up steps cut in stone, that I was walking into history. Up a rickety bamboo ladder, I was plunged into a huge cavernous area hewn into the side of the mountain; a secret army hospital during previous wars.  By torchlight, my guide showed me the remains of hospital fixtures and implements left behind. Its camouflaged location was the perfect cover from the enemy.
I was taken to yet another village hidden in the interior; as not many tourists make it here, I was guest of honour in one gentleman's home. Tea was duly served up. Well I thought it was: a blue and white china utensil with a metal spout. This I soon learnt was a water pipe filled with fresh tobacco. I merrily puffed on the fresh (and mind-blowingly strong) tobacco with my newfound friends: both the wrong side of seventy.
We also visited a village located around the more remote side of the island. Situated at the edge of the bay, its geographical position and protection from the main sea made it appear like a calm lagoon. The small, simple fishermen dwellings right on the water's edge seemed an idyllic, peaceful place to live. Kids played in the village road and were soon following my every footstep, shouting out "Hello! Hello!"
Yes, Cat Ba has developed tremendously since my first visit. There are now more sealed roads, the place positively heaves in the summer with Vietnamese and foreign tourists and new hotels and entertainment spots unfurl like buds in the spring. Okay, the romance didn't work out, but I'll still return again to watch the sun set over the fishing boats, devour fresh seafood cooked on the beach, swim in crystal-clear coves and discover timeless island villages. And maybe steer clear of handsome inhabitants.
* * * * *
---