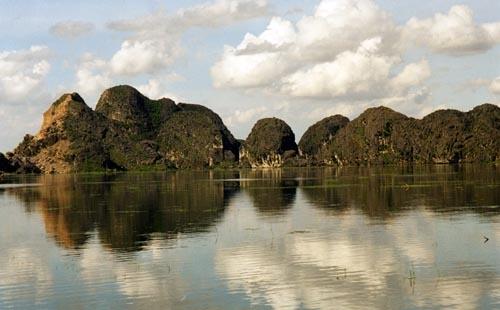 Image ©
2006 Samantha Coomber
Ninh Binh is not an obvious first choice to spend your precious few days of travel. In fact, it's a pretty average, non-descript northern Vietnamese town. But just a few kilometers outside the town is some of the most stunning scenery in the whole of Vietnam – and that's a compliment not to be sniffed at. Watery paddy fields surrounded by dramatic, jagged limestone rocks and an idyllic rural landscape paint perhaps the picture-perfect image of the "real Vietnam." But then that's only one of the many surprises up Ninh Binh's sleeve.
Only two hours south of Hanoi and it's a world away from the somewhat manic capital; time seems to have stood still. In this tranquil rustic area, early morning "rush hour" is the steady stream of cyclist's en-route to the fields and groups of ducks waddling in unison down dusty footpaths.  This is a land of peaceful hamlets, where ox and cart is the main form of transportation for farmers and cars are infrequently seen. Women clad with conical hats are bent over in omnipresent paddy fields, diligently planting green shoots for the next harvest. Over flooded landscapes, fisherpersons cast their nets out from precarious bamboo boats and thousand-year old pagodas rub shoulders with pastel-painted Catholic churches – a legacy of the French missionaries in former Indochina days.
You can visit here on day trips from Hanoi, but an easier option is to use Ninh Binh as a central base to leisurely explore the surrounding province. You can amble around the countryside for days on bicycles or motorbikes, which can be inexpensively hired from the towns' hotels. As not many tourists have the time –or inclination– to partake in this activity, you'll be guaranteed a warm welcome from the locals.  There's a myriad of bumpy dirt tracks leading to small communities of humble dwellings, modest plantations, chicken coups and paddy fields, as far as the eye can see.
The highlight for many travellers is the Tam Coc ("three caves") region. Almost too breathtaking to be true, it's a sort of fairytale Vietnamese version of Disneyland, with its mystical limestone outcrops jutting out of rice fields. Except that this is very much all Mother Natures' production and has been so for thousands of years. You can hire a boat – a small, metal-lined bamboo sampan – for a couple of hours and simply drift out onto a flooded landscape where the Ngo Dung River and rice fields merge into one. There are usually a handful of tourist-filled sampans making a languid convoy along the river, but only the sound of wooden oars making contact with water and the chattering of the female oar hands are heard as you drift along.  Eventually the first of three low-slung grottoes are reached, that the boats just about manage to row under and eventually out of. These long, cave shelters are doubly useful if the clouds starts to spit rain (as is apt in the monsoon season) or a welcome break from suffocating summer temperatures. On the journey back to the village boat station, you can moor up and visit Thai Vi Temple, a centuries old site rarely visited by tourists. This secluded temple is reached by strolling along a path winding through emerald-green rice fields, banana trees and lotus blossoms.
Nearby is Bich Dong, an ancient three-tiered cave pagoda built into the limestone rock. The third level is worth the steep climb – as well as the charming wooden pagoda sheltering under a ledge, the view from here is spectacular. Dramatic limestone ridges and dotted communities pan out into the distance. Hoa Lu is the next stop, two dynastic seventeenth-century temples that stand upon the ruins of an ancient capital of an early Vietnamese Kingdom. Surrounded by immaculate courtyards and lotus ponds, the dimly lit temples are packed with the gilded effigies of former Kings and Queens. Aged, carved wood inside are still beautifully preserved, despite centuries of continual burning incense.
Another place of interest is Kenh Ga. Only recently opened up as a "tourist attraction," it's refreshingly clear of over-eager postcard and drink sellers, but then maybe it's only a matter of time before that all changes. Billed as a "floating village," Kenh Ga is in fact a small community permanently built on an extensive flooded river area. The only form of transport is by boat and the high street is a watery highway. The water level here never drops below ten meters, so it's one of the rare places in Vietnam where a bicycle isn't used. You can tour the Kenh Ga River by hiring a motorboat for two hours that takes in the village and some interesting sights. An imposing Catholic Church takes centre stage and its' sweeping front steps retreat down to the waters' edge. Further on, there is the evocative sight of simple white crosses poking out of the murky water, designating where watery Catholic graves lie. Locals float by, reclining back in small bamboo boats and deftly rowing with their feet. They also harvest piles of green riverweeds, apparently for feeding fish at the numerous floating fish farms in the vicinity. Surprisingly, Kenh Ga also has hot springs, which are captured in a deep well within an enterprising residents' backyard; naturally, he charges a small fee per visit.
If you are beginning to tire of water however, there's always the Cuc Phuong National Park. An hour's drive northwest, Cuc Phuong is Vietnams' first official National Park. Somewhat overlooked by tourists, the parks' two hundred kilometers of dense mountain rainforest and rich and diverse fauna make a great setting for hiking. Along secluded trails, you'll encounter the Cho Xanh Tree– a lofty, one thousand-year old specimen – or caves where prehistoric man sheltered. Within the park, the Endangered Primate Species Center houses rare and near-extinct primates and is touchingly funded by organisations from across the planet. Eventually, resident primates such as the elusive White-hipped Languor will be released back into the wild. If enough time, overnight stays are possible at the stilt houses of the Muong minority peoples deeper into the park. Opting instead for comfort however, I head back to town.
Here, I learn that the amiable hotel owner apparently lived in Bulgaria for eight years. He frequently reminisces wistfully about his life in this former Eastern Bloc country. Sensing my occasional homesickness for all things European, he instructs his chef to cook me a special Bulgarian chicken casserole one evening, which I consume with relish. A Bulgarian dish cooked by a Vietnamese chef? Catholic Churches? Floating Villages? Seems you never stop being pleasantly surprised in Ninh Binh Province.
---