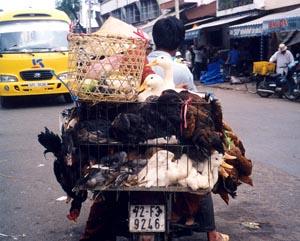 Image ©
2002 Samantha Coomber
Ho Chi Minh City's Chinatown is not an ideal place to visit if you have a hangover, or in the searing midday heat of Vietnam's tropical south. Unfortunately, I manage to visit Cholon ( Chinatown's local name) with both. Nevertheless, hangover or not, it is still an all-encompassing experience not to be missed.
If you think Ho Chi Minh City is full on, you should try this sprawling Chinese suburb. Five kilometers west of the center, it makes the rest of the city placid -for those of you who know HCMC, that's really saying something. No sign is required for Cholon - you'll recognize it instantly as you approach along the grand prix circuit that is Tran Hung Dao Street. Giveaways are the increasing dearth of Chinese characters, multitude of red and gold emblems, Hong Kong movies showing at the cinema and dilapidated old, low-rise wooden buildings lining the streets. The area is all at once exotic and yet uniform; like all the other Chinatowns worldwide, you could be anywhere. There's also a timeless quality, of bygone Chinese merchants and traders who sailed in to set up businesses here. Although relatively near the western and amiable touristy city center, few travelers make it out this far. This is unfamiliar territory and visitors here are eyed-up suspiciously.
Cholon is a non-stop hive of activity, of dawn-to-dusk markets, abundant fresh produce stalls and relentless entanglements of motorbikes, cyclos and pedestrians. Every second building seems to be a gold and jade shop, every inch of pavement given-up to mobile street canteens. The noise from the traffic and locals declaring their wares drills into my aching head, a blatant reminder of a night well-spent in the city's bars and clubs.
Several narrow, covered alleyways lead off the central artery, taking you immediately from the harsh glare of daylight and hullabaloo of the streets, into another world. Rolls upon rolls of silks and assorted materials are stacked to the rafters in cramped wooden-fronted kiosks. Traders organize garments to be run-up and the steady whir of sewing machines assaults the ear. Amongst this mild mayhem, impossibly tiny food outlets serve up neatly presented bowls of food on trays to vendors and customers alike. You can sit on ridiculously low plastic stools wolfing down dirt-cheap noodle soup and rice dishes. The scene is reminiscent of the hidden alleyways in Bangkok or Hong Kong and suddenly I get quite disorientated.
I soon discover that shopping seems to be the main activity here. Amongst many markets strewn across the area, the largest and most interesting is Binh Tay. Quite unmissable, it's a massive edifice awash in faded yellow pastel, a remnant of the French Colonial influence. Inside, the dim light yields a myriad of pathways and a continuous sea of stalls crammed with every conceivable product and item. One area is entirely reserved for dried fish, with countless bamboo baskets containing mounds of pink, brittle shrimps. Another has stalls piled high selling bargain-priced blue and white china crockery. I never would have known there are so many varieties on buttons or padlocks. If I was setting up home here, I could spend hours deliberating over the great lines in ironmongery and plastics. But after overdosing on kitchenware and tripping over highly-organized and determined elderly Chinese ladies, it's time to escape.
Squinting in the sunshine, I give up on map-reading and by chance stumble into Hai Thuong Van Ong Street. This is well-known as the local medicinal quarter and is named after a famous Vietnamese herbalist who practiced medicine two hundred years ago. The street is full of weird and wonderful concoctions to cure every type of ailment. You don't need to bother with directions, as the heady mix of aromas gently guides you there. Huge sackcloths, overflowing with saucer-shaped mushrooms and knotted, hairy roots, spill out on to the pavements. Inside the decades-old shop, wooden cabinet drawers heave with dried herbs and sliced bark. These are carefully measured out on old-fashioned weighing scales used down the generations. Large glass flagons of potions containing coiled snakes and twisted intestines line the counters. Fresh Asian Ginseng is for sale, but sadly so too are rare and illegal products, such as powdered rhino horn and ivory.
Behind the imposing main Catholic Church, Cha Tam, I discover "poultry alley:" a small side-road selling nothing but live chickens, geese and ducks. Amazingly, they sit quite placidly on the newspaper-strewn ground, patiently awaiting their fate - which doesn't look too hopeful. Several women decked out in conical hats, rubber boots and baggy trousers, squat amongst the half-dead produce and do a roaring trade. The air is full of clucking chickens, cackling voices and irritating dust from bird feathers. Several locals bulk-buy and then carry their wares off home on motorbike. Limp chickens dangling off handlebars, saddles and back wheels - whilst whizzing through the streets - is quite a common sight here.
If nothing else, Chinatown should be visited for its' exquisite miniscule pagodas and temples hidden down quiet, non-descript lanes. The entrances are marked by incense sellers and bamboo bird-cages; the diminutive creatures inside sold to be set free in the hope of good fortune. It's worth stopping to peek at the delicately glazed rooftop tiles, with detailed scenes of fishes, dragons and Imperial figurines. Inside, the smog from incense clouds over altars bedecked with food offerings and life-size wooden carvings of fierce, Buddhist deities. Ancient slabs of wood lining the walls are covered with faded Chinese legends.
If I am not careful, I could easily get lost in Chinatown for eternity. Ironically, just as I start getting into the swing of things, my head starts to resemble a pneumatic drill. It's perhaps best to head back to the centre. As I roar home on the back of a motorbike, I suddenly remember that I didn't get around to sampling the local Dim Sum, or attempt to procure a jade bracelet. Next time, I vow to return fresh from an early night and just as the sun is in its infancy. Some hope.

* * * * *
---