Café culture- Hanoi Style
---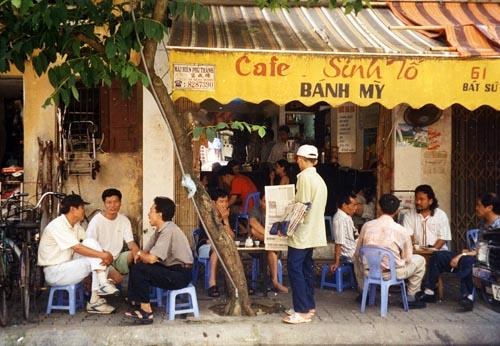 Image ©
2006 Samantha Coomber
Okay, I admit it, I have become a cafe junkie. But that's not too hard in Hanoi – as you literally can't move for them. Or should I say can't move around them, as the countless cafes in Vietnams' capital spill out onto the already congested pavements. A legacy from bygone Indochine years, the Vietnamese have embraced café culture in a big way. But this isn't surprising, given that an irresistible French factor is involved and Vietnam is amongst the top coffee exporters in the world. And cafes here aren't just for coffee connoisseurs. They serve tea, iced drinks and snacks and are a sanctuary for the Vietnamese to reflect, gossip, meet old friends, pass the time of day – and for hopeless romantics – steal precious moments.
With a resurgence of tourism to these fragrant shores, many Hanoi cafes are now resurrecting the wonderful old ambience of former colonial times. Delightful cafes are now housed in elegant French-style villas with exquisite silk prints, meticulously polished wooden floors and pot-planted courtyards; many serve delicious food all day and evening. And some are the sparkly-new, squeaky-clean, piped muzak type of cafes catering for well-heeled Asian travelers. Starbucks hasn't hit Hanoi yet, but there's already a chain of uniform Vietnamese coffee and teahouses established here and across the country. But my preferred type of cafe is the hole-in-the-wall, street-side, shaded premises, where the menu-free drinks are dirt-cheap, western food isn't served and there's rarely a tourist in sight. Many have Gia Khat emblazoned across their glass doors– which aptly translates as "quenching of thirst".
And so I have become pseudo-Vietnamese and slouch over their impossibly low miniature chairs and tables utilized everywhere. I am served the traditional Vietnamese coffee apparatus of aluminum dripper balanced atop a glass, which is submerged in a small china bowl filled with hot water. I watch the drip, drip, drip of fresh coffee percolating slowly through and when it's finally finished, I loose myself seemingly forever in the stirring through of the dollop of condensed milk located at the bottom. Once this ritual is complete, I sit back and gaze out at the streets all day just like the locals, sipping languidly from my germ-trap of a glass.
A good introduction to authentic Hanoi cafes is Hang Hahn, an atmospheric slender street veering off the city's central Hoan Kiem Lake. Impossibly hipper than hip, every afternoon I find myself inexplicably drawn to its' wall-to-wall cafes, which unfold below the shady boughs of leafy trees. Here, the annoyingly young and cool Vietnamese sit and watch the world go by. A predominantly male domain, some are moneyed with mobile phones and flashy bikes that deposit them to pavements strewn with plastic seats and tables. Come late afternoon, with the last rays of sunshine filtering through, the place starts to buzz. At weekends, the place is positively heaving with dating couples or gangs of youths desiring to be couples. But I prefer the quieter weekday afternoons, when I can sit in relative peace and watch all the action without feeling quite so ancient.
If this sounds too frenetic, there are the more subdued confines of the long-established Café Giang. Although situated along a busy tourist shopping street, it's easy to walk past, as the blink-and-you-almost-miss-it premises are so run down. But this is your authentic hole-in-the-wall, no-nonsense café where the coffee –not the surroundings – takes precedence. The tiny, confined Café Giang attracts the serious die-hard coffee lovers and soccer addicts– a good game on the spluttering television and there's standing room only.  This cramped café is famous for its local take on cappuccino–café trung– a deliciously frothy concoction made with whipped egg. In a small dark passageway, this is painstakingly made up and lovingly served in a delicate china cup. Again, like many of the Vietnamese cafes, there doesn't seem to be many females around but I have my suspicions that they are probably the ones at work.
Cafes are also the perfect refuge for fledgling artists, poets and would-be thespians, so my next stop is Café Lam. Another low-key café down another shaded street, with the ubiquitous low-slung chairs and local clientele. This time however, there is inexplicably a different kind of ambience. The furniture is made of worn bamboo, dusty ceiling fans whir above and grubby bamboo blinds deflect the sun's strong rays. Away in the corner, there is a grimy wooden table where a tiny china teapot, a blackened kettle and piles of tiny limes await their use.
On the walls, there are an assortment of colorful framed oil paintings, which penniless local artists – it is rumored – traded for a drink and a gratefully received plate of food.  But my favorite establishment has to be Café Quynh. Down a quiet side street, this unassuming cafes' entrance is marked by a simple red lantern and ornate ironwork doors. Again, the tiled floor and miniature, bamboo furniture have seen better days and pot plants adorn wooden shuttered windows. On damp-streaked walls, there are North Vietnam minority adornments; wooden arrows and trumpets, farming implements and ancient hunting pistols. An antiquated table-fan wafts cool air; it is drone drowned out by soft French background music. The café patron apparently doubles as a professional photographer and on opposite walls are his mounted photographic studies of Vietnamese life. One immense photograph depicts a woman on a windswept beach. I learn that this is in fact his wife, a local actress who has featured in several feature films. I sense a bohemian flavor and in true café tradition, I strike up a conversation with an amiable sculptor. He informs me in broken French that if I am here early enough in the morning, the place is knee-deep in directors, artists, poets and writers sipping tiny cups of coffee or glasses of bia hoi– local fresh beer.
Perhaps it is appropriate that I should be drawn to those cafes where struggling thespians gravitate, having previously experienced the inconveniences of writer's cash flow. And being European, I feel rather too comfortably "at home." With Hanoi's large artist community and the maze of narrow, leafy streets, I could almost be back on the Parisian Left Bank. All I need now is my packet of Gitanes cigarettes, a sketchbook and a black beret.
* * * * *
---