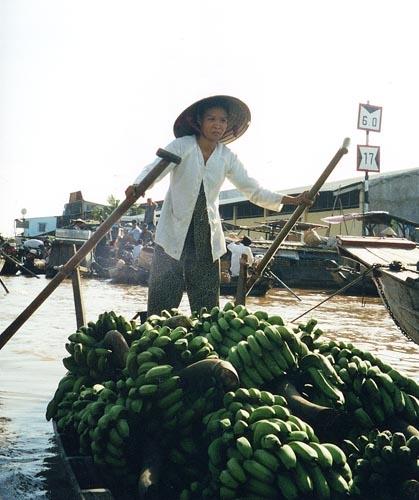 Image ©
2006 Samantha Coomber
At first glance, Can Tho City - the unofficial capital of Southern Vietnams' Mekong Delta - is not particularly anything special. Lying alongside the Can Tho River, most travellers shoot quickly through here on whistle-stop tours of the 'Delta'. With time to spare, however, I found it a place where days aimlessly passed by and I had little inclination to leave. It's hard to define what made me delay the subsequent delights of Chau Doc and Phu Quoc Island, further west.  Maybe it was the extraordinary friendly and outgoing people I encountered as I cycled around town. Or the soothing sounds of moonlit river tides heard from my delightful waterfront guesthouse. Or perhaps the laid-back restaurants serving dirt-cheap Vietnamese seafood, day and night.
The main reason for being here however was to visit the outlying river markets and orchards. It was precisely with this in mind that on my first day in Can Tho, I encountered the very persistent Hai and Ut. These two gregarious young women hung around the front of my guesthouse from the very beginning. Peering from behind potted plants dotted along my balcony, I could spy them below every morning grinning up at me and waiting to pounce.
 "Madam, you come out on our boat tomorrow to the river markets and then go to the lovely orchards on the way back," they tirelessly repeated.      
I suppose that I had gotten lazy and was now accustomed to just hanging out with locals, rather than "seeing the sights."  But I was also suspicious about going out on a local, unregistered boat: or to put it another way - I was scared of being ripped off.
"Okay, how much will it cost me? I enquired cautiously.
"However much you think - maybe three hours, you pay $10 or $15 US dollars?"
I was travelling by myself, so it would be a little costly. But the girls showed me photographs of previously satisfied clients and a comments book packed with glowing references. And I have to say that their charm won me over. So on day three I finally relented, and our rendezvous was set the next day at some hideously early hour down at the waters' edge.
For the whole morning, I had their long, slender wooden boat all to myself. Hai gently glided the craft along by a crude wooden punt and Ut made the most of her break, until it was time to take over duties.
It was beautifully tranquil at this time of morning and worth the effort to rise early. There were the usual fishermen's activities; nets being freshly cast upon the river, giant bamboo fish traps submerged and small riverine craft slowly moving downstream. We arrived at Cai Rang river market in good time.  Dismissed as the poor man's version of Thailand's' floating markets, nevertheless it was still fascinating. And to its' credit, this was not stage-managed for the handful of tourists that managed to make it here.
Countless similar narrow, wooden boats jostled and bobbed for position as a frenetic early morning hive of purchasing and sales surrounded us. On boats doubling up as shop-fronts, giant piles of luscious Mekong Delta produce -such as jackfruit, bananas and mangoes - were temptingly for sale. The first catches of the day - fresh crab and river fish - gasped their last breath in large plastic bowls on deck. Boats crammed with houseware goods, spare parts - even coffins - did a roaring trade. The air was rent with the cries of wares for sale, of gossip and of intense bartering. To avoid retail confusion, the product in question was placed high at the helm of the boat, which explained why watermelons and potatoes were stuck up the top of masts. After a few minutes hard bartering, I was able to restore my flagging energy by tucking into breakfast - a steaming bowl of noodles from an enterprising makeshift restaurant. Afterwards, I was handed hot coffee in a china cup from another boat - the local floating cafe.
One of the girls delicately set about cutting up slices of pineapple with what appeared to be a miniature machete knife.  We then returned upstream via the bounteous orchards that endlessly lined the riverbanks. Abundant with fertility, this area yielded a mass of apples, plums and logans, to name but a few. It was almost inexcusable not to stop off and sample some of the orchards succulent delights. We dropped in at Hai's friends, about an hour away from Can Tho. This particular orchard grower had landed himself a little piece of paradise. Under a shady canopy of apple trees alongside the river, his humble abode backed on to a pretty, well-tended garden overflowing with herbs, flowers and honeybees. Here we sat for seemingly ages, munching on slices of just-picked fruits and partaking of endless cups of fragrant green tea. Later, the kindly old man proudly showed us round his flourishing orchards.
Hai and Ut had been good company on this jaunt and I tipped them handsomely. They had constantly laughed, smiled and teased me mercilessly about my lack of marital status. But our time together didn't end there. Later that afternoon, they took me to a simple roadside cafe out of town that specialized in fruit sorbets. Patronized by locals with not a westerner in sight, my self-imposed ban on ice consumption had to take a hike. This was the cafes' predominately main ingredient and I did not want to offend my hosts. As poor as church mice, the two girls amazingly insisted on paying for me.
My final night in Can Tho and Ut invited me back to her family abode. They resided on the opposite side of the river from the main part of town. Hidden behind giant hoardings advertising Coca Cola and Tiger Beer, lay a sprawling fishing community full of tightly-packed bamboo shacks. It was in stark contrast to the brand new Five-star resort that dominated upriver.  As the sun set, we made our way over to the other side by precarious local water taxi.
I felt fortunate to have been invited here as I guessed that very few foreigners made it over to this part of town. My suspicions were justified, as I was feted like royalty when ambling along the villages' narrow, dark alleyways. In the dim light of Ut's simple two-room dwelling, the entire resident family - grandma, babies, children and parents - made me feel most welcome. I was offered the local specialty - a strange, multi-colored gelatin - and was closely watched by numerous pairs of eyes.  This intriguing evening was rounded off by the usual entertainment one would expect in a Vietnamese village - the ubiquitous karaoke.
When I finally managed to leave from Can Tho, my departure was a mass of hugs and tearful farewells for my newfound friends. I promised them faithfully that I would return one day. So if you ever come to this wonderful city and are commandeered by two exuberant girls upon your arrival - send them my best regards and enjoy their unique river experience and company.
* * * * *
---