Dreams and Relationships Take Center Stage at Cinequest 2012
---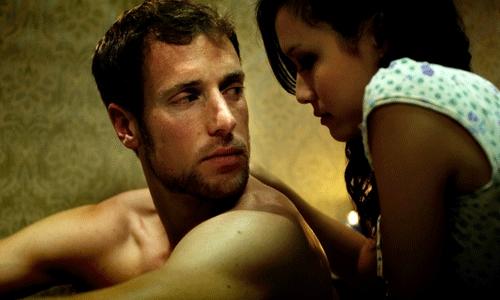 Image ©
2012 Celeste Heiter
Now in its 22nd year, the Cinequest Film Festival, held each year in San Jose, Calif., once again presents a fascinating array of independent films from around the globe. Each year, ThingsAsian features reviews of Cinequest's Asian and Asia-related entries.
This year, of the fifteen Asian or Asia-related entries, nine were available on DVD for pre-screening and review: Warrior Woman, Touch, Av Mevsimi (Hunting Season), Children of the Green Dragon, Mixed Kebab, Black Tulip, Past Summer, Thelma, and No Look Pass. Each film has its own unique theme and style, yet all revolve around the fulfillment of dreams and profoundly meaningful relationships.
Warrior Woman
Director: Julie Reichert
Country: United States
Alice, a financially struggling ESL teacher, puts aside her own ordeal as a breast cancer survivor to intervene in the life of a troubled student. When Thuy shows up for class bruised and battered by her abusive boyfriend, Alice decides it's time to take a stand. Acting on instinct without a clear plan, Alice takes Thuy for a late-night drive in the desert outside Albuquerque. Along the way, Alice's ailing car breaks down, and the two women must rely on the kindness of Max, a female tow-truck driver, to help them through the night. The dawn rises on a brave new world: a sisterhood of empowered women who stand ready to offer Alice and Thuy all that they need to heal their wounds, both emotional and physical, and begin life anew.
Written and directed by Julie Reichert, Warrior Woman is a stark-yet-mystical journey into the depths of the anima. As Alice transitions from a waking world of financial and emotional scarcity to a dream world of richly symbolic archetypes, she taps into a primal font of passion, wisdom, and courage. And within the context of a powerfully feminist source of support, she discovers what it means to be a woman, and to embrace her scarred physical body as the uniquely sacred and joyful place where her soul resides.
Touch
Director: Minh Duc Nguyen
Country: United States
Brendan, a lovelorn auto mechanic, hasn't had sex in nearly a year because his wife Sandie, a stressed-out corporate attorney at a prestigious law firm, claims that his oil-stained hands and dirty fingernails are a turn-off. So ardent is his desire to rekindle the romance in his marriage that he is willing to venture into the feminine world of Rosy Nails for a thorough cleaning. There he meets Tam, a Vietnamese manicurist who has the perfect solution: extra-strength nail bleach, with a generous helping of seductive suggestions on the side. Between her haunted past, and caring for her invalid father, Tam has her own emotional cross to bear. But when Brendan's weekly sessions trespass into forbidden territory, will they both lose sight of the original goal?
Written and directed by Minh Duc Nguyen, Touch is an understated yet luxuriously sensual sojourn into the realm of sexual desire. In asymptotic attempts to fulfill their emotional needs, the players juxtapose physical pleasure and psychological pain with subtlety and nuance, all the while reminding us that, when it comes to relationships, perfection exists only in the mind's eye.
Av Mevsimi (Hunting Season)
Director: Yavuz Turgul
Country: Turkey
It's CSI: Istanbul in this dark thriller featuring Sener Sen, Cem Yilmaz, and Okan Yalabik as a team of Turkish homicide detectives investigating the murder of a young woman whose severed arm is found in a swamp. This pivotal case is the first for rookie detective Hasan, the brightest and most promising student in his class; the last for Chief Ferman, whose pending retirement looms; and a career-defining challenge for the passionate and impulse-driven Idris. The suspect list includes a line-up of close family members and local ne'er-do-wells, plus one wealthy overlord who strikes fear and dread at the mere mention of his name. And as the three detectives winnow the list of suspects, their revelations pose more questions than they answer.
Written and directed by Yavuz Turgul, Av Mevsimi is a masterpiece of cinema noir. With its impeccably-crafted screenplay, and a constellation of perfectly-cast characters, every minute of its nearly two-and-a-half-hour runtime is an exercise in mindful pacing and plot development that weaves a richly sinister tapestry of mystery and intrigue.
Children of the Green Dragon
Director: Bence Miklauzik
Country: Hungary
An unlikely friendship develops between two men of vastly different cultures whose jobs require them to share a run-down warehouse in Budapest. Wu, a Chinese security guard, has been forced into indentured servitude to pay off a gambling debt when Janos, a world-weary Hungarian real estate agent, arrives on the scene to broker the sale of the building. Wu lives in a makeshift world of cardboard boxes filled with cheaply-manufactured novelty merchandise; and although Janos has a barren apartment of his own, he must spend seemingly endless days at the warehouse, waiting for prospective buyers. Using a child's picture book as a linguistic bridge, Wu and Janos manage to communicate enough to get acquainted, and amid the tensions of their respective career goals, they begin to forge an amicable relationship. That is until an edgy, tomboyish pizza delivery girl who calls herself 'Six' drives a competitive wedge between the two men as they foolishly vie for her unattainable affections.
Directed by Bence Miklauzik (who also collaborated on the screenplay), Children of the Green Dragon is a wry tragicomedy that levitates above a darkly futile underworld in which ordinary folk like Wu and Janos rarely stand a chance of realizing even the most modest of dreams. And yet they soldier on in their daily travails, grasping at the slightest ray of hope, until one day...destiny turns on a dime. And when one tiny aspiration becomes a reality, suddenly the rest don't seem quite so impossible.
Mixed Kebab
Director: Guy Lee Thys
Country: Belgium
Culture and sexual orientation form a daunting divide in this compelling Belgian-Turkish drama. Bram is a not-so-openly gay man on the threshold of an arranged marriage to his beautiful cousin Elif in the Turkish countryside. But Elif is being wooed by a local suitor, while Bram has his sights set on Kevin, a young man in Antwerp whose mother Marina plays Cupid in her stylish café. But complications arise when Bram invites Kevin to accompany him to Turkey for his official betrothal to Elif, and a devious hotel employee catches them on camera in compromising positions. Tensions reach critical mass as Bram is outed with the damning photographs, and he is forced to choose between his family and the man he loves.
Written and directed by Guy Lee Thys, Mixed Kebab is a thought-provoking study in the constraints of religious tradition and social mores versus the irretrievable yearnings of the human heart. With homosexuality as the polarizing element, passions run high on both sides of the issue, sometimes with tragic consequences.
Black Tulip
Director: Sonia Nassery Cole
Country: Afghanistan
Post-war Kabul is the setting for this chilling glimpse into the lives of an Afghan family trying to reclaim their hard-won freedom of speech in a newly-opened café called The Poet's Corner. For Farishta Mansouri, it's a dream come true, when she welcomes the first patrons on opening night in a building that was once her father's bookstore. In honor of the occasion, she is offering a menu of the best food in town, and an open mic to those who wish to make their voices heard through poetry. But the specter of oppression rears its ugly head when one of the poets is found murdered, and the Taliban is suspected of the deed. Fearing for their own lives, the Mansouri family must weigh the threat of death against the dream of freedom.
Based on a true story, Black Tulip turns an unflinching eye on the continuing struggles of the Afghan people to sustain the basic human rights that have cost so many their lives. And while the outlook is tenuous, there are still those who are willing to risk it all in the name of freedom.
Past Summer
Directors: Yiqi Song and Guangwei Du
Country: China
Two sisters, separated in childhood by the death of their parents, have grown up under very different circumstances. Summer is a spoiled but sentient girl who was adopted by the wealthy Ye family, while Yihui is a modest and humble girl, raised by a single mother. Summer has the best of everything and the privilege of education, while Yihui works as a maid and helps out in her mother's florist shop. Despite her haughty lifestyle, Summer has never given up on her quest to find her long-lost sister, and in the process, forms a network of tangential relationships with uncanny significance.
The brainchild of a group of filmmaking prodigies from China's most prestigious high school, Past Summer is an eclectic pastiche: part secret diary, part music video, and all heart. But despite its precocious underpinning, and the vagaries of teen romance, the film stays clearly focused on a singular question: Is it acceptable to forego one's dreams and ambitions for the sake of love? Asked...and answered.
Thelma
Director: Paul Soriano
Country: Philippines
Guilt fuels the athletic ambitions of Thelma, a young Filipino track star who bears the burden of responsibility for a tragic accident that left her younger sister Hannah unable to walk. A costly surgery would change Hannah's dismal outlook, if only the family could afford it. Sadly, her parents, Aldo and Floring, are humble, hardworking folk without the financial means to give their daughter what she so desperately needs. But with the encouragement of her mother, who was once a promising track star herself, Thelma comes to realize that she can use her own strong legs to give Hannah the use of hers once again.
Directed by Paul Soriano (who also collaborated on the screenplay), Thelma is a heartfelt story of love, devotion, and perseverance in the face of adversity, simply told without guise or pretense. With so much at stake, Thelma doesn't need to be taught a lesson. She knows in her heart what she must do, and vows to succeed at any cost.
No Look Pass
Director: Melissa Johnson
Country: United States
Emily Tay is as rare as they come: She's Burmese. She's a Harvard basketball prodigy. And...she's gay. So it's no wonder that filmmaker Melissa Johnson chose Emily, or Etay as she's known to her teammates, as the subject of this refreshingly candid documentary. The film follows Emily through a stellar senior year at Harvard, in which the women's basketball team made the national championships; and onward to Germany, where she played on a professional team. Along for the ride is best friend Katie Rollins, a teammate and basketball star in her own right, who also acts as cheerleader, confidant, and comic foil to Emily's unwavering drive.
As the story of her young life unfolds on camera, Emily lives out her dilemmas and her angst for all the world to see; from walking the tightrope of athletic discipline, to falling in love with a female officer under the constraints of the U.S. military, and revealing her deepest secret to her parents. In a world filled with contrived competition for empty stardom, No Look Pass is the real thing. It's the ultimate Reality Show.
---