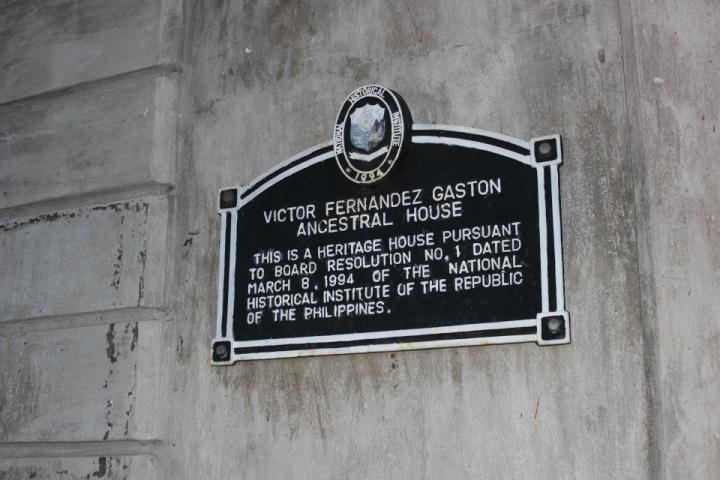 Image ©
2014 Junfil Olarte
By Junfil Olarte (Photos: Julie Marie S. Pavadora)
The same families for many generations own and preserve ancestral houses in the Philippines as part of the culture. Several houses of prominent families have become points of interest or museums in their community because of their historical, cultural or architectural worth. Some of these houses, too, have become endangered because of negligent businesses that have no regard to preserving them. I find "preservation" to be very important with regard to these houses in order to save legacy: a legacy that will give us a lookback to the nation's colonial past.
The same applies to a wanderer's life. Preserving those experiences-by writing or filming them-is likewise important as they happen only once in a lifetime. Experiences which, when recorded accordingly, would become a meaningful part of your life's journey. I couldn't agree more with that. It would be complete remiss of me if I did not jot down my nomadic journeys for the past ten years. And that include the very old house I just visited in Silay: a city located in Central Philippines.
My visit to Silay came as a result of my travel to Bacolod City. Bacolod, being the capital of Negros Occidental province, is around 34 minutes by car to silay where friends and I visited the "Victor Fernandez Gaston Ancestral House". This heritage structure in Silay has been in existence since 1897, notable for being the first museum to be established in the province.
Annals of Gaston Family and Balay Negrense
"Victor Fernandez Gaston Ancestral House", also known as "Balay Negrense" (meaning "House of the People of Negros Occidental"), emerged in silay in 1897 and turned into a museum in 1990. Victor Fernandez Gaston, a late 19th century sugar magnate, owned this very old house. He was the son of Yves Gaston, a Frenchman from Liseux and Prudencia Fernandez, a native from Batangas. Victor's father, Yves, pioneered the sugarcane cultivation in this part of the Philippines. History tells that the older Gaston got the credit as being the first to commercially produce cane sugar. There is no doubt that the Gaston family, in those days, was one of the wealthiest families in Negros Island. Victor's father, Yves, died in 1863 at age 57.
Stepping into Gaston Ancestral House was akin to going back in time, where quaint lifestyle dwells on the uncorrupted state: pure-simple-and serene. The 5:30 sundown almost lost itself away from our sight as we meandered through the museum. Ceiling lights were turned on.  It has wide windows, though, that give off natural light inside during daytime. These windows also provide a very fresh atmosphere into the house that is divided into two levels.
The ground floor has the classic living room of the era-it is large enough to hold visitors. An old office desk, telephone and piano are located here, including a big round table that displays the Gaston family tree, showing the bloodlines of this privileged clan.
We climbed up and roamed around upstairs which has a spacious living area, along with family bedrooms, kitchen and long-wide dining table. These things imply just how big the Gaston family was. A huge antiquated painting of Victor greeted us. There are twelve bedrooms with connecting doors separated by decorative air vents above each room.  This way the family at the time could still converse with the other person in the nearby room, but still maintained their own privacy; it was, indeed, a traditional concept of Filipino privacy. At the back of the house has been turned into a gallery and souvenir shop. Also located there is the oldest bicycle in Silay which they have kept at the basement.
Victor Fernandez Gaston (1850-1927)-the second of the three children of Yves Gaston and Prudencia Fernandez-carried on the sugarcane business of his father in Buen Retiro and became one of the sugar barons in Negros Island. In 1885 he married Filomena Maquiling, a native of Guinhalaran. They had 12 children. The inhabitation of Gaston House Silay began when Victor's wife died in1898 making him a widower at 48.
By 1901 Victor relocated his residence from their remote "Hacienda Buen Retiro" to this place in Silay, where he owned property that stretches from the beachside to what is today called "Cinco de Noviembre Street". Here he had constructed this house and moved in along with his 12 children. He also set up a brick factory in the Mambulac area just behind the house (now turned into a gallery and souvenir shop).
The structure has been described as a "house of stone", an upper class Filipino home that developed in the latter part of Spanish colonial period. It combined architectural features of the indigenous Filipino bamboo house such as elevated apartments and open ventilation, having foreign influences. The Victor Fernandez Gaston House does have a lower level of concrete structure, seemingly reflecting an American influence. Like the typical "house of stone", the upper level of the house is made up of wood.
Formerly the property upon which this house is located extended all to the sea, but the heirs of Victor partitioned it. Today the museum premises measures only around 5000 square meters having a front garden, driveway and entrance. Large old trees also surround the museum.
This historical edifice gave shelter to Victor Gaston and his twelve children from1901 until his death in 1927. The house was then passed on to Victor's children and inhabited by various family members over the years. Thereafter it became unoccupied, left unused and abandoned in the mid 1970s. The house plummeted into disrepair until one of their heirs, Guillermo Ma. Gaston, along with a group of concerned Negrenses formed what would later become the Negros Cultural Foundation.
With donations from prominent individuals and assistance from the Philippine Tourism, the house underwent serious renovation-repaired and furnished with period furniture. This became a heritage house and was officially inaugurated on October 6, 1990 as a lifestyle museum, known as "BalayNegrense". Guillermo Ma. Gaston consequently donated the house to the Philippine Tourism in 1992. On March 8, 1994 the National Historical Institute of the Philippines declared it as a "heritage house".
Balay Negrense is just one of many ancestral houses in Silay City that were rebuilt,  preserved and cared for next generations to appreciate how houses at old Negros looked like. Several of the things inside are interesting to see, looking back to the 19th century. These include vintage family photos, sleeping beds, wardrobes, toys, kitchen utensils, among others. There are atotal of thirty-one (31) recognized ancestral houses in Silay. Some are still inhabited while some have become commercial establishments. Of all these houses, the Balay Negrense is among the most visited ancestral buildings that are open for public viewing.
A Brief Look inside Silay
The city of Silay in Negros Occidental (Western Visayas Region) was one of the cities in the province that reaped the success of sugar industry rise. The late 19th century and the early year before the Second World War saw its golden age. The houses were the seat of privileged clans of the city. But the damage of the War and the decline of the sugar industry led to the return to its laid back atmosphere.
Silaygoes back to 1760; it has evolved from being an old Spanish settlement. According to sources, the migrant families from Iloilo (its neighboring province) gave vigor to Silay, making it an important commercial and agricultural settlement during the Spanish era. In 1846, Yves Leopold Germain Gaston made the town of "Buen Retiro"(Guinhalaran) prosperous.  Silay, on the word of many travel writers, is a museum city. Once it was famous for its artists and cultural shows and became the "Paris of Negros" in the 19th century.
"Author thanks the following for making this story possible: Angelo and Carmen Quintas, the Lions Club of Los Angeles Golden 4-L3, and Nicefil Genette David of NewYork, USA."
---