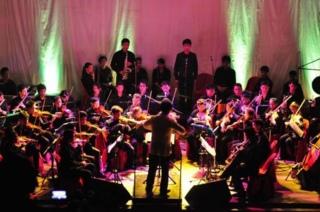 Image ©
2011 Joel F. Te Roa & Carl S. Bordeos
By Junfil Olarte, DTC SE Asia Travel Writer
Article originally published by Dave's Travel Corner www.davestravelcorner.com CA, USA 3/9/2011 @ 9:00am EST
A soft breezy sunrise rouses me as my ship nears the coast and moors at the docks of Maguino-o, off the city of Calbayog Western Samar in the Central Philippines. Sheer weather of the early morning meets the island's pristine seawaters. And I feel like a sixteenth-century explorer reincarnated. "There you are," I whisper upon sighting the shores of Samar. Believing I could reach the location only through history books. One of the very destinations I often read about and even long to visit since I was seven or eight.
Maguino-o seaport really looks like an isolated place. You can hardly notice houses dwelling nearby it. The scene still brings you back to the early years (undeveloped in other words), with meagerly built homes yet pacific, having fresh air and unblemished environment. Perhaps, unlike many travel writers in the country, such a place catches my attention most. Especially, that it does not see even a glimpse of foreign visitors. I know that a lot of exciting activities await me in this part of the island. 
"Come, quickly," Joel gives me a nod, "that passenger vehicle will pitch us 30 minutes to Calbayog," pointing at the bus waiting around the seaport area. "Really feel like Ferdinand Magellan reincarnated", I talk back. He grins. And we both laugh, leaving the seaport of Maguino-o having done a few snapshots.
Breakfast with Two Friars
Franciscan Father Marlowe Rosales then receives us warmly when we get in at the Friary's refectory, situated right beside the secondary school premises of Christ the King College (a popular OFM run school in Calbayog City). With us in the dining room is Father Marcelo Tubac, the school's OIC President, whom I also ask for some information about the area, along with Father Rosales who has arranged my media visit in the city. 
I say that this metropolis in Samar is not touristy: narrow streets as we've meandered through it, having only one or two (yet tiny) department stores with small number of celebrated refreshment centres. Seeing foreign travellers roaming around here is sporadic. However, it does have something very important. The splendour of the city's natural attractions, its colourful culture and arts, historical features and the ancient relics in its museum are simply remarkable, which interest me to even travel 22 hours by sea from my port of origin in Northwestern Mindanao Southern Philippines, with stopover in Cebu, sailing through the island straits of Leyte.
The prominent "Ordo Fratrum Minorum" (Order of Friars Minor-OFM) or simply the Franciscan Friars, a religious organisation founded in Sicily in the early 13th century, had done much in developing the parishes of Samar right after the expulsion of Jesuit missionaries in the Philippines in the early 18th century. In the case of Calbayog, the "Franciscans worked tirelessly to bring dispersed people together and consolidate the town community, helped stimulate its economic life, and led in the defense of the settlement against the Moro raids" (Franciscans in Calbayog, p.51, "Calbayog" (c) 2008 City Government of Calbayog/Museo de Calbayog). Samar's first recorded account, on the other hand, goes back to 1596 when the first Spanish missionaries set foot on the island. This is told in the coffee-table handed to me by the city tourism.
"We do have natural spots here," Father Marlowe tells me, "but still fairly developed". These are beaches and waterfalls; a hot spring that provides therapeutic waters; and a number of caves in its forests (part of Samar Island's vast labyrinth of caves) that hardly ever visited by domestic and foreign tourists. "I can assist you going to these attractions if you choose to stay long," Father Marlowe convinces me. I just nod whilst still being seated at the dining room. "But tomorrow," he continues, "we're going to drive eleven kilometres off this city for the orchestra concert."
Day in the Museum
I consume the following time visiting the tourism office. Drenched in the 11:00am sunlight, Joel and I do photo shots on its still quaintly Spanish-looking facade. Just in front of it is Calbayog's very old cathedral the Franciscan Jose Gomez de Huerce had built during the late 1840s. In my appointment with Tourism Officer Erlinda Calesa she gives me a historical book about the city. And it appears that the year 1739 traces the records of Calbayog's earliest establishment.
I head back to the Friary for lunch and, a few hours after, set myself to visit its museum, situated just close to the High School grounds of Christ the King College. "Oh, I should keep you in touch with Carl," says Father Marcelo, "he can give you details about the museum." Calbayog's "Samar Archeological and Cultural Museum" is the only one in the Eastern Visayas Region open to the public that keeps some ancient burial jars, human craniums and bones, artifacts recovered in several towns of Samar five decades ago.
"This museum was named after Father Cantius Kobak," explains Carl Bordeos, a researcher and employee of Christ the King College, as we enter into the museum. "He was one of the early American Franciscan Missionaries who arrived here in 1959." I see some aged religious objects, too, in this museum that has just reopened after years closed. Such very old statuettes, according to documents Carl has given to me, were part of several thrown-away items that Father Kobak (a US Immigrant from Poland) had rescued, when some early churches in Samar were repaired during the 1960s.
There are vintage brass musical instruments also kept inside the museum, said to be legacy of the late Jose Cinco Gomez, a great composer of Calbayog in the 1960s, otherwise known as the "Music Man of Samar". Troves of different ancient relics, including old manuscripts in the 17th century, are put on display inside lined framed glasses positioned at the museum's centre walkway. In-between them is a wooden boat with remnants of human skulls and bones placed atop, reminding me of the time I've spent a few months ago in the museums of Butuan Southern Philippines. 
"How old would these craniums be?" I ask curiously. "Probably dating back to eleventh or twelfth century," answers Carl. "I really wonder," Carl continues, "how such human relics could still exist despite many centuries have passed," he adds. We do several conversations until I notice twilight is about to appear outside. We leave the museum.
Way to the Symphony
The following day finds us driving through a narrow road off the city to witness the said orchestra concert. "What's the name of the place, Father?" I ask. "Migara," replies Father Marlowe. Such remote destination situates itself at the upper vicinity of Calbayog, about eleven kilometres away from the city proper. Perhaps, the most interesting thing I've learnt from this journey is how one colourful musical legacy (which goes back years before the Second World War) has been brought back by a Franciscan Priest to life after it ceases in 1975.
Jose Cinco Gomez, in fact, was the famous composer in Samar, who had had his "Colegio de San Vicente de Paul Orchestra" organised in 1930 (renamed the "Cecilian Orchestra" two years later). The arrival of American Franciscans in 1951 had reopened Christ the King College (CKC), where Mr. Gomez became a member of the school's personnel and set up the "King's Royal Orchestra". Soon, this became the "CKC Astro Notes" as dedicated to American space travellers who first landed on the moon in the late 1960s. 
Jose Gomez's organised orchestra five decades ago had enjoyed performing its original pieces to Calbayog and its neighbouring towns and even played classical symphony from immense European Legends as Mozart, Bach, and Beethoven. However, Samar's piece of music died right after the day Jose Gomez passed away in 1975. And no one, since then, has ever taken his place to revive such rare legacy he left.
"It really wasn't easy at first when I first arrived here in September 2006," recalls Father Rosales, sitting in front of the car whilst on our way to Migara. "School students had only bare knowledge on such musical instruments," he explains, "and I needed much time to do a research-study on each of those instruments to teach them."
Father Marlowe then embarked on a great task of reviving Calbayog's symphony, which has been dormant for three decades, and bringing music to young students of Christ the King College. Obtained his "Bachelor of Music in Conducting" and "Bachelor of Music in Music Education" in the University of Santo Tomas Manila in 1998-2001, he began teaching students at CKC such orchestral instruments, including piano, and the reading of its musical notes which is the most difficult and crucial of all. "I say it's tough, really," explains the 38-year-old priest. "I even thought trumpet was just a mere instrument where you simply blow on it in order to create harmonic tunes," Father Marlowe smiles. "In the case of strings," he adds, "I'd had assistance from already learnt students to do a help on others for fast learning." 
Asked about how the expensive cost of different instruments was defrayed off, "CKC with Jose Palma, the former Bishop of this city, actually initiated the plans of reviving the Orchestra," explains Father Marlowe. The Orchestra received considerable help and funding from natives of Calbayog who are already living in the United States. Other than that, Father Rosales would even attend meetings of CKC's "Parents-Teachers Association", requesting donations for the much required additional instruments, but received only a few responses. With this in mind, he did file a personal loan at the school in order to purchase some of those needed musical gadgets.
The long months of difficult endeavours had turned into one great honour when Father Marlowe Rosales set up the "CKC Jose Gomez Orchestra" in 2007, signifying the renaissance of the island's long lost legacy for more than three decades. The symphony group then did its first performance at the Monastery of Saint Clare on March 9, 2008, followed by concerts at different venues in several towns of the province, and even spent successful performances at Philippine Capital sites as Manila's Century Park Hotel, Mall of Asia, and Forbes Park.
CKC Jose Gomez Orchestra members are composed of high school learners as young as 13 to 16. Many tried, but not all were selected, to become participants of the Orchestra's first chorale set. Persistent interest and discipline on the part of aspirants came to be the basis of the final selection. Carl Bordeos, CKC's Public Relations who happens to be the band's Concert Coordinator, says the Orchestra is filled initially with students from secondary level, but it has now had some college members: members who pursued their college studies at the same school and chose to remain in the Orchestra.
Although some uninitiated people do criticise it, CKC Orchestra is the only orchestra existing in Samar provinces (or perhaps, in the entire Philippine Islands in terms of young school artists) that has successfully established itself and even obtained noteworthy publicity from famous Philippine media as ABS-CBN's "Umagang Kay Ganda" and GMA's "Mel & Joey" in 2009 and 2010, respectively. Because of this rare and great achievement (same as the Franciscan Father Cantius Kobak), the City Government Council passed an Official Resolution on October 11, 2010 declaring Father Marlowe Rosales (a native from Ozamiz City, Southern Philippines) as an "Adopted Son of Calbayog". 
As we draw up to the intended place in Migara, Father Marlowe's colourful story about the symphony revival reminds me of how the Franciscan Friars, from past to present, have bequeathed a wealth of priceless heritage to the people of Samar. "This concert is part of the school's outreach program, so that less fortunate people, especially poor children, can watch the Orchestra at no cost," he explains as we move ourselves to the concert grounds.
"This story could not have been written without the hospitality and generosity of Fr. Marlowe A. Rosales, OFM of Christ the King College, Calbayog City, Samar. Also included in this article are the following: Fr. Marcelo O. Tubac, OFM (CKC, OIC President); Bro. Ariel C. Manga, OFM (Member, CKC Board of Trustees); Joel F. Te Roa, SFO; Carl S. Bordeos (CKC Staff, PR-Researcher, Concert Coordinator ); and Calbayog City Tourism Officer Erlinda P. Calesa." (Author also thanks Friars at San Vicente Ferrer Parish, Cebu City.)
Christ the King College www.ckc.edu.ph
Calbayog City Tourism www.calbayogko.tripod/id11.html
Flight from Manila to Calbayog is available daily.
Ciriaco Hotel
Km 735, Maharlika Highway, Bagacay
Calbayog City, Western Samar, Philippines
www.ciriacohotel.com
CKC Jose Gomez Orchestra will soon perform concerts in the Philippine Capital on the following dates:
April 1, 2011-Camp Crame, Quezon City
April 2, 2011- Resorts World Manila
April 3, 2011 - Paco Park Manila
Orchestra Inquiry & Concert Bookings, contact:
Phone (63) (55) 209-3626; 533-9524
Mobile +63 921 821-2148
Email marloweofm@gmail.com
---