Wanderlust In Bohol Paradise
---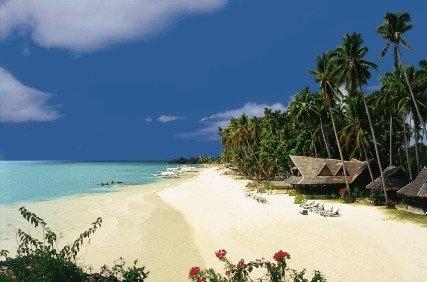 Image ©
2011 Junfil Olarte
By Junfil N. Olarte
"Life without travel is dull." ~The Author
Our racing machine sounds like a roaring thunder on the highest gear dashing through lengthy and paved highway that connects Tagbilaran and its neighboring towns, all in the province of Bohol, Philippine Islands. The 8:00am sun has finally put itself clear after days of frequent rains in the island. I still sense the morning dew leftovers as I ride in next to Lloyd, going to one of the world's natural wonders.
"55 kilometers off?" I ask with intense excitement. "That's insanely crazy," reminding me of how the stiffing sunlight would probably fry us in the coming hours. "Yes. Chocolate Hills is a far distance from this city," replies Lloyd, "but still much better we use this type of vehicle, faster and easier. A car certainly sucks a lot of gas."
Lloyd has been a long-time friend and an adept motorbike rider in Tagbilaran (Bohol's capital city), who has assisted me in my 14-day vacation to this tempting island. Out of official press trips, I should spend some time doing an actual research for my travel book, including excursions with friends and a visit to my cousin, Ethel.  
Still in a speed of a seemingly galloping wild horse, we pass by a number of places and stop off at the Philippine Tarsier Sanctuary, around 10 kilometers north of Tagbilaran. "This is one location you often wanted to see," Lloyd reminds me. "Take your time. We're still way off Chocolate Hills."
The sanctuary has numerous sightings of tarsiers (second-smallest primates in the world). This 167-hectare refuge starts at Canapnapan-Corella where I am at, extending over the forests of Sikatuna and Loboc. These are the places where those small creatures were once hunted down, captured and then sold to local and foreign visitors, a native in the area tells me.
The sanctuary is mostly of secondary growth forest quite extensive and largely uninhabited and isolated from settlements. Portions of the area are open and relatively bare yet majority has lush vegetation mostly of second-growth trees, bamboo clumps, tall grass patches and thick bushes that tarsiers prefer. Now the tarsiers are allowed to live and reproduce freely in a natural setting. Poaching, killing and even wounding them are strictly prohibited as well as the destruction of their declared habitat.
I return to my backseat place. We run off in an ever increasing pace as if being chased by a horrible ghost: the specter of the sun's scorching heat actually gets me slight sunburns—and that's the fun of it. I drop by at the Man-Made Forest, situated along the border of Loboc and Bilar towns, and do some photographs. This synthetic jungle that stretches over in a two-kilometer forest area—with kaleidoscope of green foliage, giant ferns and different tree species that are lining in on either side—makes it a cozy stopover for travelers on the road.
Magnificent Chocolate Hills           
10:00am finally gets us into the doorway of Carmen, the over-viewing site for the famous Chocolate Hills. Lloyd does a hard twist on the carburetor while our two-wheeled vehicle climbs up the sky-scraping vicinity of Chocolate Hills Complex. A lot of locals and foreigners already are coming in and going out. We finally break clear. I leisurely walk upon the 300-step stairway going to the Complex's viewing deck, where many sightseers enjoying the spot's panoramic view. It is Bohol's "main attraction" and one of the world's natural wonders.
Chocolate Hills are conical karst mounds similar to those seen in the limestone regions of Slovenia, Croatia, Northern Puerto Rico, and Pinar del Rio Province in Cuba. During the dry season, the grass-covered hills dry up and turn chocolate brown. This transforms the area into seemingly endless rows of "chocolate kisses". The branded confection is the inspiration behind the name, Chocolate Hills. Although they're not really as brown as I expected to see them because the island has been through continuous rains.
The unique mound-shaped hills are scattered by the hundreds throughout the towns of Carmen, Batuan, and Sagbayan. According to one reliable source in the Complex, such superb attraction has 1,776 hills that spread over an area of more than 50 square kilometers (20 sq. mi.). "There are many fanciful and less credible explanations about how these hills formed," a photo journalist beside me explains. "There's a description about this written on the bronze plaque," he tells me. The plaque says that the uplift of coral deposits and the action of rain water and erosion ages ago had formed such hills.
Green Rivers of Loboc and Loay
We leave Chocolate Hills Complex at exactly 11:30am and pull over at a gasoline station. The gas-boy does his refueling spigot into our vehicle tank. Sweating and parched. We get some light snack and bottles of cold water. "Where do we take lunch?" I ask Lloyd. There's one place I know in Loay," he answers. "We can tarry there before heading to Dauis and Panglao."
The sunlight is now so intense. I see Spanish-built church at my left and very old tower at the other side as we reach the vicinity of Loboc. Attached to the church is its very old museum and opposite is a natural setting of a placid, green river, having floating restaurants. I halt for about 10 minutes at its riverside, replace batteries in my camera and start taking pictures. After this, we proceed hurriedly to Loay town and dine on some tasty grilled cuisine at around 12:30pm. The town owns a pristine river and a popular eating place, known as the "Rio Verde Floating Restaurant".
Historical Features at Baclayon
We've travelled now for about 120 kilometers in a circular course from our place of origin and even spent some time at the Blood Compact Site. A few hours after, I find myself talking with a nun along with two Slovenian tourists inside the museum of Baclayon Church. Next to the church is the old convent, which actually lodges such tiny museum that keeps centuries-old relics, artifacts and other antiquities dating back to the 16th century. Included in the collection are ivory statue of the crucified Christ; effigy of the Blessed Virgin (said to be presented by Queen Catherine of Aragon); relics of St. Ignatius de Loyola; old gold embroidered ecclesiastical vestments; books with covers made from buffalo's skin; and church music librettos (written in Latin) on sheep's skin.
The church at Baclayon town is the oldest in Bohol. Situated six kilometers east of Tagbilaran City, this ancient edifice goes back to 1717 (at the time of Spanish Jesuit Missionaries) when some 200 native forced-laborers constructed it from coral stones. "They used bamboo to move and lift the stones in position," explains the museum's nun-curator, "and made use of the 'white' portion of million eggs to cement them together."
There is also a dungeon in this very old church. "A kind of inquisition?" I ask. "No. Not exactly," she explains. I've found out later that the Jesuits actually used this underground prison to punish natives: natives in the past who had infringed the rules of the Roman Church.    
Dauis and Panglao: Tropical Paradises
From there, we dash off to Dauis and Panglao, passing through a 50-meter length bridge that links mainland Bohol to the small island. Situated 18 kilometers southwest of Tagbilaran, Panglao Island is famous for its diving spots and is routinely listed as one of the top ten diving locations in the world. Numerous resorts dot the southern beaches in this island and cater to divers from around the globe.
I choose to spend time at Alona. This pure white-sand beach in Panglao with crystal blue waters reinvigorates my weary ride. Going through its tranquil surroundings, rows of motorboats are floating on the seawaters, sailing divers to the spot's plunging areas, while coconut palms are gently swaying with the island's tropical breeze. "I love it here!" Lloyd and I then find a dining place after doing a video and a few snapshots.
Before getting off the island, I manage to drop by at La Permela Beach Resort, another exquisite spot nearby Panglao, which is situated within the vicinity of San Isidro, Dauis. The 4:00pm sundown now feels soothing as our seemingly machine horse gallops back to the capital city. It really doesn't matter how much price of sunburn I get: nine hours and around two-hundred kilometers motorbike riding in just one day. I've never ever done it in the history of my personal travels. Such adventure is incredible!
The days that follow gets me splurging into several excursions in the city—hanging out at a "BQ" bar with Maurice and Lloyd, enjoying time with Ethel at the blue waters of "Taloto", and having picnic with riders on drill at "Dao Race Track". Still craving for more, my days in the island aren't actually enough.
Over the years, a lot of friends have asked me what makes me to travel in a seemingly endless fashion, why do I spend too much for it, and how much do I earn writing for it. That is hard to define. I say if I depend solely on writing, then I would be broke. Travel just heals the many pressures in life. That's how I've come to understand it. Travel helps us grow better through its colorful experiences; through the meeting with different peoples, cultures. And that's the priceless reward we get. However, one truth is left unknown here. Never did they know that wanderlust is just an incurable disease.
Two weeks in Bohol Island have come too quickly, and I find myself at the seaport terminal—this time waiting for my ship—going back to Southern Philippines.
---