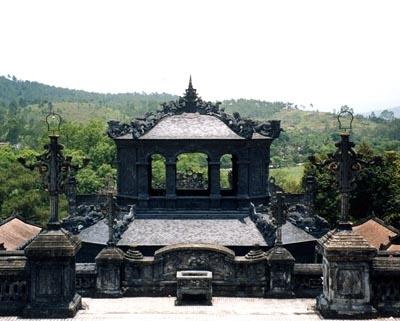 Image ©
2006 Samantha Coomber
You wouldn't imagine that the Royal City of Hue, mid-way down the coast of Vietnam, bears the slightest resemblance to Egypt. But think again. The broad, aptly named Perfume River meanders through this former Imperial City and beyond and its distant scorched-baked hills could easily be mistaken for the Egyptian Nile. Even more of a coincidence, along these riverbanks are the tombs of former Vietnamese emperors. With this in mind, as you cruise downstream in the searing midday heat, with a little imagination you could be in the heart of Egypt. Except, that is, for a whacking great red flag with yellow star fluttering high in the wind and the locals looking suspiciously Asian.
The royal mausoleums of Hue are mightily impressive and are among one of the top "must-sees" for tourists in Vietnam. Since the early 1900's until as recently as 1945, the city of Hue temporarily took over from Hanoi as capital of Vietnam and the Nguyen dynasty of Emperors lived, ruled and subsequently were buried here. With this legacy, Hue now has eight relatively intact royal tombs scattered along the Perfume River valley and the surrounding low-lying hills. Once hidden for years by vows of sworn secrecy, they are now open to the public. Many can be easily visited in a day on one of the many tourist "dragon boats" that ply the river. Alternatively, you could always hire a motorbike or bicycle and explore the tombs on land at leisure, sandwiched between peaceful hamlets, rice fields and sugar cane plantations.
The mausoleums were built when the ruling emperor was still alive and were meticulously planned right down to the last detail, according to their own personal preferences. Once an auspicious spot was located for the mausoleums, artificial lakes and exquisite gardens were usually added. Although all the tombs are different, they nevertheless generally contain three basic elements – a temple; tall, stone stele (high stone obelisk or tower) –which record details of the emperors' reign – and finally the royal tomb itself, usually enclosed within a walled compound. As the mausoleums very often doubled as temporary residences during their reign, many resemble palaces rather than just simple memorials. Undeniably appealing from an architectural perspective, every one of Hue's tombs is a unique expression of the monarchs' personality and reflects their somewhat more bizarre tendencies. Indeed, to visit these tombs unearths fascinating details about the emperors' characters.
Some tombs, once discovered, were mercilessly robbed of their artifacts by local plunderers, whilst some have become overgrown and unkempt. However, there are three main tombs – those of Ming Mang, Khai Dinh and Tu Duc – which are still very much intact and well maintained. These are perhaps the most well known and impossibly awesome, and all tend to be highlighted by local tours. My favourite – like many other visitors– has to be the stunning Tu Duc Mausoleum. The beauteous twelve-hectare walled park – with its triple arched gateways, lotus filled ponds and pavilions – reflects perhaps the somewhat foppish character of its host. The piece de la resistance is an exquisite three-tiered boating pavilion mirrored on a tranquil lake, strewn with water lillies. Mr Tu Duc was apparently a self-absorbed romantic ruler, preferring to hide away amongst the tranquil gardens and pine trees. Fortunately for him, the mausoleum only took three years to build, which left the emperor with many years to indulge in his favourite pastimes of fishing and boating, as well as consuming fifty-course meals. He also partook of delicately fragrant tea, made from the dew of lotus blossoms– painstakingly collected each morning by his long-suffering servants. In between all these arduous activities, the emperor managed to rustle up no less than four thousand poems, probably penned in one of the lakeside pavilions. Obviously with far too much time on his hands, he also had the responsibility of entertaining over one hundred wives (yes, you read correctly) plus a harem full of concubines.
Emperor Ming Mang, meanwhile, was passionate about architecture. He took over fourteen years to find the correct location for his mausoleum, plus ten thousand workmen and three years to actually build it. But it was worth the effort, for this Chinese influenced mausoleum is again magnificent with its series of lakes, landscaped gardens and red-tiled pavilions set amongst frangipani trees. To the north of the grounds, Ming Mang lies buried within a small mound surrounded by a picturesque crescent-shaped lake. He rests alongside his Queen, who died at the tragically young age of seventeen. This did not however stop the emperor in his tracks – he carried on regardless with no less than thirty-three wives and over one hundred concubines.Finally, there is the tomb of Khai Dinh, set dizzingly high amongst forrested hills. This mausoleum is reached by climbing over one hundred steps, passing en-route terraces where guards of imposing mandarins stand eternally to attention. The view out from the top is stupendous, looking out over the valley. Here, there is only one main structure – a large temple – which boasts a riotous fusion of European, Chinese and old Vietnamese styles. Inside, the interior is littered with a mish-mash of statuettes, dragons and décor, adorned with tiny porcelain and glass mosaics. Centre stage is a life-size bronze statue of the man himself; the Egyptian similarities rearing their head again with Khai Dinh's image looking suspiciously like that of the young Egyptian King, Tutankhamen.
Khai Dinh, it seems, wasn't your average emperor either and he showed more signs of somewhat worryingly eccentric tendencies. Rather taken with all things French from his numerous forays to France, it is alleged that Khai Dinh sauntered around his palace wearing a string of twinkling fairy lights he purchased from a recent visit there. He only stopped this frivolous behavior once the batteries finally ran out and the lights diminished. Maybe he didn't have enough wives to keep him occupied. Again, another Hue emperor with far too much time on his hands.
* * * * *
---