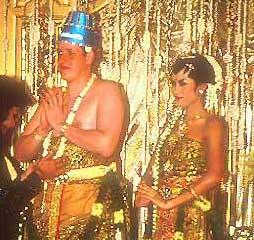 The Big Durian: Southeast Asia's favorite fruit provides an apt metaphor for a city which richly rewards those who fight their way past a formidable exterior to reach the riches within.
Christine Bangun Arti is one such. The savvy Jakarta businesswoman was determined that the marriage of her daughter Kathy, a 21 year-old secretary, to Chris Kimpton, an Australian expatriate, should be celebrated in style. That meant five ceremonies spread over three days, combining courtly Javanese ritual with Catholic rites with hospitality on a grand scale.
Apart from the Catholic wedding mass, the rituals would differ little from many Muslim weddings.
After prayers the evening before, the wedding ceremony began with Siraman, the ritual washing of both bride and groom in separate but simultaneous ceremonies held several miles apart. That evening Midodareni marked the bride's last acts as a single woman, as she received the formal proposal.
In these, as in all the Javanese ceremonies, Kathy's face remained composed in the same gently smiling mask required by tradition.
A gamelan orchestra entertained guests for close to two hours before Kathy emerged from her chamber, costumed and made-up like a princess.
Kathy took the arm of her brother Dida to progress through 'the journey of life', picking their way together between the gunongan or mountains of rice. Dida carried a staff to which a plucked chicken had been bound. Their parents sat on both sides of the red carpet and received their blessings: an emotional moment for her mother.
Waters brought from seven places, including the groom's home town and Lourdes (France), had been mingled and then strewn with flower petals. With Kathy now enthroned in a specially-built outdoor pavilion, decked with flowers, each elder took turns to ladle the mingled waters over her coiffure. She bore it without flinching, but as her groom observed later, "the water's bloody cold and the coconut oil makes your eyes sting!"
The guests were invited to dab themselves with the waters and so partake of eternal youth. In her boudoir, Kathy knelt as her parents each clipped a lock of her hair. Dried and changed, the bride emerged to join guests outside in the courtyard to release a chicken - the direction in which it fluttered was watched anxiously as an omen for future happiness.
The blended waters were driven across town to the groom's family's hotel, where a similar ceremony began with Chris, likewise, kneeling before each elder before being anointed.
Then followed one of the most distinctive rituals. At the bride's home, biscuit-sized terracotta 'coins' were distributed to the guests, who lined up at the dining tables to 'spend' them on refreshments dispensed by the bride's mother.
This practice apparently celebrates the high cost of the wedding ceremonies shouldered by the bride's parents! Guests, their 'pennies' now spent, tucked into a traditional Javanese banquet of dry-curried liver, fried tongue and green chicken curry. Fruit juices were the strongest drink on hand.
Later that evening the two families exchanged gifts as two costumed emissaries conveyed Chris's proposal to Kathy, concealed within her boudoir.
"Well, yes, " responded Kathy, "but first he must bring me two bouquets of flowers which are absolutely identical..." These offerings of palm and pandanus materialized almost immediately.
"Get me to the church on time!" Familiar words take on new urgency in Jakarta's bumper-to-bumper traffic jams. The solution: a motorcycle police escort to Saint Matius, a modern, sunlit Catholic church in Bintaro, South Jakarta. For Sunday's white wedding the bride was Barbie Doll-perfect in her low-cut, voluminous satin skirt, decorated with pearls and crystal embroidery, its train following for many yards.
We sang hymns in three languages - English, Bahasa Indonesia and courtly Javanese - accompanied by a full choir, even as an Islamic call to midday prayer wafted through the open door. After taking Communion, Chris and Kathy retired to sign the register - or so I thought. In fact, a government registrar next conducted a full civil ceremony before bride and groom returned to release a white dove from the church steps.
Monday evening brought the grand finale, staged in the banquet hall of Jakarta's plush Sahid Jaya Hotel.
Men's jackets in shimmering gold and black cut away at the rear to reveal the wide sash - many yards of brocade - into which a kris, a ceremonial dagger, was tucked.
Caps of black or batik cloth and a gold fob chain completed the ensemble, worn to best advantage by the beefy, genial Pak De or the silver-haired Pak Nick, master of ceremonies.
The bride's attendants were exquisite in shoulder-less sheaths of gold and apple green or black. The matrons - including the Caucasians - had been fitted out with individually-tailored candy-pink kebaya, a long-sleeved blouse with a shaped bodice, finely embroidered, and worn above their batik-patterned sarong. Each wore a hairpiece tucked up into the traditional bun, an effect not always flattering.
Up from the hotel lobby wafted the tinkling of a Javanese gamelan orchestra as the first of a thousand guests signed their names in the books provided.
If Chris, the groom, decked out in shiny conical hat and chest-high robe, bore just a passing resemblance to a South Sea island prince in an amateur stage play, his bride was far more convincing as a Javanese infanta; her face an exquisite mask. Tongues of green greasepaint across her forehead created an exotic hairline. (A few days later at the antique market in Jalan Surabaya, we found two statuettes which immediately recalled these costumes).
The stiff formality was abruptly interrupted by three masked spirits bursting into the reception hall. One staggered under a street hawker's shoulder yoke, tipping his 'wares' into a throng of guests who scrambled for a memento. Dancers then performed until the banquet began.
The official party remained on its dais, for now it would perform the simplest but most arduous duty of all: greeting each of the more than a thousand guests, often posing for the cameras with them too. Two Swedish tourists joined in with gusto.
At last the bridal party retreated to the changing rooms where a private supper had been laid out. Kathy and Chris were presented with a large portrait in oils and posed with the artist. Christine, mother of the bride and the mastermind behind three full days of pomp and circumstance, called for a well-earned beer.
---