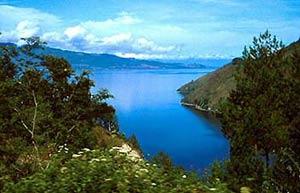 Clouds of clove-scented cigarette smoke, diesel fumes, second-hand air: it takes a few gusts of fresh air off the mountain waters to dispel a fug like that. The four-hour ride from the steaming Medan had dealt me a blinding headache by the time the bus began to weave through the hairpin bends down to the world's second-largest lake.
Spiritual home to the Batak people, northern Sumatra's Lake Toba has been a stepping stone on the backpacker trail across Asia since the old Flower Power days. In 1975 I followed the flow to the island of Samosir, across this immensely deep, volcanic lake, where the Batak operated bungalow-style guesthouses, cooking up banana smoothies, pancakes and fried rice for a couple of dollars a night.
On Christmas Day we feasted and that evening I joined the local lads in their time-honored rituals: sniggering in the back row at church then calling on girls in their sitting rooms, the parents not-quite-asleep upstairs.
Two decades on, but my journey from Medan remained true to time-honored form, departing from a torrid, oil-soaked bus terminal only after several false starts. Halts to tout for passengers were soon followed by a half-hour lay-over for noodle soup and a fan belt or two.
The simian ancient seated in front chain-smoked as the woman beside him retched onto the floor. My knees were jammed in at an impossible angle. Our driver's aggressive overtaking was excusable because other motorists anticipate such recklessness. And this was the deluxe, three-times-your-basic-fare coach service.
With my headache now slowly easing, I raised my skull off the bench on the ferry deck as we chugged in to land at Samosir's Tuk-tuk Peninsula, the visitor enclave.
Tuk-tuk was unrecognizable.
Shoulder to shoulder, glossy properties lined the shore. Steeply-pitched Batak roofs capped many cabins but other units could have been transplanted from Majorca or the Canary Islands, enclosed in manicured gardens, sheltered by their own embankments and breakwaters.
I had been sweet-talked into putting up at Samosir Cottages, a me-too jumble of cabins tumbling down to the shore. The restaurant's menu promised - and delivered - club sandwiches, spaghetti and milkshakes, but as of old, I inscribed my order in an exercise book.
What one adventure tour company calls "middle-class backpacking" had clearly arrived. At an establishment called Carolina's, fancy landscaping seemed to justify upping the ante to eight dollars a night. Although comfortable enough, my first night's lodgings had been strategically positioned behind a rubbish pit.
A few glimpses of Lake Toba's old beauty began to reappear: the blinding emerald of the rice paddies, the clusters of prow-shaped roofs (echoed right across the Indonesian archipelago by other fragments of a once-widespread culture), the dugout canoes gliding through the shallows and the interplay of clouds on the hillsides out across the water.
Today's travelers are still offered the pancakes, tours and money changing - as well as pizza and direct-dial calls home. Instead of woven matting, bed bugs and tubs of stagnant water they get glazed tiles and recognizable plumbing. Electric light has replaced the sputtering candles, and the old hand-painted signboards are giving way to the bland, neon-lit plastic jobs sponsored by Bintang Beer.
It's not too hard to take: wallowing in a real bathtub - mounted on its dais like a throne - instead of flinching as I tip the dipper over my head.
At dinner I arm myself with a book but am soon interrupted by a plate heaped with (more or less) what I ordered. No more hour-long waits for a simple omelette to be prepared by untrained cooks.
No more of the old instant camaraderie with the other diners, either. What few there are, are engrossed in the CNN news.
Times are tough in Tuk-tuk. Up and down the road, restaurants, shops and guesthouses stand pathetically empty, night after night.
An hour down the coast lives Frans Manurung with his widowed mother, brother and great-aunt Marta. Their 200-year old timber house on stilts is entered by climbing up a stepladder and through a hatch into the sooty gloom. Frans speaks fair English, but it's wasted in his present job shovelling sand. He lost his old job at a resort when the pall of smoke from the 1996 forest fires across Borneo and Sumatra scared everyone away.
Carolina Cottages seems to have the resort recipe just about right. The grounds are meticulously landscaped with hedges, huge shade trees and planter boxes. Cabins are scrupulously-clean and bright, well-plumbed and painted. Most impressive is an eerie absence of noise: no squawking chickens, no tear-jerking music at 6:30 a.m., no motorcycle engines.
A spacious dining room and lounge provide soothing views over the bougainvilleas, across the lake. My only gripe is with the banal menu, on which omelette, pancakes or cheese toast are the most challenging options.
It's too easy to forget which country this is. I have to look up to see the ferries painted that ubiquitous Indonesian blue-green chugging past, their sterns enlivened by the flapping red and white flag. I might just have to slip out the gate for a cultural refresher, an authentically Sumatran Padang-style roadhouse dinner of fly-blown fish heads with chilli, greasy curried chicken and rice.
Samosir exerts its old pull only as my ferry pull away from the landing. The soft light of morning plays across the dappled greens of the escarpment soaring up behind the coastal plain. Church towers flash like mirrors as the villages recede. The lake stretches far off to the south, the blue-grey cliffs merging into the sky.
Fact File
Review government advisories before planning travel to Indonesia e.g. US Dept. of State at travel.state.gov/indonesia_warning.html However, very few private travelers so far have encountered difficulty.
Most travelers require no visa to enter Indonesia for sixty days. SilkAir www.silkair.net/, an affiliate of Singapore Airlines, operates direct from Singapore to Medan. Jakarta is served by many international carriers, including the national carrier Garuda www.garuda-indonesia.com/, which also services Medan and other long-haul domestic destinations. Domestic carrier Merpati Nusantara www.merpati.co.id/ now operates an extensive domestic network independently of Garuda and separate ticketing is required.
Medan is reached from Penang by a short flight or ferry ride. Prapat on the shores of Lake Toba is a four-hour road journey from Medan's Amplas Terminal via the Trans-Sumatran Highway. Railroad enthusiasts can ride third-class as far as Pematangsiantar, then continue by bus. Cash machines exist in Medan and foreign currency can be changed in Prapat or on Samosir, which is readily accessible by ferry.
Lonely Planet and Moon Publications guidebooks provide comprehensive logistic information on travel throughout Indonesia.
Samosir / The Old Batak Society by P. Leo Joostens is a locally-published paperback available on the island.
---