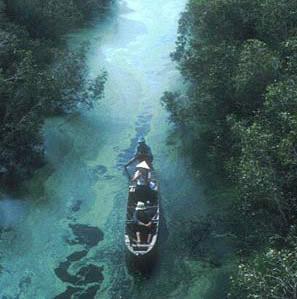 Six-fifty in the morning, the coach reverses over a prostrate rat outside Saigon's smart Caravelle Hotel, and we're on our way. Bound for the Delta, that watery region with vaguely sinister war-time connotations of jungle patrols, treacherous swamps and VC ambushes...
Hearts and minds are still at stake. Doi moi, Vietnam's economic reconstruction, has followed a rocky road and the authorities are keen to develop tourism. And the way to a man's heart is through his stomach...
Quoc Loc 1, Vietnam's Highway 1, stretches 1,200 miles from the Chinese border in the north to peter out south of Saigon, where the nine mouths (Cuu Long, or Nine Dragons) of the Mekong drop their payload into the South China Sea. The paddy rice nourished by these lush sediments supports Vietnam's position as the world's third largest rice exporter.
Crowded with two- and three- wheeled traffic, the highway crosses countless streams and swollen rivers, whether on sturdy concrete bridges or precarious planking. At My Tho ('mee terr'), 85 km (51 miles) from Saigon, we pulled up beside the muddy Tien Giang, northernmost branch of the Mekong. Low-slung fishing vessels, invariably painted aquamarine and red, crowded the banks. Joining us here was Le Thi Ngoc Dung ('Yung') from the provincial tourism enterprise, willow-slim in her form-fitting 'uniform' of white-and- yellow ao dai and conical straw hat. Dung admits to a degree in business management and fluency in Mandarin Chinese as well as English.
Four islands stand out in the river, each named for a fabled animal: Dragon, Unicorn, Turtle and Phoenix. Island workshops produce striped coconut candy, distil rice wine, keep honey bees or embroider tee-shirts. Local honey with cumquat and hot tea was served at a 'tourist orchard' on Thoi Son or Unicorn Island, which we reached after two pirogue journeys through channels fringed by water coconut palms, and a five minute trot down earthen paths between orchards and unpainted wooden cottages.
As well as versatile building materials, the water coconut produces a popular football-sized fruit. Bananas and papaya flourish here all year round, as well as sapodilla, rather like a wine-red but bland-tasting kiwi fruit. Marble-sized longans, akin to the lychee, huge knobbly jackfruit and pineapples also thrive.
Time out for a banquet lunch: whole grilled elephant-ear fish, a local speciality, was the first of nine or ten courses, followed by sticky rice puff balloons, Mekong catfish steamboat, fried chicken, barbecued prawns and sour soup. The feast ended with fresh custard apple and thick black Vietnamese coffee.
At My Thuan the new Australian-built Mekong bridge - four lanes of streamlined concrete - soars over a pancake-flat expanse of turgid brown water and verdant greenery.
From Sa Dec onwards, houses perch on stilts beside the canals and paddies, backing onto expanses of still water. Whether finely-latticed timber or crude thatch, each and every home presented a facade apportioned into three parts. Rice barges chug-chugged under humpbacked bridges, each vessel wearing black, white and red eyes on its prow. Billowing fishing nets hung from poles above the waterways. Boys in navy and white and girls in white ao dai sheaths spilt out on to the road as school finished for the day.
Minority communities enliven the human tapestry of the Delta. Many places of worship contribute gaudy splashes of colour: Khmer pagodas and Cham mosques, a polychrome Chinese temple, a Catholic church complete with Mediterranean-style Virgin Mary or a phantasmagorical church of Vietnam's own eclectic Cao Dai faith.
At Long Xuyen, 189 km (113 miles) from Saigon, we crossed the Bassac or Hau River by car ferry then, as evening fell, embarked upriver on a speedboat. The boxy houseboats we saw were actually floating rafts whose occupants breed fish underneath.
By Vietnamese standards, it is a capital-intensive but comfortable livelihood. We inspected one of these large, bare homes, the water lapping gently below the floorboards and witnessed the feeding frenzy as fish meal is tipped through a hatch.
Fish farming not your forte? Me neither. We had been traveling now for twelve hours and my concentration, too, was wandering.
Fortunately the Victoria Chau Doc Hotel, a low-rise French-managed resort facing the river, was at hand. The Mekong at this point is an international artery, and the Victoria Chau Doc Hotel operates speedboats to Saigon and upriver to Phnom Penh, Cambodia.
For a four-star resort it was refreshingly simple: the bar merged into the reception area and my room looked out over the darkened river. But why this particular town? After dinner some of us went in search of bright lights, finding only puddles and circling cyclos.
Early next morning we disembarked near Tra Su Forest Reserve, a rectangle of melaleuca or paperbark trees, enclosed within eleven kilometres (5.5 miles) of earthen dykes, which is inundated for several months each year.
Our pirogues rode three inches above the apple-green waters, coated in algae. More than 62 species of water birds take refuge here, and our approach triggered a cacophony: more honking and tooting than a Saigon traffic jam. In one stretch, every spindly trunk held a nest, with the fledglings often visible, and the sky above was blacked out with flying forms. At the heart of this watery world appeared a delightfully rickety watchtower, constructed from odd-shaped branches.
From the tower the solitary peak of Sam Mountain was visible, its flanks crowded with gaudy temples and pagodas. From the summit, which we later visited, the known world becomes a checkerboard of silvery, water squares.
The Delta's main city, Can Tho ('Cunn Tair') a handsome river port city 65 km (39 miles) downriver, is the educational, commercial and cultural centre for the region's 70 million people.
In the morning we could, at last, lose ourselves in the bustle of the floating markets at Cai Rang and Phung Hiep, best experienced before eight a.m. Taking an alternative route back to Can Tho we squeezed, two by two, onto Xe Honda Loi, contraptions mating a Honda motorcycle with a four-wheeled carriage. In the village of Binh Thuy a 130-year-old villa, richly painted and decorated in 19th Century Franco-Vietnamese style, was displayed proudly by its elderly owners.
There was time, of course, for a final eight-course feast at Can Tho's Song Que Restaurant. My table companion deftly folded finely sliced banana, cucumber, fresh green coriander (cilantro), noodles and steamed fish into my rice paper spring roll wrappers. After hours, Le Thi Thu Thuy from Can Tho Tourism studies for her Arts degree, joining seventy other students in her English class.
Prawns fried with tomatoes followed the rice paper rolls, then a hot pot of sweet and sour vegetables; sautéed watercress with garlic; steamed snails with fermented rice; grilled mudfish in a bamboo tube; shrimps simmered with coconut milk; onion omelette and a mound of rice steamed in bamboo. We had been amply fortified to re-enter Saigon's evening motorcycle melee of beeping, honking and twinkling lights.
Fact File
Victoria Hotels and Resorts
www.victoriahotels-asia.com
Song Que Restaurant
120 Tran Phu St
Can Tho City
tel: 071- 811145 or 811136.
---