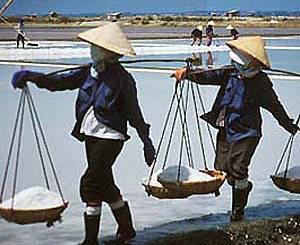 Home of the unique green dragon fruit, southern central Vietnam is a warm, sunny land sandwiched between the mountains and a turquoise sea.
"Mister! You eat!" But what the heck is it? Only a few Dong to find out, I guess.
This fruit resembles nothing so much as a coral pink hand grenade. The velvet skin with trailing tendrils peels cleanly away... from what proves to be a delicious lemony white flesh speckled with black seeds and tasting rather like kiwi fruit [Chinese gooseberry].
As Route 20 switchbacks down the Ngoan Muc (Bellevue) Pass, leaving behind the rich red earth, the lush forests and the coffee plantations of Vietnam's Central Highlands, you reach a warm, sunny land sandwiched between the mountains and a turquoise sea. Here - nowhere else on the planet - the green dragon fruit ripens on trailing, succulent vines.
Southern central Vietnam is drier and less typhoon-prone than the rest of the nation, with an average temperature in the low seventies (23° C). Ancient redbrick Hindu temples perch on parched hilltops amidst the prickly pear and the poinciana; translucent waters are crowded with gaily-patterned fishing launches.
Da Nang and the famed China Beach lie far to the north, but here the beaches can be counted amongst Vietnam's finest. The seven-kilometer (four mile) city beach at Nha Trang is graced by the smart Ana Mandara Resort whilst on Van Phong Bay to the north, the simple clapboard bungalows at Doc Let nestle amidst acacias and coconut palms above chalk-white sands.
Coral trees and cactus, mud brick dwellings and Cham towers: passing impressions of Phan Rang, the first coastal metropolis. Thap Cham, its twin town, takes its very name from the four brick towers of Po Klong Garai, built at the end of the 13th century by the Hindu kingdom of Champa which once prospered along this coast.
Along the coast runs Quoc Loc 1, Vietnam's Highway 1, stretching 2000 kilometers (1200 miles) from the nine mouths of the Mekong, south of Saigon, north through Saigon to Nha Trang, Da Nang, Hue, Hanoi and finally the Chinese border. At a roadside restaurant within sight of Cam Ranh Bay we dine on wild boar, fresh oyster, sentinel crab, eel, shrimps and cuttlefish.
Cam Ranh Bay forms a fine natural harbor north of Phan Rang, which has been utilized, by Russian, American and - again - the Russian navies for nearly a century. The surrounding salt flats are peopled by black-clad women laborers, their arms and faces masked against the glare; ant-like figures inching across a vast checkerboard.
Nha Trang is perhaps the nearest thing to a Vietnamese Riviera: tree-lined streets, a grand esplanade. Even the airport retains a leisurely 1960s ambience. Backpacker cafes do banana splits and boat excursions; and a refreshing drink concocted by crushing green dragon fruit with ice, sugar and condensed milk.
Crowning a hilltop above the Song Cai River the four surviving Cham towers of Po Nagar, the Lady of the City, command views of orange-blossomed flamboyant trees, massed fishing fleets, scattered islets and huddled squatter villages of rusting iron.
The towers, built some time between the 7th and 12th centuries, are still a place of worship. Nha Trang was first settled by the Cham people and only in the 17th century did the Kinh, the people the world knows as Vietnamese, impose their rule.
Dr. Alexandre Yersin, a French medical scientist well-remembered by the Vietnamese, settled in Nha Trang in 1891 where he discovered the cause of bubonic plague and introduced rubber and quinine crops to the colony. Another scientific endeavor, the Oceanographic Institute at Cau Da (Cau Be), remains amongst the town's main attractions.
Craggy islands nestled offshore in transparent waters lend themselves to boat excursions, fishing, snorkeling and scuba diving. Day-long boat tours can easily be arranged in Nha Trang. Monkey Island (Dao Khi) and its simian residents have become a hit with foreign visitors. Visible from Nha Trang Beach, the twin humps of Salangane Island (Hon Yen) and its neighbors are the source of Vietnam's finest swift nest, incorporated in bird's nest soup and in traditional medicine.
Doc Let Beach sits on a peninsula north of Nha Trang, in Ninh Hoa district. The beach is wide and long (10 km or 6 miles), with chalk-white sand, moderate surf and clean air.
Visitors are still relatively few (there is no public transport service) but the local people are out on the beach at six in the morning. A massage team of three, led by a wizened matron, will pummel, pound, twist and knead you for thirty minutes for four or five dollars. Other vendors offer small, ripe pineapples, mangoes and fresh coconut.
Boat excursions require a military escort (!) but our one-man detail at least pulls his weight when it comes time to lug the picnic supplies onto a remote shore. We set up sun umbrellas on a shelf of sand just above the waterline, watched by a gaggle of kids. A charcoal-gatherers' encampment lies just behind, by the mouth of a creek where cattle browse. Black clouds coalesce into a fierce squall as we motor back to Doc Let - we jump ship to swim to shore through warm, foaming surf. Phosphorescent fish contribute a transient, eerie glow as the light fades, and the lights of the fishing fleet spread across the horizon: there are steady sounds of chugging all through the night.
An expanse of refuse mars the walk down the beach to Ninh Thuy where dozens of traditional fishing vessels painted aquamarine and bright primary red are careened or bobbing in the shallows. (One tour guide tells me the mess is too off-putting to encourage her entourage to venture far from the resort). Boys play soccer across the sand. People and supplies are ferried out to the fishing launches in the basket boats, thung chai, which can hold four or five people and are made from woven bamboo strips covered with pitch. Slabs of ice, sawdust-coated, will chill tonight's catch.
Sandy, twisting lanes reveal the minutiae of village life: tiny stores, a fruit and vegetable juice vendor set up near the well, a temple masked by a faded gentian screen. Residents fetch well water in old kerosene cans balanced on a yoke. A few bright, shiny modern homes display their prosperity to passers-by. A woman works at her sewing machine. Seniors cradle infants whose brothers and sisters race, squealing, after the foreign pied piper.
Fact File
Ngoc Suong Restaurant, QL (Highway) 1, near Cam Ranh Bay, tel 058 854603.
Nha Trang's dry season, unlike Saigon's, runs June - October. Budget travelers usually book island tours at Hai Yen Cafe or its neighbor, the Vinagen Cafe, right on the beach.
Oceanographic Institute, Vien Nghien Cuu Bien, Tel 822536. The aquarium's 23 tanks hold a variety of local marine life, including seahorses. Open daily from 7 to 11.30 am and 1.30 to 5 pm. Ana Mandara Resort, Tran Phu Blvd., Nha Trang. Tel: 058 829829 Fax: 058 829629. http://soneva-pavilion.com/ana-mandara
Doc Let Beach Resort: 50 km (30 miles) from Nha Trang. At a gasoline (petrol) station just north of Ninh Hoa take the right fork (east) and continue for 10 km (6 miles). Cabins with double bed, mosquito net and clean sheets, self-contained facilities for $8 - $10. Fresh seafood meals and drinks, modest prices. Rent snorkeling gear or excursion boats. Khanh Hoa Tourism tel 058 849152 or 849506
---