Plain of Jars, Vale of Tears
---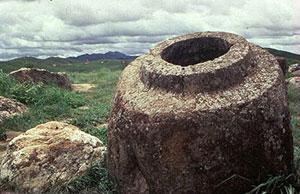 In the highlands of Laos you'll find even more to ponder than the enigmatic stone jars strewn across the landscape.
"Sit down and I'll tell you a story." Inside the cool, damp gloom of the cave, which extends deep into the cliff face, we're only too happy to let the sweat dry after climbing the steep, muddy trail in the mid-afternoon sun. Pull up a rock...
Richard Nixon never faced a war crimes tribunal... that was my reaction as I concentrated on the Lao-accented English of Sousath Phetrasy, entrepreneur, hotelier, tour guide, citizen - and survivor. Caught up in the American determination to account for every last man reported missing, he relates equally to the villagers caught in the crossfire as to the revolutionaries whose determination would eventually prevail.
Cambodia's rice paddies were not the only killing fields of the undeclared war in Indochina. Here in northern Laos, the denuded hills around the Plain of Jars also witnessed the slaughter of uncomprehending civilians, albeit by foreign forces. Half the people who once lived in this province, Xieng Khouang, have died or fled.
Fly in to the dusty provincial capital of Phonsavan, a three-dog town, and you will find much more to ponder even than the enigmatic stone jars strewn across the treeless prairie. Fly, unless you really want to spend two days jolting between hard-edged objects and grunting, squealing, smelly ones. Russian-built Volga sedans weave between potholes the size of bomb craters (which some of them are).
Site One at Thong Hai Hin, 8 miles from Phonsavan, is the most readily accessible place to wander amongst the mysterious stone vessels weighing as much as 7 tons, bequeathed by a culture which flowered around the time of Christ. The massive vessels may have been used as funerary urns.
Another cluster of relatively small jars, Site 3, lies across the rice paddies from Ban Xieng Dii, a prosperous settlement of muddy lanes, bamboo fences and rambling teakwood homes raised on stilts, each sheltering a loom, a buffalo - even a car.
Journey to the heart of a twentieth century tragedy by squeezing into Sousath Phetrasy's soft-top Russian jeep for a day-long excursion along Route 7, a French colonial artery which bumps and jolts all the way to Hanoi. Stop for a hearty Lao lunch of noodle soup, fish mince balls and heaps of fresh greens in the Wild West crossroads town of Muang Kham, where signs announce the establishment of a British-funded ordnance-removal team.
We have come to experience the awful silence of Thampiu Cave, the last resting place of about 400 people from the village of Ban Nam Eun, killed in December 1970 by a rocket which shattered the roof of the cave where they and five Vietnamese barefoot doctors habitually sheltered from the bombs raining down.
Only when the sweat-soaked visitors are settled does Sousath begin, in a low voice, the horrific story of the carnage - then moves on to the quirk of fate which saw him leading the quest for traces of USAAF Major Albro L. Lundy, Jr, who probably fired those rockets, shortly before bailing out. Then there's the story of Lawrence R. Bailey, one of the first-ever prisoners taken by communist forces, who would return, decades later...
Divided into compartments for hundreds of families (who had to cook outside, at night) the cave had also become an impromptu clinic - but never a military hospital, insists Sousath. Human bones can still be extracted from the rubble on the cave floor, although most have now been removed.
He'll point out the scattered remnants of the Ho Chi Minh Trail before jolting up the trail towards a Hmong village sprawling over two hillsides and still littered, like so many, with the debris of war. Two US aircraft were shot down here and the rusting landing gear of one still lies in the dust. Cluster bomb casings double as planters, fence posts and house stilts.
Give him half a chance and Sousath will embark on the three-day return journey north to the subterranean bunkers where he spent five of his teenage years - fitted out with electric power, operating theatres and concert halls - near the former communist stronghold of Sam Neua, the last known home of the king and queen exiled by the Pathet Lao.
Another side of Sousath Phetrasy is the citizen who saw a solution for 500 subsistence farmers caught in an ethnic conflict. Forced from their fields downstream by returning Lao Loum refugees, the Kamu people of Ban Nasok faced a dilemna: stay on the slopes and starve, because the government is determined to prevent further forest clearance; or move up to higher ground, the traditional domain of the more belligerent Hmong.
Sousath, exploring prospects for small-scale tourism around the nearby hot springs, realized that irrigation held the key - and made it happen, hustling foreign aid money to fund a vital pipeline to the fields.
More than 450 Americans reported missing in Laos are not yet accounted for. Sousath believes two are still subsisting in remote hill-country villages, uncertain of their welcome back home and content to remain with their Lao wives and children.
US investigators told Sousath his evidence matched no case of concern and dismissed his efforts - then made a note to have him pressured by Lao authorities, according to their record of interview, which Sousath obtained. Sousath's confident manner surprised the Americans, who had neglected their homework: his family is well connected with the present government.
Of course I cannot verify Sousath's stories, although I did see some supporting evidence. I can only say, come, see and hear for yourself...
Lonely Planet guidebook author Joe Cummings confirms some of the mind-numbing statistics of the secret war in Laos. Both the USA and North Vietnam acted in direct contravention of the Geneva Accords: the US forces were disguised as civilians and the communists baldly deployed tens of thousands of regular troops. The 'rules of engagement' which applied in Vietnam were ignored here.
Over a nine-year period the 'civilian' pilots dropped a planeload of bombs over Laos on average every eight minutes, 24 hours a day - as well as quantities of defoliants and herbicides like Agent Orange.
Fact File
Visas are issued on arrival to suitably 'respectable' visitors for $50, payable only in cash. Thai Baht and US Dollars circulate freely alongside the Lao Kip, which is not convertible. Outside the hotels credit cards are not widely accepted. Bring cash on a visit up-country.
Lao Aviation flies Vientiane - Luang Prabang, Vientiane - Xieng Khouang (Plain of Jars) - Luang Prabang although its safety standards are questionable. Roads are rough and security still uncertain. There are several modest hotels, guesthouses and restaurants at Phonsavan. Sousath Phetrasy's Maly Hotel has hot showers and excellent meals. Temperatures drop quite low during the cooler months.
Xieng Khouang Tourism Company & Maly Hotel, P.O. Box 649A, Phonsavan, Xieng Khouang, Lao PDR. Tel 011 856 71 212617, Fax 011 856 71 212685.
Lonely Planet Laos, 3rd Edition / a Lonely Planet travel survival kit (Joe Cummings) provides comprehensive background reading as well as practical detail.
Stalking the Elephant Kings: In search of Laos Christopher Kremmer, University Press Of Hawaii, 1997 describes a journey with Sousath Phetrasy to the Pathet Lao cave headquarters at Viengsai.
---