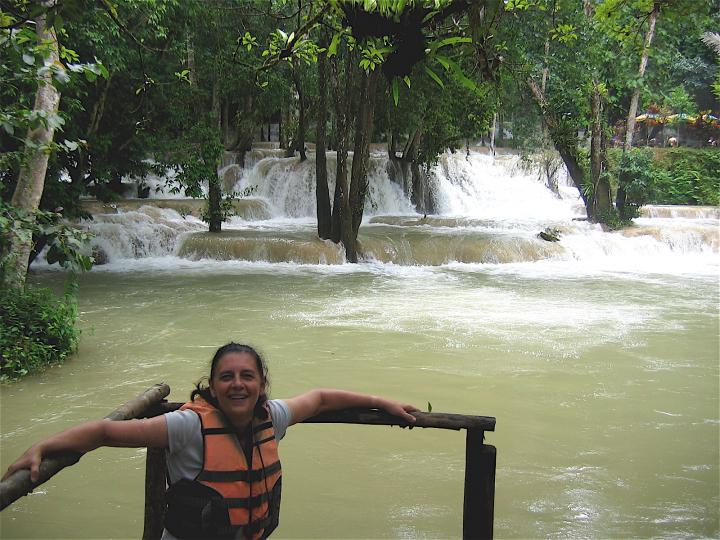 Image ©
2010 MaryLou Driedger
"Head straight into the waves and paddle hard", my husband shouted at me. We were kayaking down the Nam Khan River near Luang Prabang in Laos. The day before in the office of the eco-tour company that organized our kayaking adventure I deliberately requested we take the trip labeled 'easy'. I wasn't interested in any white water rapid shooting. I just wanted to see the Laotian countryside from a river perspective.
The first part of our trip was deceptively calm and placid. The scenery was as interesting as I had hoped. Rounded rocks covered with lush green foliage and neatly terraced farm fields lined the river. Little boys were jumping into the water for their morning bath. Women in large straw hats were wading up to their waists holding bamboo cages they were using as fish traps.  Along the shore huge horned water buffalo were cooling off in shallow pools.
Our first stop was the Tad Se waterfalls. It was the rainy season so the falls were running high and hard. A white watery torrent raged around leafy trees, across large rocky boulders and washed over bamboo bridges. Our guides took us to a beautiful pool at the base of the falls where the water was clear and cool. Sweaty from kayaking in the blazing heat we jumped in. If you stood just under a place where the water was gushing over the rocks it was like having a shower, the powerful spray pummeled your body like a strong masseuse.
Our guides had brought along lunch. There was oily sticky rice rich with vegetables and spices that we ate with our fingers. We were ravenous after our paddling and swimming and washed down the meal quickly with water and large bottles of Beer Lao, the local brew that some say is the most delicious in Asia. For dessert there were small Laotian grown bananas.
We left the waterfall in pouring rain that lasted for almost an hour. I was drenched in seconds but it was a lovely reprieve from the humidity. The only time I was slightly nervous was when a couple bolts of lightning forked down not far from us accompanied by ear splitting thunder.
Just as the sun broke through the clouds we reached a set of rapids. The guides had warned us they were coming but I was sure they were joking.  The seething eddies and high white- capped waves in front of us were certainly no joke. I was in the front of the kayak and as we hit the first wave, muddy water washed over me and right into my mouth stifling my screams. My husband shouted at me to "paddle hard and head straight into the waves". Galvanized by fear I obeyed orders. It only took a few minutes for us to clear the rapids. We looked back to see that two British ladies who were also on our tour hadn't been as fortunate. Their kayak had tipped and they were floundering in the water. Our guides had jumped in to rescue them and their belongings.
We were more prepared for the next sets of rapids and after two more hours of paddling we arrived at our destination. We still had a long slippery trek up the high muddy riverbank in the blistering heat but I was just happy to be back on land.
Although our trip had not been as 'easy' as promised, it was certainly a memorable chapter, albeit a bit of a scary one, in our Asian adventure story.
* * * * *
---