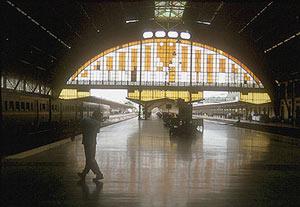 Be waited on, hand and foot, as rice paddies, rubber plantations and rainforests glide past your window? Try the real thing instead!
Ride the Orient Express eleven hundred miles from Singapore, up the panhandle of the Malay Peninsula to Bangkok, and be pampered for 41 hours as the rice paddies, rubber trees and rainforests of glide past your window... or perhaps try the real thing and chop a few zeros off the cost?
Make the same journey in air-conditioned comfort (or in colorful, chaotic squalor; the choice is yours) on the national railroads of Malaysia and Thailand, a network stretching from the island nation of Singapore, north through the Malaysian capital Kuala Lumpur over the Thai border to Bangkok and beyond.
From Bangkok comfortable sleeper trains continue north to Chiang Mai; north-east to Nong Khai, just across the Mekong from Vientiane, the Lao capital; or eastwards across Isaan, the heart of rural Thailand, towards Cambodia. (No further, unfortunately, for the time being).
Facilities include air-conditioned second class sleeper cars and first class twin cabins on the overnight express services. Whatever your choice, fares remain modest and bookings are not usually difficult to secure.
Why is train travel still so popular in these rapidly developing nations? Safety and comfort are compelling reasons. Long-distance coach journeys are cramped and sometimes hazardous. For the visitor there is another excellent reason: seeing the countryside unmarred by the detritus of highways the world over.
The downtown railroad stations are attractions in themselves. Singapore's Keppel Road station is adorned with Art Deco murals which depict toiling coolies, farmers planting rice and tappers collecting rubber - paeans to colonial-era Trade, Commerce, Industry and Agriculture. Today the station, just beyond Chinatown, falls off the edge of most maps of the city-state.
Travelling north, customs and immigration formalities are completed before departure, since northbound trains quickly cross the island and clatter across the causeway into Johore Bahru, Malaysia.
The cupolas, spires, minarets and arches of Kuala Lumpur 's railroad station were created in 1911 by a whimsical British colonial architect. His creativity did not impress the dour London engineers whose design standards decreed a structural strength sufficient to withstand winter snowfalls!
A sleepy siding at Tapah Road is the starting point for a journey up into the clouds, to the colonial-era hill station at Cameron Highlands where Bangkok-based American businessman Jim Thompson disappeared in 1967, leaving a mystery still unsolved.
Breaking the northbound journey at Butterworth, passengers on the Eastern & Oriental are treated to a ferry excursion to Penang, something anyone can do with equal ease, since ferries leave constantly from the terminus beside the station.
As onwards connections are not always smooth at the Thai border, it is also wise to build a Butterworth 'buffer' into your itinerary.
Georgetown was established last century and became a busy trading port in the glory days of the British Empire. Hawkers enliven the streets with aromatic offerings mingling the best of South Indian, Malay and Chinese cuisines and a few adaptations of their own, exemplified by the Nonya dishes of the local Chinese.
An overnight journey up the narrow neck of southern Thailand brings us to Hua Hin. Within four hours of Bangkok, this low-key seaside resort has been popular with royalty and commoners alike since King Rama VII built a summer palace here in 1928. The Railway Hotel, now restored and operated by the Sofitel chain, commands recognition as one of the grand old hotels of Asia.
Bangkok's cavernous Hualampong Station was built just before World War I by Dutch architects and engineers commissioned by King Rama V, a fervent reformer. The vaulted iron-framed roof exemplifies the engineers' art of that period and the geometric coloured-glass skylights have been acclaimed by architectural historians as pure expressions of de Stijl Dutch Modernism.
Don Muang, accessible by pedestrian walkway from Bangkok Airport, is also a convenient stop - and booking office - on the northern and north-eastern lines, and can short-circuit the city's notorious traffic congestion.
Thailand's branch lines, as elsewhere in the world, are threatened by the tarmac tentacles of highway construction. Departing from Dhonburi, across the Chao Phraya River, the line west to Kanchanaburi and the notorious River Kwai (Khwai Noi) is the last functioning remnant of the notorious Burma Railway whose construction cost many thousands of lives during the Second World War.
Malaysia, for its part, boasts the Jungle Railway, a rattletrap line running through the rainforests of the interior to the north-eastern coastal state of Kelantan.
Malaysia's East Coast is a land of Malay fishing villages under the swaying palms. Yes, it must be pleasant. I haven't yet made it there, although not for want of trying.
"Bank slip" said the guard as the train creaked to a halt under leaden skies, somewhere amidst the world's oldest rainforest. Anxious faces peered from carriage windows, bodies dropped to the tracks. Of course I knew that heavy rain at this time of year could derail my plans, almost literally.
A rather bilious breakfast - sticky rice cakes, fish crackers, Khong Guan's Chocolate Coated Sweet Memories and syrupy lychee juice - was rendered even less palatable by my dawning comprehension of the Malay-language headline: "Six Drown in Floods". Right on cue, monsoon rains had inundated Malaysia's eastern seaboard.
We inched forward along the shored-up tracks, gathering speed through a hamlet of unpainted timber cabins with washing strung up under the eaves. Village women flitted past: tropical butterflies, sheathed in shimmering iridescent blues, greens and pinks. Rubber trees stood eerily silent in their symmetric groves, each gaunt trunk slashed diagonally to feed a collecting bowl.
A beefy figure in black tunic clambered down from the locomotive to declare, "You must see my stationmaster!" This latter, a middle-aged Malay in pillbox cap and epaulettes, confirmed in careful English that the train could go no further. The bridge ahead was awash.
Why fight the monsoon? I transferred to a taxi heading back the way I had come - then on south through the mountains, on crumbling roads menaced by lethal landslips.
Fate had decreed a leisurely inspection of the town of Kuala Lipis.
I took in the weekly night market, feasting on satay sticks, banana fritters and fresh rambutan fruit offered by smiling people. A glimpse of Koran lessons at the Muslim mosque revealed small boys fidgeting and whispering, like children the world over.
Definitely not the Orient Express: something much more real and much more memorable.
 

Fact File
Lonely Planet guidebooks provide details of timetables, fares, visitor passes, accommodation standards and booking systems on KTM Berhad (Malayan Railways) and the State Railways of Thailand.
Reservations can be made up to 90 days ahead at Hualampong's Advance Booking office tel. (66 2) 223-3762 , 224-7788, Fax 225-6068, 226-3656, or at Don Muang station and in other Thai cities. Booking offices open 8:30 - 6 p.m, or 8:30 - 12 on weekends and public holidays. Travel agencies also place bookings for an additional fee. Thailand Explorer passes allow unlimited 2nd class travel (sleepers and air-conditioning extra), and costs 2000 Baht for 20 days. Pass details and train timetables at: www.srt.motc.go.th/httpEng
Fares on KTM (Malayan Railways) are payable in local currency in either Singapore or in Malaysia, making Singapore ticket purchases rather more expensive. Train information in Kuala Lumpur (03) 274 7434, Singapore 221 3390. Fare information and timetables at: www.ktmb.com.my.
Tourism Authority of Thailand ph (212) 432 0433 www.tat.or.th.
Tourism Malaysia ph (213) 689-9702 tourism.gov.my.
Singapore Tourism Board ph (213) 852-1901, www.newasia-singapore.com.
---