Marketing Phnom Penh (Part 2)
---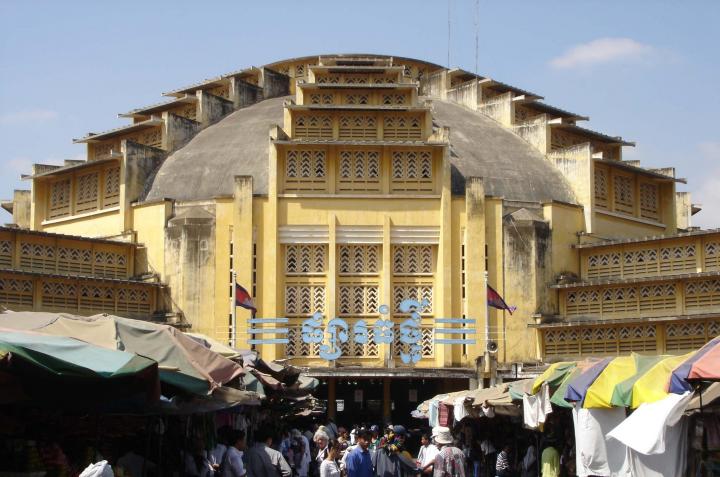 Image ©
2009 Robert Tompkins
(continued from Marketing Phnom Penh (Part 1))
* * *
Part 2.  The Central Market (Phsar Thmei)
Having learned from yesterday's heat tormented, overly ambitious agenda, today we factored swim time into our itinerary. We would make a short visit to both the Central and Old Markets, stop for an early lunch at the FCC and then return before the heat reached its intensity to lounge in the pool.  
At 9 AM we again walked out of the coolness of the hotel into a wall of heat. Awaiting us was the same tuk tuk driver as yesterday; after price haggling, carried out with smiles and more a ritual than a negotiation, we were off in a spew of exhaust into the vehicle plagued streets.
Women sweeping the roadsides with primitive brooms that look like a handful of straw wired to a pole added dust to the already pollution filled air. At one of many gridlocks, we struck up a conversation with an Australian woman wearing a crash helmet while being transported on the back of a motor scooter. Shouting over the traffic noise, she said that she was 76, a great grandmother, and had celebrated her last birthday by traveling across Canada. "It's the first time I ever saw snow," she hollered. Her driver found an opening and charged through it with a jerk that snapped her bead back. "It's a beautiful country," she yelled at us, her voice fading as she disappeared in smoke and dust.
Located at the junction of Charles de Gaulle and Kampuchea Krom Boulevards, two of the city's major thoroughfares, the Central Market was built over seventy years ago. A swampy lake had been drained to make way for its construction. Its location was sited by architect and town-planner Ernest Hébrard who was also responsible for the site of Le Royal Hotel as well as being instrumental in the design of the entire city. It was called New Market (Phsar Thmei in Khmer) to differentiate it from the even older market closer to the river; its location, presumably, provided the commonly used name. Definitely idiosyncratic and to many eyes grotesque, the yellow Art Deco style cavernous building seems incongruous and alien to its surroundings.
Its wide entrance walk is lined with stalls shaded by umbrellas and busy with strolling hawkers. Our first encounter was with a vendor who was unrelenting in his attempt to sell us a hammock. A boy no older than five directed his blind and maimed father towards potential almsgivers.  Books sealed in plastic bearing titles relating to the Khmer Rouge period, were carried by the armload by teenage boys who interpreted a shaking head and the word no as a sign of interest, and insisted on showing each different title. As in Vietnam, the selling of photocopied books in Cambodia is commonplace.
Unlike the cramped, claustrophobic and dimly lit Russian Market, the large vaulted centre of the spacious main market is brightened by the light that filters through its louvered walls. Under the domed ceiling, the goods are displayed far more formally under glass counters staffed by no less eager merchants selling jewellery, knock off watches, designer purses and clothing, gems or coloured stones, alleged antiques, and statuary carved from stone, silver and wood.
A vendor with a feather duster was attending to a neat countertop display of the vase shaped Chinese opium pipes we had purchased and seen made at the Russian market. Anticipating our inquiry, she announced, "Ten dollar." Then, perhaps in an attempt to justify the price, added, "Very old. Very old."  
This section of the extensive market was much less hectic than the one visited yesterday, but certainly not cooler. Our wet shirts clung to our skin and the oppressive heat sapped our energy, replacing it with a drowsy lassitude. We wondered how that intrepid Aussie great grandmother was faring in the oppressive heat and agreed that she would not be deterred.  
While we stopped for yet more bottled water, a little boy appeared beside us and watched without gesture or word. He accepted the bottle without hesitation and immediately disappeared. Another client at the same stand purchased a can of cola; the contents was poured into a plastic bag containing ice, a straw was inserted, and then the top was secured with a twist tie, the can presumably reserved for its recycle value.
Like spokes off the central hub, laneways jammed with merchandise beckoned at us.
Strange musical instruments were sold next to a stall full of bottled herbal remedy concoctions. The ubiquitous Khmer scarves, krama, were displayed in metre high stacks. Replicas of antique coins were set out in cartons. Mixed amidst a box containing various sized miniature brass castings of Buddha, were several images of what was unmistakably Bugs Bunny.  Pirated CDs and DVDs were omnipresent. Shoe stall followed shoe stall, and we visited every one of them; in spite of Doris' serious attempt to put a dent in the supply, there are still thousands of pairs available. Suitcases, one of which we purchased out of necessity to carry shoes, are available in ample supplies, presumably for this very reason.
As we passed the jammed stalls, their goods spilling into the alleys, the owners beseeched us with choruses of "Look-look-cheap-cheap. Look-look-cheap-cheap," on the theory that their limited English vocabulary would gain maximum effectiveness through repetition.
In front of one stall hung a T-shirt with the following cryptic message that has been reproduced here verbatim--"You will love it! I want ever yone to wish to be stylist girl like me. New spot fashions have arrived. Fine fun."
A short line had formed in front of an elaborate and very old machine into which the vendor fed lengths of sugar cane and by turning a crank extracted the sweet green juice.
"Selling fresh flowers for further ceremony" read the sign at a flower stall; packed with swollen lotus buds, jasmine sprigs, many varieties of orchids, and bird of paradise stems; the shop was a burst of color and scents.
At the juncture of two laneways, food vendors had set up an oval shaped open kitchen; a crowd of diners held steaming bowls and ate with chopsticks and spoons; women in the centre served from numerous pots and containers. Pleasant mouth watering aromas infused the area.
A drowsy lassitude replaced what remained of our heat sapped energy. We had had enough. Although we had been here much longer than anticipated, we still left with a feeling that there was much more to be seen. Stimulated by the lingering smells of the noodles and soups, we chugged and sputtered through the sauna streets for lunch at the FCC before continuing on to the Old Market.
As we were entering the three storey French colonial building, a teenager wearing a Nike  baseball hat with its peak sideways pushed a wheel chair containing an armless and legless man who growled, "Give me money. Give me money."
Our lunch was set before us on the top of the surrounding balustrade. Looking out from the balcony over the busy streetscape of the grand riverfront boulevard, we found it difficult to ponder that thirty years ago during the Khmer Rouge insanity, Sisowath Quay would have been deserted and the city a virtual ghost town.
We chatted for awhile with two NGO workers who had been in Phnom Penh for just over a year. "You get used to it after awhile," one observed, taking a sip of his Angkor beer. "Frequency brings a degree of emotional immunity. You can't let the poverty gnaw at you. You become acclimatized, almost impervious." He seemed to be reciting an often repeated speech.
"Then the helping can start," interrupted his friend.
They agreed that money should be given to beggars even though many charity workers disagreed with them on the grounds that it only encouraged more begging. "Give a little, perhaps 500 riels. Maybe a thousand. Make larger donations to the local charity organizations."
They told depressing stories: parents making their children beg instead of sending them to school, organized gangs forcing children to beg and then stealing whatever money they made, the sex junkets from Japan and Korea that exploited the desperation of young girls.
"When I first arrived in Cambodia, I bought new clothes for two street kids wearing filthy rags. Two days later, I saw them huddled in a store front, dressed in dirty tatters again."
Their stories continued with their witnessed incidents of human suffering, of lives without hopes and dreams. We left the FCC drained. We abandoned our plans for the remaining market visit in favour of a different world, an alternate world of comfort and peace.
Again we were chin deep in the pool, meditating on the lilting descent of frangipani blossoms and attempting to purge the imagery of the world beyond those front doors.
* * *
Fact File:
Bangkok Air ("Asia's Boutique Airline") has four daily 70 minute flights between Bangkok and Phnom Penh.
Siem Reap Airways International has three daily 45 minutes flights between Phnom Penh and Siem Reap.
A Cambodian Tourist Visa is necessary. The visas can be obtained at the airports in Phnom Penh and Siem Reap and cost $20 US. Two passport type photos are also required. The International Departure tax is $25 US and the Domestic Departure tax is $6 US.
There are numerous Non Government Organizations providing humanitarian aid including the following:
Street Friends  is a Phnom Penh based organization working with street kids.
Sunrise Childrens Village  is involved in helping orphans in Phnom Penh and Siem Reap
Cambodia Trust is an organization which helps the disabled.
Beatocello.com is the web site for the Kantha Bopha Foundation founded by Dr. Beat Richner who has built three hospitals which provide free health care for children.
There are no ATMs in Cambodia. Major hotels accept standard cards. Although the official currency is the riel and the exchange rate is 4000 riels to one US dollar, the US dollar is widely used.
You will have to follow your heart regarding the city's many beggars. If you do give, do so discreetly, or you will be swarmed by very insistent others.  Bottled water is always welcomed
Caveat:
After returning home and wearing a pair of her $3 shoes half a dozen times, Doris discovered that one shoe had cracked across the sole. When she showed them to a shoe maker, he informed her that they would cost $75 Canadian to resole.
* * * * *
---