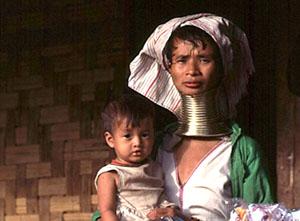 Often forgotten or dismissed, the Northwestern region of Thailand provides ideal territory for those looking at alternative destinations away from the madding crowd. Partially due to relative inaccessibility and partially due to lack of marketing, the area certainly does have worthwhile tourist sites and offers much for the more adventurous traveller. This lack of exposure is to the advantage of all those making that little extra effort it takes to visit Mae Sot, Tak, Kampaeng Phet and the gateway to the region, Sukhothai.
The former capital is well-mapped and accredited, yet it is the position it holds as a starting point for the diversionary trip to the Northwest that captures interest. Historically, Sukothai boasts an integral position in the country's progress both socially and physically and is the geographical and administrative divide between the North and Central plains of the country. It is nowadays located on an Asian Highway from Myanmar at Mae Sot (Tak province) in the west to Chong Mek, (Laos) in the east and along with nearby Pitsanulok, still dominates as a center of commerce, transportation and communication. The importance of its geographical position has been emphasized by Bangkok Airways' choice of it as a major hub, connecting the ancient cities of the region: Siem Reap, Luang Prabang, Mandalay and Chiangmai.
However, most visitor's reason for choosing Sukhothai as a stop is its well-preserved ruins and its historical position as the first Kingdom of Thais within the peninsula. Sukhothai was established in 1238, to decline some 140 years later with the establishment of Ayutthaya as the new capital of Thailand. The Thai alphabet, almost intact today, was invented here by King Ramkamhaeng.
None of this is visible on any visit to Sukhothai but what one can visualize is the establishment of a large focal city for the region and the number of sites are vast in number. The Sukhothai Historical Park and Si Satchanali National Park are the major attractions and if you are "templed out" or "ruined," head for RamKanhaeng National Park, a superb alternative of high hills and steep cliffs with a host of diverse flora and fauna and many waterfalls within its 340 sq km.
There is plenty of information available upon arrival in Sukhothai, yet for those in search of something different special reference should be made to the two preserved celadon kiln centers. The Thuriang kiln in the north of the Sukhothai site and the Ban Ko Noi Celadon Kiln study centre, five km north of Si Satchanalai, depict celadon wares in perfect condition. The latter center has now excavated over 500 kilns.
The annual Loi Krathong festival in November is an awesome sight amongst the ruins, but book early.
Flights to Sukhothai with Bangkok Airways depart daily or Thai flights to Phitsanulok have regular departures. By rail, the recommended route is by Sprinter train to Phitsanulok, departing Bangkok at 0810 and arriving at 1300. Sukhothai is a 40-60 min transfer depending on your chosen mode of transport. Onward trains to the North can be taken at 1300, arriving at Chiangmai at 1900, or the overnight sleeper leaving around midnight to Chiangmai. Many see this as a cheap alternative to flying while enjoying the countryside en route and making a Sukhothai stop with little hassle or backtracking. The real bonus comes with making more than a Sukhothai stop and taking the side trip to Mae Sot and Kampaengphet, before continuing the journey to the north.
Kampaengphet could really be treated as an extension to a Sukhothai visit for its major attraction is again its ruins. Yet it also has parks that provide recreational relief, similar to the Ramkamhaeng park. The site is smaller than Sukhothai yet certainly more convenient being just five kms from town. A further bonus is that most of the preserved wats feature decor from both the Sukhothai and Ayuthhaya periods, something rarely seen. Annually in February, the town celebrates its World Heritage site status with the Nop Phra Len Phleng festival, featuring exhibitions, cultural and artistic performances.
The Khao Sanam wildlife sanctuary on the Tak highway and the year round waterfalls at Khlong Nam Lai and Khlong Lan are not only popular for their lack of visitors but also for a rare view of some not-so infiltrated hill tribe villages.
Mae Wong National Park is 79 kms north on the Umpang Road, but a great getaway with hotsprings, waterfalls and high-point lookouts across to Myanmar. Umpang itself has become the new destination for the soft adventure types. Trekking and rafting are the main attractions but there are numerous caves, waterfalls and nature trails to keep everyone happy. Photographers head for the Mae Sot-Tak-Mae Ramhat border route and on to Mae Sariang. Early morning mists and the mountainous topography provide great nature shots. Mon Krathing resort on the Mae Sariang Road is the best stopover point with glimpses of early morning deer amongst the mists quite a common occurrence. If you're not venturing that far, then Doi Hua Mot just outside Umpang town is reasonable enough for lookout shots but get up early.
The city of Tak is located on the shores of the Bumhibol Dam, the largest in Thailand. Apart from its water source there are numerous recreational activities on the reservoir. The cruises to Amphoe Hot are popular and the upper reaches of the dammed Mae Ping River provide a scenic boat cruise, some 140 kms to Doi Tao in Chiangmai province. The scenic waterfalls in this hill region are too numerous to count but all have their own special attraction, not least of which is the 97-tiered Phra Charoen waterfall on the Mae Sot route 1090.
By modern vacation standards the areas mentioned and especially those closer to the border country are quite rural and almost off the beaten track.
Mae Sot now has good air connections with both Bangkok and Changmai and it is becoming a weekend retreat for the white water rafting adventurers as well as those in search of some clean forest air along the reaches of Mae Sot Hill.
Its border market with Myanmar makes it a focal point for bargain hunters and it is certainly more authentic than that found at the Mae Sai border crossing in Chiangrai province. For the short trippers, Mae Sot makes a good weekend getaway and the Imperial Mae Sot Hill Resort offers packages which include white water rafting excursions.
If all of this rural splendor seems unreachable, it almost is, but only by the standards set by such resorts as Phuket and Chiangmai. In today's Thailand there are still unspoiled areas - there should be with 63 National Parks - but they take a little bit of effort to reach. Private or hire car is the most flexible, but combine a one way air ticket to/from Mae Sot and Pitsanulok or Sukhothai and the overland sectors of the trip do not look so daunting as at first they might. Overland bus routes between Tak/Mae Sot and Sukhothai are frequent and quite acceptable and a cheap way to travel from A to B. Outside of Mae Sot and Sukhothai (noticeably where the airports are), hotels only tend to reach 3 star standards, but for one night stopovers and short stays that is sufficient.
The Northwest, as we may loosely refer to the area, offers what Chiangmai was offering 20 years ago.
It is rural, there are hilltribes and some splendid hill country and a lack of insurgents, at least of the tourist variety. Sounds like an alternative traveller's destination.
* * * * *
---