The Pharaoh of Fine Dining in the Far East
---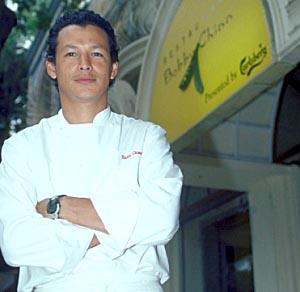 He's hot. He's hip. He's Bobby Chinn, Hanoi's most sought-after chef. And the restaurant that bears his name serves up the finest in Pan-Pacific cuisine in a tres chic dining room overlooking the fashionable Hoan Kiem Lake district in Hanoi's Old Quarter.
But the path that led him to One Ba Trieu Street was not an easy one, or a linear one. Bobby Chinn traversed five continents before settling in Hanoi in 1995. Born in Auckland New Zealand, Bobby Chinn is the son of two very unusual parents: His mother, an Egyptian aristocrat, and his father, an American Chinese, born in Shanghai who after World War II moved to America and was raised in San Francisco.
"My father," he says, "is self-educated from the encyclopedias that he peddled to the British Colonies during the 60's. His simple goal was to see the world, so he just moved from country to country, hiring people in direct sales to work for him selling his books."
It follows quite naturally, therefore, that Bobby Chinn's educational background is a cross-cultural, trans-global mosaic that included intermittent years of elementary school in San Francisco, a year at an all-boys' school in Egypt, as well as a stint at the Cairo American College in Maadi, until his Egyptian grandfather was appointed Ambassador of Egypt to the Court of St. James, which meant moving to England. There, he attended several boarding schools where, while attending Junior School, he was introduced to rugby and was awarded a sports scholarship to Millfield, a prestigious school in Somerset.
When it came time to enroll in college, Bobby Chinn returned to the U.S., where he attended College of Marin, the University of Nevada in Las Vegas (UNLV), and St. Mary's in Moraga, California.
Unhappy, uncertain which path to take, and feeling something deep inside of him was lacking, he returned to London, where he enrolled once again in college to earn his degree in Business in 1986. However, the years between graduation and moving to Hanoi were a continual career quest for Bobby Chinn.
"I went straight into the investment business," he says. "But, when I realized I hated it, I started my search. Over the years I enrolled in a number of classes. I took creative writing classes when I worked on the floor of the New York Stock Exchange. I sat in on computer science classes at Golden Gate University during a period when I thought I wanted to be a lawyer. I studied at the Groundlings in L.A. when I wanted to do stand-up comedy. I was accepted to do my MBA here in Hanoi with the University of Hawaii, but figured that it would be faster and cheaper to just hire one instead."
So how did Bobby Chinn make it all the way to Hanoi? It seems that his father was, once again, instrumental in guiding his path.
"My father came into lunch at a restaurant where I was working in San Francisco called Elka at the Miyako Hotel (Franco-Japanese food). He started selling me on the idea of taking a trip and having a look at Vietnam. I was then working as a waiter and he started to go over my work experience. 'Your resume is starting to look very sketchy. Research Analyst in Boca Raton, Trader for a Hedge fund in San Francisco, Floor of the New York Stock Exchange, stand up comic, waiter...'I think you lost focus,' he said. Then the sell came in."
"'Vietnam is the next Baby Tiger,' he said. 'Or more like the Tail of the Dragon, with China being the head. Eighty million people with a per capita income of less than 5% of the U.S. minimum wage. A country the size of California rich in natural resources that has been economically isolated for the last 25 years. The country is now at peace for the first time in a thousand years. I have seen this all before. The opportunity is now. Come and take a look.'"
"It was at about that time when a couple of other people at the table started to encourage me to come out with them. We would be a group and I would be an added member."
"I looked into the food, but only found two cookbooks on the subject. I turned to Elka and asked what she knew about Vietnamese food, and she knew close to nothing, just like most chefs that I talked to. Vietnam in our vocabulary was not a country, but a war, and most people knew nothing about it. I started to seriously think about it, and it all made sense."
"When I arrived in 1995, there were no foreigners to speak of really. We were a strange breed, and people would just stare at you. More than 60% of the population were born after 1975 when the war ended, so you felt a little old in a country of teenagers. English speaking people were hard to find. The office was in Ho Chi Minh City, and that is where most of the manufacturing output comes from. It was like a poor man's New York. The multi-nationals had just arrived and obviously they knew what they were doing. My father had set up a consultancy business and was advising the State Bank of Vietnam on investments and the establishment of a stock exchange. I realized that I could not work for him, as I am not an obedient Chinese son. The western restaurants were bad at best, and the Vietnamese food was either scary or not that good. The country reminded me of an Asian version of Egypt back in the 1970's. I said 'Let's open up a restaurant. We will be the only place in town, and we will meet the who's who of Vietnam.'"
Easier said than done, however. When Bobby Chinn returned to the States to develop his idea, he was met with less than enthusiastic response.
"All the chefs thought I was crazy," he says. "I realized then that none of them had the vision. What would possess anybody to go learn a cuisine in the origin of the country that they had no roots to, especially when these days you could learn from the ethnic restaurant around the block.? I can understand France, or Italy, but when you are doing haute cuisine, you want to work for a name so then when you open your restaurant they will say 'He was Thomas Keller's sous chef,' or 'He worked with Nobu,' or whoever. Nobody ate Japanese food in the states 25 years ago. You could not find a Thai restaurant in San Francisco 15 years ago. When there is business, there is travel, and those emerging market cuisines crossed over to the American palate at about the same time. Vietnamese food was about to get discovered. I figured that Vietnamese food would be the next cuisine and I would be on the crest of the wave when it did hit in San Francisco."
"So I begged Hubert Keller from Fleur Dy Lys for a job. I was a reluctant hire as I had no skills, but I developed them there. After him I worked with Jeff Inahara at opening the Coconut Grove (Jeff worked at Elka, and Patina in L.A. and is a very good chef) I was working with friends so I got to tailor my jobs to accelerate my learning curve since I was pretty much starting in my 30's."
Unfortunately, a back injury derailed Bobby Chinn's chef career for a full year, during which time, he says, "I laid in bed, read cookbooks, watched Great Chefs, Great Cities, watched PBS, and learned a lot without actually cooking."
After a brief but futile attempt at cooking in France, he returned to the U.S., where he finally opted for arthroscopic surgery. "I was diagnosed as 'Stationary and disabled', which meant that I could no longer work as a chef in the United Sates. It was clear that my cooking days were over. Vietnam now made a hell of a lot more sense."
So Bobby Chinn moved to Hanoi. Once there, it wasn't long before he had opened his own little restaurant...and then another. Yet, despite his growing reputation as chef, a series of false starts with building owners left Bobby Chinn disillusioned with the restaurant business in Hanoi, until he was hired to open up The Red Onion, a restaurant in a serviced apartment complex called Hanoi Towers, which was built directly over the prison known as the 'Hanoi Hilton'.
"I moved to Ho Chi Minh City first. I worked at a beautiful restaurant called Camargue but it did not really work out. After four months I left, and then started my own place with my girlfriend Laura Flourens who ran the front of the house. That lasted three months, until a dispute with our partner ended the whole thing. We then moved up to Hanoi and started a restaurant called Miro, which lasted three months until we were kicked out. Then she got a job in a hotel as F&B manager and I was later hired to open the restauarant in The Hanoi Towers which is over the old 'Hanoi Hilton' It was called the Red Onion, and that is where I started to get attention from the international press. Basically a lot of foreign correspondents knew what I went through and liked my cooking, so they really supported me for not giving up where most people would have quit."
Being an American chef selling burgers on the site where the POW's had been tortured, it was here that Bobby Chinn began getting international press.
"The first story came from the FT, and it was about me, and the restaurant biz in Hanoi. Then cam Mark McDonald's piece from the San Jose Mercury News that talks about the local boy who does well and becomes a 'Rick from Casablanca'. Then came the Asian Wall Street Journal, on the flip side of globalism. The writer used to be the food critic at the San Francisco Chronicle before Michael Bauer, and he felt it was the best Californian food outside of California. Meanwhile other local magazines are starting to validate me."
A visit from Hillary Clinton even garnered him an invitation to the White House. So, while on his trip to Washington D.C., Bobby Chinn raised investment capital and was poised to take ownership of The Red Onion when the deal fell through. But as fate would have it, the building at One Ba Trieu Street became available soon thereafter. And the rest...is history.
"When I built this restaurant I wanted to do something that no one had ever dreamed of here. I named the restaurant after myself to protect myself. I had been kicked out of every restaurant that I ever worked in over here and if it happened again they would have to rename it. If it was good, then I would have developed a reputation."
So, what makes Bobby Chinn, the restaurant, so special?
"My restaurant," he says, "has great art, a wide selection of wine, an interesting menu that changes, professional service, ambiance, a great view, an excellent location, handicapped accessible restrooms, wireless Internet connection for customers, and...shishas (hand-blown glass smoking pipes) that I have hand carried from Egypt."
Yet Bobby Chinn does not take full credit for the ambiance of his restaurant. "My place has elements of many places," he says. "The silk drapes are my Arab influence, but I wanted to create a Fleur Dy Lys. The bar was inspired by Jardinere. The soundproofing was something I picked up from my father. I wanted to create a soundproofed restaurant. That was an idea that no one has ever really done, that I know of. My father created that by accident in his apartment. I had some friends that had stores selling silks so we traded the silk in trade. The ambiance that is created is very special. When the restaurant is busy, it has the noise, but somehow it is a quieter version of other places, and diners do not find themselves screaming at the person next to them to be heard."
"I did the lighting and chose how light was going to be used. My friend Lori Bush in L.A. taught me a lot about light and interiors. I have a mother and a sister who are into interior design, so maybe I just picked it up from them, and appreciating nice things."
"The roses that hang from the ceilings were not my idea, but my friend's. He hung them randomly. I think I perfected it by keeping the roses directly under the lights with the strings being the same lengths and having eight roses to a string. (That is supposed to be lucky in China, and means money.)"
"I had a feng shui guy come in and make the sacrificial chicken, whisky, cigarettes, etc. for the ancestors and kitchen gods at the alter in the kitchen. The guy wanted me to add a pond in the middle of the restaurant, but the last place had a pond and it went bankrupt, so I doubted the pond was going to help."
"Pretty much, Bobby Chinn is a work in constant motion. The restaurant is very simple actually, it just looks swank."
So, what's on the menu at Bobby Chinn?
"I do the flexible prix fixed menu," he says, "where you can choose from all the categories. But instead of it being high-end California French, I mix it up a lot. I have an Asian tapas menu for those who do not want to spend a lot. I do much more laid back food. The food is more simple as it is very hard to impart a taste to staff that only eat Vietnamese food and do not speak English. We are actually more of a special occasion restaurant and a late night drinking spot. And our wine list just won an award for excellence from Wine Spectator."
"I buy most of my produce from Dalat which is the agricultural capital of Vietnam. I am starting my garden on my terrace to start getting back into it again. But I do not have a green thumb!"
Although it would seem that Bobby Chinn has gotten the short end of the spoon, as it were, on several of his enterprises in Vietnam, he is also appears to be a very savvy wheeler-dealer when it comes to business negotiations. No doubt, being a 'stranger in a strange land', hasn't made things any easier.
When asked about his experiences with trying to navigate his way through such details as business permits, health inspections, building leases, and ordering from purveyors in a country whe re he is not fluent in the language, he replied, "I never thought I would last this long, and since most of my Vietnamese friends speak English I have made little effort. I am picking it up more and more, but it is a very difficult language. I have actually created my own gibber here that sounds Vietnamese, and then I add words that they know, so they think that I am talking a different type of dialect."
Regarding business management, he says, "It's a team effort, it's just that chefs get all the credit these days, and I'm not complaining! As long as it is clear, and the roles are established, then great. I used to haggle all the time. It was Wall Street. I do it for fun, on vacation, but on the whole, I prefer for someone else to do those things."
"I base business relationships on trust. I have to trust many people. I trust people the way that most people trust that the captain of your flight is not going to crash. Once you take a leap of faith, you keep on."
"Cruising down the Mekong from Angkor Wat to Phnom Penh I had a conversation with a man from Cisco Systems that etched in my mind. 'To be successful in this day and age, you have to have the right partners'. I am not savvy, I am not money driven and anyone that knows me will tell you that. I do what I do just to do it. People believe in me, and having been here for eight years, I can see who is real and who is not. I have a ballpark idea of numbers, and how to generate them etc., but I try to surround my self with talented people who can get things done. The most important is TRUST. It is the hardest thing to get, as you have to earn it, and it is the hardest thing to regain once it is lost."
What constitutes a 'Day in the Life' of Bobby Chinn?
"I get up in the morning, read at least three newspapers, mostly British press. I read the food sections of many different papers to read food writers, reviews, and check out the culinary scenes in other places. I then have coffee with my friend. We spend 30 minutes together. I then go to the gym and work out when everybody is at work. I go to work, sometimes I cook, sometimes I wait tables, sometimes I am in the background doing administration. After service is when I play in the kitchen and work on new dishes. Sometimes I train my staff for new things. I love cooking, I love creating. I like reading about foods, chefs and restaurants."
And, no interview with Bobby Chinn would be complete without mentioning his not-so-secret love of music. "I play music, I listen to it, I love the feeling that it brings me when I play. But I am frustrated with it, as I have been playing for almost 20 years, and never really gave it 100% of my attention. I play with great musicians, and I just feel so privileged to make music with them. They know I am not a musician, but they know I enjoy it and that is good enough for them. I doubt I could make a career out of anything that I love for too long. I just enjoy the moment. I could not plan anything if my life depended on it. Either this is one great accident, or this was fate, either way, as long as I am happy, I really do not care. If some one called me up and said 'Hey I got a gig for you but there is no pay, I would do it! Hobbies are things that you are not good enough to make a career out of!"
And what's on the horizon for Bobby Chinn?
"I would like to open another restaurant down in Ho Chi Minh City. And, I would like to create a cooking show with the Food Network, because I feel I can do it and want to do it. It would be a way to continue to travel, cook and experience. I feel I have a lot to offer but have not found my medium. I think I can offer a lot of insight to the world of cooking in Asia and the world that I live in."
"For business I prefer Ho Chi Minh City, but I like Hanoi. I love the tree lined streets, the lack of entertainment, and the life style that I have. The restaurant down in Ho Chi Minh will have partners that I like. They key is, what role will they play, and will they keep their word. When you get people like that, I do not have to be savvy, I have to be fair, and people like that will tell you what they think is fair."
When asked what he was seeking when he went to Hanoi, Bobby Chinn replied, "Hanoi was a place where they needed foreign restaurants. There were just a handful. Having been booted out three times in a year, all I really wanted to do was have a shot at doing it right. The opportunity to be what I wanted to be. To make a difference. To be recognized for my contributions and appreciated for my efforts, and me as a person. That was pretty much it. And I think that is one of the reasons why I am still here. I am free to be who I want to be. It is one of the perks of being a stranger in a foreign land. You get to start from scratch."
"A journalist came up to me in a supermarket in Hanoi about four years ago and asked me 'What the hell are you doing here? You are wasted here. You should be in London, New York, L.A.' I was flattered and I said 'I am waiting for a review that does not call my demi glace gravy, and a review that has no spelling mistakes.' That was the truth. But once I got the reviews and the press free of errors, it got harder to leave, as I was making a name for myself. I was not making money, but I was enjoying my life. My dreams were coming true and that usually does not happen. When they did, I did not know what to do next. Maybe I am in limbo and it hasn't registered. Or maybe I am content, satisfied of who I am. Maybe I was not seeking, but some how I found things that I loved."
With regard to the steep and arduous path he took to get to this plateau in his career, Bobby Chinn says, "I did not really sell out when I could have done so very easily. I followed my dreams down, and if it took me to a foreign country so I could give it a shot, then so be it. I did not let anyone piss on my parade, no matter how hard they tried. I could have built my life on the coat tails of others, but that would have been superficial, insecure. Nor would it have given me any self-respect. I need to be able to live with myself at the end of the day. I could have chased the almighty dollar and sought the pursuit of material happiness, and played politics up the ladders, but I was too stubborn and passionate to play that game. My life could have been much easier, but I went through life, trial and error, trying to find something that I loved, that I felt passionate about. My restaurant is not about money, I did not do it for the money. I did it only to say I did it, and I did. That is enough for me. I now get recognition and press, and in a strange way I am famous in Vietnam to the Vietnamese for being famous. In some strange cosmic way, I'm happy and that is what life should be about, unfortunately we cannot measure it as easily as the money."
Bobby Chinn's passion for living life on his own terms is as hot as the grill in his kitchen on a Saturday night. And when it comes to his experiences in Vietnam, it seems that Bobby Chinn has come to accept the good with the bad. In conclusion, he says, "If it did not kill me, then it was experience and not that bad. I forget the crap and cherish the good."
* * * * *
---