Pulau Perhentian: The Island Paradise
---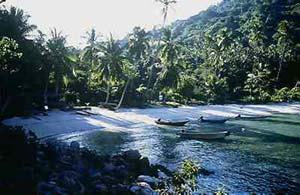 Image ©
2001 Perhentian Ferry Travel & Tours
I touched base with nature at Pulau Perhentian (Perhentian Island) recently. Had to do a PR coverage as well as the brochure for a newly established resort on the island. After enjoying a great weekend writing some articles and press release with sand between my toes, I am now back (with much reluctance) at my regular day job. Sigh!
Located in the South China Sea, Pulau Perhentian consists of two islands, namely Pulau Perhentian Besar and Pulau Perhentian Kecil. In my humble opinion, it is one of the finest tropical islands in Malaysia. And personally, it can vie for a top spot with other more famous islands around the world.
Imagine a lovely island paradise. Breathtaking marine park. Long stretches of private beaches with the finest sand. A refreshing tropical forest enveloping the area with its flora and fauna. A rich marine life with fragile corals.
That's Pulau Perhentian for you.
In reality, the island is fairly new to tourism as an economic endeavor. It is only during the past five years that Pulau Perhentian has seen a rapid increase in visitors to the island. The island is also a National Marine Park and as such, has special laws and regulations that a visitor must abide by. For example, you cannot fish without a license. You cannot litter or be in possession of spear fishing equipment. You cannot collect or take the aquatic life such as corals, shells, or fish - dead or alive! A word of caution though, fines and penalties for breaking the rules are quite severe.
It is totally understandable why the island applies such stringent rules to everyone. Pulau Perhentian has many fine coral reefs and most of them are very close to the beach. As such, the very existence of these corals is threatened by activities such as boat movements and even snorkeling. Coral is very fragile. In fact, it is so fragile that the mere touch of a human's hand can break the coral. Once broken, it will take many years to form again. This in turn could harm the fish that make their home within the reef. Besides the human factor, the "Crown of Thorns" also threatens the reefs. It is a starfish that eats its way across a reef at killer speed! It can also cause severe illness to a human if it touches you or vice versa.
Apart from lovely white sandy beaches and refreshing forest, Pulau Perhentian is also a very popular spot for turtles throughout the year. Turtles love these undeveloped beaches where they will come ashore to lay their eggs during the right season. Currently, there is a project between the Fisheries Department and the local community to collect the eggs each night after the turtle has laid them. During the season (April to September), these eggs are given to the turtle sanctuary at Pasir Panjang (Long Beach) to be kept until it is hatched. Later on, these hatchlings will be taken out to sea. This way, the turtles will have higher chances of making it alive instead of ending up as someone's food in the market.
Who knows? If you are fortunate enough, you might just be able to encounter a turtle while swimming out at sea. These turtles can sometimes go to a ripe old age of 100 years old. Of course, these old turtles are quite big in size but offer a truly magnificent sight! Remember not to stay too close to them though, because these turtles are here for mating and laying of eggs. Any disturbances will cause them to go away and we do not want that to happen as these turtles are an endangered species. In fact, their hatching spots are slowly dwindling. This place may be the one of the last remaining sanctuaries in the world for the turtles. A glimpse above sea level shows that Pulau Perhentian is a rich and diverse paradise. The tropical forest is virtually untouched. You will get to see monkeys, lizards, flying squirrels, butterflies and many other animals.
Most parts of Pulau Perhentian are still considered undeveloped. Accommodation comes in the form of simple rooms that serve good food, with many businesses run by the locals themselves. Tourism is a good income for the villagers and they are friendly and welcoming people. Despite it being a very natural spot, you'll still find restaurants and shops around. Try out their local food specialties.
If you are interested in visiting Pulau Perhentian, you can look it up in guidebooks. There are lots of good reviews about the place. Even Lonely Planet (online and book) offers a good coverage. There are a few things to keep in mind, though, when visiting Pulau Perhentian. For starters, not many of the boatmen speak English. As such, you will have to preplan your trip more carefully. Also, it won't be easy getting a money changer on the island, so it is advisable to bring enough money with you. Actually, there isn't a bank at all. Aside from the lack of banks, Pulau Perhentian does not have any doctors or medical facilities either. The nearest medical spot is found on the mainland. There is an evacuation procedure should the need arises, but it is always best to be careful during your holiday! For example, Pasir Panjang (Long Beach) can be quite dangerous during high tide or when the waves are strong! It is best to book your holiday through a trusted travel agent or guide.
For booking and other information about Pulau Perhentian, you may contact Perhentian Ferry Travel & Tours Sdn. Bhd. or click on to their website.
---