Rajasthan's forts and palaces battle urbanisation
---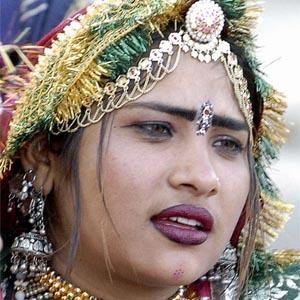 Image ©
2004 AFP PHOTO/Prakash Singh
JAIPUR, India, Jan 20, 2004 - The home of India's most famous maharajahs, their forts and their palaces -- the desert state of Rajasthan -- is putting on a gala show of its ancient heritage to save it from urbanisation.
An international festival, launched by state tourism authorities, is under way to highlight the rugged state's rich architectural marvels and arts and crafts, and draw more tourists from home and abroad.
Faith Singh, honorary director of the Jaipur Virasat Foundation, said the two-week festival, to be held annually, was being mounted to raise more funds from visitors for conservation and also to give locals a powerful incentive to preserve their buildings.
"Rajasthan, more than any other place in India, has its heritage intact," Singh said. "What we are trying to do is build up the consciousness among the people of their rich heritage so that they preserve it."
Events range from dance festivals to kite-flying programmes against the backdrop of forts and palaces, and kicked off with a colourful pageant of horses, elephants and palanquins bearing maharajah look-alikes. The campaign is aimed primarily preserving the state capital, Jaipur, known as the Pink City because of the ochre-pink building material used at the time of its construction in 1727 by astronomer-king Sawai Jai Singh. Singh said the conservation drive was badly needed as the population of the city had mushroomed 30-fold to three million in the past 50 years, resulting in a plethora of additional structures tacked awkwardly onto old buildings.
Deepak Gahlot, an architect associated with the campaign, said although Jaipur was one of the first "designed cities" in the world with its streets laid out in a grid pattern, it was now choking under the weight of traffic and illegal construction. "There's little regard to floor space laws. People are adding more floors to buildings and covering the courtyards in mansions," he said.
Rajasthan Tourism Secretary Arvind Mayaram told AFP the campaign was going to bring home to locals the benefit of tourism and assist the government in making tourism the state's "main engine of growth." He said although the state's historic cities, incredible fortresses and other centers, such as holy Pushkar Lake, were already one of India's top tourist draws, there was still huge untapped tourism potential. Mayaram said the state government was planning to invest heavily in tourism infrastructure such as roads, tourist accommodation and other facilities to draw more visitors.
Vinod Joshi, a cultural organiser for the festival, said the drive was also helping revive the younger generation's interest in traditional arts and crafts from which they were drifting away. "They wanted to do the traditional folk dances, sculpture and music when they saw how interested we were in the work of their fathers," he said.
Joshi said Rajasthan had a dizzying variety of arts, craft and culture and the movement was helping to save many of these from extinction. "It's the preservation of the culture which is as important as the buildings, forts and palaces," he said. The festival ends later this week.
* * * * *
---