Pakistan's Basant Festival
---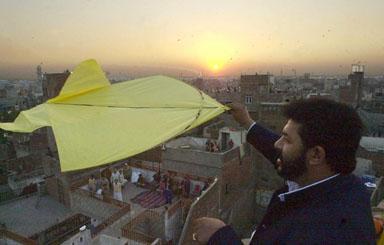 Image ©
2003 AFP PHOTO/ Arif Ali
The ancient eastern city of Lahore marks the beginning of spring with the Basant carnival, an orgy of kite-flying, rooftop soirees, garden parties and equestrian events, much to the disgust of Islamic clerics. Lahorites and out-of-town enthusiasts don glamorous clothes, in the yellow and green of spring flowers blooming citywide, to bid farewell to the frosts and fogs of winter and usher in spring.
Nighttime kite-flying in the walled old quarter around the 16th century Badshahi mosque and Lahore fort opens the festival. Ancient mughal palaces throw open their doors for all-night parties to view the kites, illuminated by spotlights slashing the sky. Stars from the local 'Lollywood' film industry perform with classical Qawali musicians at parties in traditional haveli homes.
White paper kites shimmer in the night sky, diving and soaring as rival fliers joust in duels marked by battle cries of Pecha! and victory shouts of bo kata! Bursts of drums and trumpets mark the cutting of a kite's cord.
Men drape themseves in embroidered shalwar kameeze with matching ankle-length scarves, little boys strut in three piece suits, and women coat their hands with henna and stack their arms with bangles.
"If you wander through the old city tonight, you will see a lot of freedom. This is the true nature of the Pakistani people," said Basant fan and veteran political observer Imtiaz Alam, jailed by former military dictator Zia ul Haq in the 1970s for his liberal writings.
Islamic clerics have issued edicts each year branding the festival as Hindu or pagan in origin. This year, buoyed by gains made in October elections by religious parties, the clerics have revived public attacks on the festival. "The government should not patronize Basant as many illegal activities related to Basant get protection," Liaqat Baloch, federal parliamentarian and deputy leader of the fundamentalist Jamat-i-Islami party, told AFP.
"It has been hijacked by multinational companies who want to promote free society culture in Pakistan. "There are other honourable ways to earn money." Festival enthusiasts call it a rare chance to step out and celebrate in a country riven by Islamic militancy, a year of anti-Christian and anti-Western terror attacks, drought, poverty and an increasingly bellicose stream of religious fundamentalism. "Let clerics do their job while we rejoice," said Nadeem Sarwar, 35, a business executive in Lahore. "It is the only colourful event that my city can boast about."
Pakistanis from across the country flock to Lahore for the festival, crowding the Islamabad to Lahore motorway to catch a glimpse of the flying paper fighting kites. Top hotels reported full bookings. "It is an event not to be missed," said Islamabad-based lawyer Waseem Ahmed, 30.
But even such a joyous festival has a dark side, as hospitals invariably are packed with kiteflyers who fell off roofs and children who were hit by cars as they ran down the streets, their faces turned towards the sky to watch the kites. Quarters of the city are plunged into darkness when razor-sharp kite cords rolled in powdered glass or made of steel cut electricity wires. "If there are 50 one-hour breakdowns, it costs us 2.5 million rupees (43,00 dollars)," lamented Lahore Electricity Supply's company chief Brig Riaz Ahmad Khan Toor.
Steel and glass-edged wires are banned but manufacturers still report roaring trade. Police have already charged 80 people for selling or using metal wire and have made several arrests, Lahore city council administrator Khalid Sultan told AFP on the eve of the festival. The skies above Islamist-ruled North West Frontier Province will be bare of kites as a drive to enforce orthodox interpretations of Islam has prompted a police crackdown on artistic expression, driving musicians and dancers out of business and putting singers in jail.
But in Lahore, the party is still a symbol for many, said Alam. "The extremists are a tiny minority in this country," he said. "That's what Basant proves."
* * * * *
---