Recipes & Photos for 'Children of Heaven' Iranian Dinner
---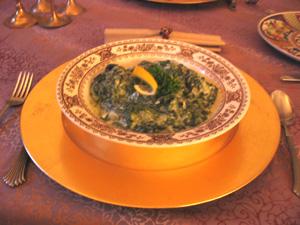 Image ©
2004 Celeste Heiter
Kufteh Sabzi
1 lb. Ground Beef
2 tbsp Basmati rice (uncooked)
3 tbsp lentils
2 cups water
1/2 cup green onions (finely chopped)
1/2 cup parsley
1 egg
1 tsp salt
1/2 tsp pepper
1/4 tsp cinnamon
3 tbsp. butter
1/2 onion (finely diced)
1/2 cup tomato sauce
1 lemon (juice only)
1 1/2 cup beef or vegetable stock

Cook the rice and lentils in 2 cups of water until tender (20-30 minutes). Drain and set aside. In a large bowl, mix together ground beef, green onions, parlsey, egg, cooked rice and lentils, cinnamon, salt and pepper. Form the meat mixture into walnut-sized balls. In a large skillet, melt butter and saute onions until tender. Add tomato sauce, lemon juice and stock. Place meatballs in sauce and simmer for 30 minutes, basting the meatballs occasionally. Place the meatballs on a large serving dish and and pour the sauce evenly over them. Serve with warm Pita Bread.
Maast-o-Khiar
1 large Cucumber, peeled, seeded and diced
1 large Tomato, diced
1 cup plain Yogurt
1/4 cup Parsley, finely chopped
Salt & Pepper to taste

Mix all ingredients together in a meduim sized bowl and chill until ready to serve.
Lamb Kebabs
1 lb. Lamb shoulder or leg, cut into 1" cubes
1 Green Pepper, cut into 1" pieces
1 Onion, cut into 1" pieces
1/4 cup olive oil
1 Lemon (juice only)
Salt & Pepper to taste

Mix together olive oil, lemon juice, salt and pepper, lamb, peppers and onion. Marinate for 2 hours (or overnight). Alternate pieces of lamb, pepper and onion on bamboo skewers. Grill or bake until medium well (about 10-12 minutes).
Albaloo Polow
2 cups Basmati rice (uncooked)
3 cups water
1 lb. boneless Chicken Breasts
2 tbsp olive oil
1 cup water
12 oz. package of frozen Cherries, drained
1 Onion, finely sliced
1/2 cup butter

Combine Basmati rice and 3 cups of water in an electric rice steamer, or in a saucepan on the stovetop and simmer until tender. In a large skillet, saute onions in olive oil until tender. Add chicken breasts and saute until lightly browned. Add 1 cup water and simmer until tender, about 30 minutes. Cool and shred into bite-sized pieces.
Spread half of the cooked rice in the bottom of a large, shallow pan. (A clear Pyrex dish works especially well for checking the doneness of the rice during cooking.) Drizzle rice with half of the melted butter. Spread a layer of chicken over rice, top with a layer of onions, followed by a layer of cherries. Spread the remaining rice on top and drizzle with the rest of the melted butter. Cover with a layer of paper towels and a tight fitting lid. Cook over medium heat until bottom layer of rice is lightly browned, about 10-15 minutes. Reduce the heat to low and continue to cook for another 20 minutes. Remove from heat and allow to stand for 15 minutes.
Simmer the liquid in the chicken saute pan until browned and thickened. Turn the rice casserole onto a large serving dish, being careful not to break or tear the crispy bottom layer. Spoon individual portions of Polow onto plates and top with sauce.
Borani Esfanaaj
1 package frozen Spinach
1/4 cup diced onion
1/2 cup plain yogurt
1/2 tsp dried dill
2 tbsp olive oil

Thaw spinach and saute in olive oil with onions until tender. Add yogurt and dill, mix thoroughly and serve warm.
Baagh-lava
1 package frozen Phylo Dough (thawed)
4 cups almonds
1/2 lb. butter (2 sticks) melted
3 tbsp cinnamon
1 cup sugar
1 cup honey
1/2 cup sugar
12 oz. water
1 tsp lemon juice

Place the almonds, cinnamon and sugar into a food processor and chop fine. Melt the butter in a saucepan. In a small saucepan, combine 1/2 cup sugar with honey, lemon juice and water. Simmer over low heat until dissolved, but do not allow to come to a boil. Open phylo dough and unroll onto a table or countertop. Lightly brush a 10x 13" sheet pan with melted butter. Place two sheets of phylo dough on the pan and trim to fit. Drizzle generously with melted butter. Repeat this step four more times for a total of 10 sheets.
Spread nut mixture evenly over phylo dough. Top with one sheet of phylo, trim to fit and drizzle generously with melted butter. Repeat four more times, for a total of 5 sheets on top of the nut mixture. Carefully cut the unbaked baklava into 2" squares and drizzle generously with melted butter. Bake at 350 for 20 minutes or until golden brown. While still hot, spoon the honey syrup over each square of baklava in two passes, up and down, back and forth. Allow the baklava to cool uncovered overnight. Use a sharp knife to separate squares. Store in a well ventilated cardboard pastry box in the refrigerator for up to a month.
---