Roads Taken...At Cinequest 2007
---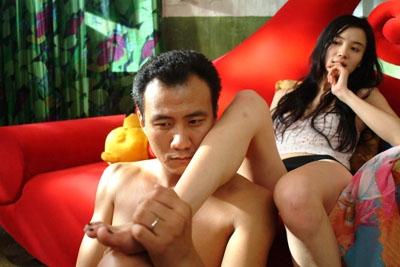 Image ©
2007 Celeste Heiter
This year's Asian entries in the 17th annual San Jose Cinequest Film Festival all seem to focus on a central theme: Roads Taken. It's as though the directors all got together and took a vote.
In Pao's Story, a long road takes Pao deep into rural Vietnam by bus to find her birth mother. In Courthouse on the Horseback, the rough-hewn road in China's Yunnan Province is traveled by Feng, Yang  and Au Luo, three circuit judges who mete out justice from one village to the next. In Maskot, the road traveled by Dennis leads him to a mystical Indonesian river valley in search of a mascot for his family business. In Batad, a young man named Ag-Ap must trudge the rugged road barefoot through the Philippine region known as Batad to earn his daily bread.  In Owl and the Sparrow the long road from her hometown village to Saigon is the route to salvation that nine-year-old Thuy walks to escape her cruel uncle. Most literally, in a film titled The Road, a desolate road in the provinces of western China is the way a bus driver named Mr. Lao Cui and his fresh faced assistant Chunfen must travel to ferry passengers on an ancient bus from town to town. And in Curiosity Kills the Cat, albeit a short one, the road from her shabby apartment on the poor side of town takes Sharon to the glitzy Chaotian Gate Paradise high-rise where she opens a nail salon and seals her fate. But no matter the roads taken...they all lead to love.
Pao's Story
Cast Do Thi Hai Yen, Hoa Thuy Do, Thanh Kha Ly
A delicate family dilemma posed many years ago has shaped the destiny of one Hmong family. And as the story moves backward and forward in time, it is revealed that Pao and her brother have two mothers: the one who gave birth to them, and the one who raised them. When the one they regard as their true mother disappears, Pao goes in search of the other, so that she might come and coax their father from his deep depression. However, her search reveals far more than the whereabouts of her estranged mother. Along the way, she discovers that no one in her world is who they appear to be.
Set amid a stunning Vietnamese landscape, this compelling story is brought to life by the sincere performances of Do Thi Hai Yen, Hoa Thuy Do, and Thanh Kha Ly. A story best summed up by its closing line, "After a long journey, I learned an important thing: No matter whether it will be sorrow or joy, everybody would have to try to live his life to the very end, though more often than not, sorrow it will be." 
Courthouse on the Horseback
Producer: Liu Jie, Hsu Hsiao-ming
Cast: Li Baotian, Yang Yaning, Lu Yulai, Li Tingliang
In the immortal words of Paul McCartney, "We all know that people are the same wherever you go," and Courthouse on the Horseback proves them true. From the televised courtroom of Judge Judy to the makeshift circuit courts in the highlands of western China, people show up every day to stand before a judge and squabble over petty grievances. Two sisters fighting over an heirloom pickle pot. Neighbors up in arms over a stray goat that wandered into a nearby garden. An unwelcome tribe of in-laws who won't vacate the premises. But all these histrionics are merely the stage for the real story.
After a lifetime on the road as assistant to the venerable Judge Feng, a circuit judge in Yunnan Province, Judge Yang has been informed that a government edict has been issued requiring all judges to have a college degree, so she will have to step down. Her replacement has joined them on her final tour, a rookie named Au Luo, who also happens to have a bride awaiting him along the way. So off they go on foot, three judges, with their official circuit court paraphernalia strapped to a pack horse, along with a television set and satellite dish to offer the father of the bride as a dowry. And each evening, once all the complaints have been heard and the judgments decreed, the three sit around the hearth, sharing the evening meal, and in the process, revealing their innermost concerns and true affections. Heartfelt performances by Yang Yaning, Lu Yulai, and cinema veteran Li Baotian bring depth and meaning to the trivial travails of everyday conflict.
Maskot
Producer: Robin Moran, Ari Syarif
Executive Producer: Andre Djokosoetono, Ravin Binwani
Cast: Ariyo Wahab, Uli Auliani, Butet Kartaredjasa, Epy Kusnandar
It's a tough life for a chicken in this lighthearted quest film, in which a young man named Dennis suddenly has the responsibility of taking over the family soy sauce factory thrust upon him. Three generations ago, a mysterious avian plague struck the family chicken farm, causing the family patriarch to found a soy sauce factory instead, and to use the one surviving chicken as its mascot. Many years later, the pampered chicken mascot is killed in a factory mishap caused by his young grandson Dennis, whose karma has now been visited upon him with the death of mascot number two in yet another factory mishap. With his father on his deathbed, Dennis is dispatched not only to take over the helm of the family business, but to travel deep into the heart of Indonesia, to the Valley of a Thousand Streams, in a place known as The Breasts of the Earth, to find a mystical chicken that crows at midnight. And just to make it interesting, the deadline for the quest has been set at only two weeks.  
Buoyant dialogue, delivered by a cast of near-slapstick characters, underscored with a comical oom-pah soundtrack of oboes and clarinets keeps the tone light even when things are at their darkest for poor Dennis. An entertaining road trip from start to finish.
Batad
Producer: Victor Acedillo Jr.
Cast: Alchris Galura, Gina Alajar, Noni Buencamino, A.A. Fernandez, Joe Gruta, Jeffrey Japso, Heidi Morata, Paolo O'Hara, Chris Pasuran,  Ronald Roga
Deep in the heart of the Philippines is the remote village of Batad, with its famed Cordilleras rice terraces. Maintaining the rice terraces requires constant vigil, and when those in a nearby village are endangered, the father of a family of four must go to lend a hand. While he is away, duty falls to the eldest son Ag-Ap to earn a living for the family. Each day he toils away at odd jobs, carting produce to the Banawe market, pounding dirty laundry with stones at the river, donning native Ifuago costume for photographs with tourists, and guiding hikers on tours through the surrounding countryside. All the while, dreaming of purchasing a pair of hiking boots for his weary, calloused feet. But each evening, as he counts his earnings for the day, in hopes of setting aside a little for his boots, his mother always appears with outstretched palm and a litany of necessities for the family household. It seems that poor Ag-Ap will never know the joy of shoe leather, and if he does, where will it take him and will it be all that he dreams?
With its  unobtrusive lens, Batad is unique in its portrayal of a vanishing culture and a time-honored way of life, yet is universal in its revelation of the longings of the human spirit.
Owl and the Sparrow
Director: Stephane Gauger
Producers: Quan Nguyen, Doan Nhat Nam, Stephane Gauger
Executive Producers: Timothy Linh Bui, Ham Tran
Cast: Cat Ly, Le The Lu, Pham Thi Han
Three's company in this endearing tale of an orphaned girl named Thuy, who has been left in the custody of her cruel uncle, and must work long hours in his bamboo blind factory. But there comes a day when he berates her one time too many, so she packs her pink knapsack and heads off down the road to Saigon. With only 40,000 dong to her name, Thuy is forced to live by her wits on the city streets, first selling postcards, and later at the more profitable enterprise of working for a vendor selling long-stemmed roses to couples in cafes and restaurants. Thuy's charisma is irresistible, and in the course of a week, she has made friends with her fellow street urchins, and has hatched a plan to play matchmaker to a lovelorn flight attendant and a jilted zoo-keeper. Somewhere in her vision, she sees the three of them becoming one happy family, that is, if her hopes aren't dashed by her wicked uncle.
Owl and the Sparrow is a delight from start to finish. Truly a tale to warm the heart and restore faith in the power of love.
The Road
Producer: Yu Zheng, Xie Xiaojing
Executive Producer: Zhang Jiarui
Cast: Zhang Jingchu, Fan Wei, Nie Yuan, Liang Kunsen, He Yuanqing, Huang Lu
Even in the desolate highlands of Yunnan Province in western China, for whatever reasons, its residents have a constant need to get from Point A to Point B. And the only means of transportation is a battered old red-and-white bus, operated and maintained by Mr. Lao Cui, a 'model worker' whose distinguished claim to fame is that he once shook hands with Chairman Mao, and his one prized possession is a cherished photograph as a testament to his finest hour. To assist him in his duties ferrying the good citizens of Yunnan Province to and fro, Mr. Cui is accompanied on each journey through the forbidding landscape by Chunfen, a fresh-faced young woman who is both resolute in her dedication to her job, and radiant in her dispositon.
Mr. Ciu's bus is often filled with repeat passengers, one of whom is a young doctor from a wealthy family who has been sent to Yunnan Province for a dose of humility and hands-on experience. Captivated by Chunfen's charm, Dr. Liu soon makes his affections known, and love blossoms under the scrutinous eye of Mr Ciu, who seems to have developed his own amorous feelings for Chunfen. But a series of unfortunate incidents on one stormy night will shape their three lives for decades to come.
The Road is epic in its political and temporal scope, yet intimate in its portrayal of three hearts bound inextricably through time and devotion. A bittersweet romance that is both tragic and transcendent.
Curiosity Kills the Cat
Producer: Thomas Ho, Jane Shao
Executive Producer: Steven Li, Xinhui Niu, Jimmy Wu
Cast: Jun Hu, Carina Lau, Fan Liao, Yuan Lin, Jia Song 
Treachery comes at a price in this mysterious psychological thriller, told in overlapping vignettes from the viewpoint of each character. The unfolding events are first seen through the eyes of Momo, an impish young woman who manages a small photo developing shop in the lobby of Chaotian Gate Palace, a luxury high-rise apartment building. Through the glass walls of her tiny kiosk, Momo sees the comings and goings of the residents, the daily arrival of packages and deliveries, and the interludes of clandestine lovers. With her video cell phone on hand to capture whatever catches her eye, Momo is drawn deeper and deeper into a world of intrigue where nothing is as it seems.
However, Momo's vantage point is but one sliver of the whole story, and in Act II, the viewpoint shifts to Sharon, a beautiful young manicurist in love with a married man, a resident of the Chaotian Gate Palace. Things get complicated when Sharon uses the hush money her lover gave her to open a nail salon in the lobby of his building. And just when it seems that all the pieces of the puzzle are in place, the story shifts again to the viewpoint of her lover, a man whose livelihood depends on his tenuous place in his father-in-law's company, and whose world would be shattered at the hint of a scandal. Shift again to the viewpoint of Rose, his wife, a woman who spends her days in the cultivation of rare roses and doting on their son Bai. One more shift finishes the story through the eyes of an ubiquitous building security guard who is more deeply implicated than anyone might imagine.
Curiosity Kills the Cat is a sleek, stylish, sophisticated mystery that is both beautiful to behold and fascinating to witness as the story unfolds. Definitely a contender for best of show.
Cinequest 17 opens February 28, 2007 in San Jose, California. For venues, show times and further details on these and the dozens of other films featured at the Cinequest 17 Film Festival, visit
Cinequest.org
---