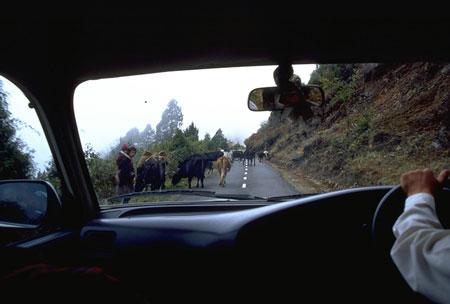 There is one main winding east-west road in Bhutan. It's in good shape but quite narrow and slow-going and we frequently halt for oncoming cars, trucks and livestock. From Paro to Thimphu, two of the largest centers in Bhutan, the winding road follows a clean, transluscent emerald river; it is unlike any water source I've ever seen in Asia.

A few things we see along the way are children walking to school, a creek-style car wash, students on a basketball court taking an exam, and phallic decorations painted on the front of homes, inspired by the legendary Divine Madman, Drukpa Kinley, to ward off the bad spirits.

We never tire of watching prayer flags flutter in the wind. They are everywhere, sometimes hundreds in one place, and always on high passes where the wind can release the prayers printed on them.

---