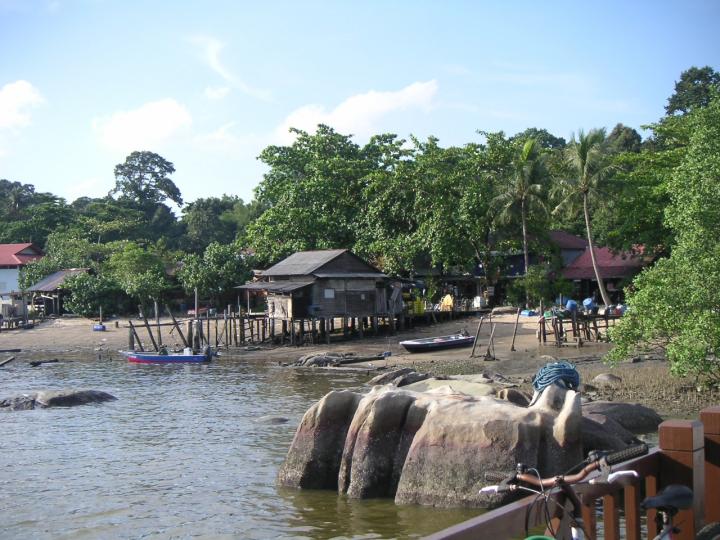 Seafood. Yummy. One of the must-try, must-eat, food in Singapore. Locals and visitors love to tuck in to crabs prepared in various styles - with chilli, black pepper or simply steamed. Then there are the live prawns that are dunk in liquor right before your eyes so you know you are getting the real fresh stuff (cruel, I concede). For the full works of seafood experience, order too fish (either steamed or fried), lobsters, mussels, fried baby squids, bread or mantou (fried bread) to slurp the sauces from the chilli crabs, hor-fun (flat noddles) and for a rounded meal, stir-fry vegetables. Don't forget the jugs of beers and cold lime juices.
Seafood restaurants abound in Singapore and in all corners. There are the off-beaten locations that food-craze Singaporeans, not minding the journey, will make their way to. With orders of crabs and prawns, you might as well be prepared to use your fingers. Yes, eating seafood here is a finger-licking experience. Forget prim and proper table manners and settle down to mess around with a vengeance using your fingers. It's worth it, I tell you.
If you want to explore Singapore in a different light and at the same time have a fill of cheap and good seafood, try Ubin First Stop Restaurant at Pulau Ubin. Pulau Ubin is located on the northeastern corner of Singapore. To get there, you take a bumboat from Changi Jetty Point. The 10 minute ride costs S$2 per person one way.
The rustic setting of Pulau Ubin with its small attap and zinc houses is reminiscent of Singapore in the early 1960's. The few cars on the island are rickety and rusty compared to the gleaming well-maintained, less than 10 year old, cars on the mainland. I saw some on a recent trip there and wondered how on earth they could still exist. Largely though, people get around Pulau Ubin on bicycles. Once you step off the jetty, you will come across many shops with bicycles for rent. It's really a fun and free-spirited way to traverse the island. Barely five minutes from the jetty, you will see Ubin First Stop Seafood Restaurant. This is the "heart" of Pulau Ubin so you won't miss it.
The good thing about eating at out-of-the-way restaurants such as Ubin First Stop is the price savings. Just take a recent Sunday night at the end of April 2007, my extended family of nine had a sumptuous dinner for S$200! Now, you can't get that type of price in a seafood restaurant on the mainland. Mind you, it's not that we ordered little or simple. We had chilli and steamed crabs, prawns, a shelled fish, a steamed fish, mussels,  pork, vegetables, fried hor fun (flat noodles), mee goreng (fried yellow noodles), hot plate tofu (beancurd), herbal chicken, mantou, and not forgetting beers and drinks. The quality of food is comparable to the restaurants on the mainland. Visual-wise, Ubin First Stop fails to impress with its food presentation but never mind, as soon as the dishes hit the table, chopsticks and hands were already charging for the food!
The fresh coconut (drink and flesh) costs S$2 each here whilst it could cost double in mainland restaurants. Ubin First Stop does not serve fresh coconut or hot drinks but you could get these from a small provisions shop just across the road and they deliver, no problem at all. When I complained that the coconut I was given had a funny colour and taste, the lady changed it immediately with a smile and with no questions asked. On previous occasions, we had sent back old coconuts with inner flesh that was thick and hard. Again, no questions were asked nor were we charged extra. Such is the humble service that you get.
Allaan Tan started Ubin First Stop Restaurant more than twenty years ago. The first name card I had of Allaan was spelled with one "a". During my last visit, I noticed that he had printed new cards. When I asked him why his recent name card is spelled with double "a", he said it was done deliberately. "Something different. To make it easier for people to remember," he said. He even left out his family name "Tan" in his new name card, so just like his no-frills restaurant, he's now simply "Allaan".
I recommend that you give Ubin First Stop a try the next time you are in Singapore. I was told that reservations are not required on normal workdays but be warned that on weekends and public holidays, one could expect to wait for half an hour or so for ordered food to arrive (especially during lunch time). The restaurant is open every day except Wednesdays, from 11am to 8pm. Tel: +65 65432489.
The journey to Pulau Ubin is a bit more tedious than taking a taxi ride around the mainland but it is worth it. First of, you get to experience Changi Village - a rustic, laidback setting in this modern skyscraper-filled and populated city. Compared to the shopping and hotel belt of Orchard Road and Marina Square, the pace of life slows down here. The jetty at Changi offers a picturesque scene of a balmy beach. There is also a lovely walking path for strollers. A bumboat ride takes you to sleepy Pulau Ubin. Once there, you get an impression of how Singapore has progressed through the years. Much of Pulau Ubin is still without electricity. Do expect the place to be in pitch darkness at night, except for the few households who install generators to power their electricity.
My family love to go to Pulau Ubin for food. The island offers a respite and allows us to renew friendships and ties in a relaxing manner. My brothers and I are reminded of those times when we were little, running around among kampong attap houses. Dogs are aplenty on the island but do not worry, they are tame. For a night out to Ubin, we meet at Changi Jetty before 6pm so we could take a leisurely stroll and then catch the bumboat to the island. The last time we were there, some of us even had time to cycle around for a bit before settling down to eat. By the time we are done with dinner, it's already past 8pm. From the restaurant, we walk in semi-darkness, save for the lights from a few shops and homes in the area, to the jetty. During this walk, I never fail to notice that the stars shine much brighter here on this island than on the mainland. Ah... stomachs filled, wallet-went-easy, and relaxed, we head for the island's city lights.
* * * * *
---