'Shakespeare Wallah' & 'The Namesake' Recipes & Photos
---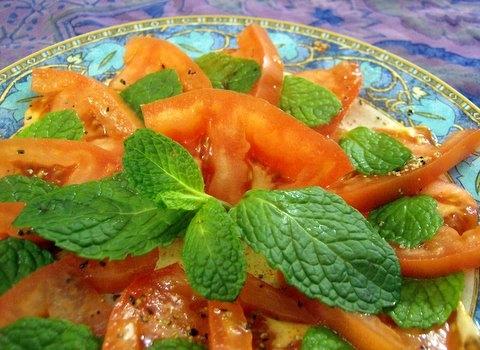 Image ©
2007 Celeste Heiter
Spicy Chicken Tidbits
2

 chicken breast

s

, cut into 1" cubes
1/

8

teaspoon cayenne pepper
1/2 teaspoon garlic powder
1/2 teaspoon black pepper
3 tablespoons vegetable oil, divided
1 tablespoon fresh mint, finely chopped
Preheat oven to 350 degrees. Combine all spices in a mixing bowl. Add chicken pieces and 1 tablespoon of oil. Stir thoroughly and set aside to marinate for about 30 minutes. Heat remaining 2 tablespoons of oil in a non-stick skillet and fry chicken pieces over high heat until lightly browned. Transfer chicken pieces to a covered baking dish and bake for about 10 minutes, until chicken is done all the way through.

Combine plain yogurt and fresh chopped mint for dipping.
Fresh Tomato Salad
4  ripe tomatoes, thickly sliced
1 bunch fresh mint or basil
1/2 teaspoon black pepper
2 tablespoons lemon juice
Arrange tomato slices on 4 individual serving plates. 

Drizzle with fresh lemon juice, season with salt and pepper, and g

arnish with fresh mint leaves.

Serve immediately.
Prawns in Spicy Tomato Sauce

2 teaspoons mustard seeds
1/2 teaspoon dried chili flakes
1 knob ginger root, peeled and finely chopped
8 cloves garlic, finely minced
1 large onion, finely chopped
4 tomatoes, coarsely chopped
2 jalapeno peppers, seeded and finely chopped
3 teaspoons corriander seeds, crushed with a pestle
1/2 teaspoon cayenne pepper
2 pounds large shrimp, peeled and deveined, tails intact
3 tablespoons lemon juice
2 scallions, thinly sliced
Heat oil in a large skillet. Add mustard seeds, chili flakes, ginger and garlic and stir-fry briefly. Add onions and stir-fry until onions are tender. Add tomatoes and continue stir-frying for about 5 minutes. Stir in jalapenos, corriander seeds, turmeric, and paprika. Season with salt. Reduce heat and simmer, stirring occasionally until sauce is thickened. Add shrimp and cook until the shrimp are just pink. Stir in lemon juice and scallions. Serve immediately. Serves 4 to 6.
Lamb Meatballs

1/2 cup onions, finely chopped
2 cloves

 garlic, finely chopped
1/2 cup onions, finely chopped
2 cloves

 garlic, finely chopped
1 tablespoon ginger root, finely shredded
Vegetable oil for deep frying
In a large mixing bowl, combing lamb, egg,

onion, garlic,

 s

al

t and pepper. Using your hands, knead the mixture to thoroughly blend. Divide the mixture into 16 equal portions and shape into individual meatballs. Heat 

1/

2 inche of vegetable oil in a frying pan and heat to 375 degrees. Deep-fry meatballs until all sides are golden brown, about 5 minutes. Drain on paper towels.
Heat 

butter

in a skillet with a tight-fitting lid. Add onions, garlic and ginger and stir-fry until tender, about 2 minutes.  Add corriander, cumin, turmeric and continue stir-frying until onions are golden brown. Stir in 

coconut milk

 and bring to a simmer. Add fried meatballs, cover and simmer for about 10 minutes. Remove pan from heat and allow to stand covered until serving time. At serving time, reheat the kofta to a simmer. Serves 4.
Coconut Rice
2 tablespoons vegetable oil
1 jalapeno pepper, seeded and finely minced
1/2 cup cashew nuts, coarsely chopped
Preheat oven to 375 degrees.

Heat vegetable oil in a 

large baking dish with a tight-fitting lid

. Add rice and stir-fry for about 3 minutes. Add water and bring to a simmer. Stir in turmeric

and

jalapeno

pepper.

Cover and place dish in the oven.

Bake for about 25 minutes, until rice is done and all liquid is absorbed.  

Remove rice from the oven and stir in

coconut milk

and cashews

. Season with salt.
4

poblano

or pasilla

 peppers
2 potatoes

, peeled

and

 choppe

d
1 knob ginger root, peeled and finely shredded
3 cloves garlic, finely minced
3 sprigs fresh mint, coarsely chopped
1/8 teaspoon cayenne pepper
Preheat oven to 375. Boil the potatoes in plenty of water until tender. Drain off water and mash potatoes until smooth and creamy. Carefully cut around the stems of the peppers, remove tops and set aside. Scoop seeds from the peppers and discard. Melt 2 tablespoons of butter in a large skillet, add ginger, garlic, fennel seeds ans stir-fry until tender and fragrant. Stir in potatoes, mint, turmeric, garam masala, cayenne pepper and salt, and fry until mixture thickens into a dough.
Grease a baking dish with remaining tablespoon of butter. Spoon potato mixture into peppers, replace tops of peppers, and place in the baking dish. Bake peppers for about 40 minutes until peppers are tender, turning once to bake evenly on both sides. Serves 4.
Indian Puffy Bread
Combine flour and water in a mixing bowl and stir to form a ball of dough. More water may be added a little at a time if needed to form the dough. Place dough on a floured surface and knead vigorously for about 10 minutes, until the dough is smooth and elastic. Roll the dough into a ball and place in a bowl covered with a damp towel. Allow to rest for 30 minutes.
Divide the dough into 5 equal portions and roll into smaller balls. On a floured surface, roll each ball of dough into a 6 inch round. Keep dough rounds covered with a damp towel until cooking time. Heat a large non-stick skillet. Cook dough on both sides until lightly browned, turning once. Using a clean, folded kitchen towel, press down firmly on the bread. Remove your hand, leaving the towel on top and the bread will puff beneath it.  Remove the towel and transfer the bread to a warm plate. Makes 4. 
Deep-Fried Milk-Powder Balls in Rose-Scented Syrup
3 1/2 tablespoons all-purpose flour
1/2 cup heavy whipping cream
Seeds from 10 cardamom pods
Mix powdered milk, flour and baking soda in a bowl. Be sur to meaure baking soda very carefully as using too much will make the Gulab Jamun very soft. Add whipping cream gradually whild kneading the mixture. Add only as much cream as needed to make a dough.
In a 6 to 8 quert saucepot, heat sugar and water together to make syrup. Add cardamom seeds and stir to mix sugar and water. Turn off the heat when the sugar is dissolved.
Heat oil to 250 degrees F over a smaller burner.
Divide the dough in sixteen portions and roll between your palms into a smooth ball about 1 inch in diameter. Fry the rolled balls a few at a time on a very low heat (the balls should slowly sizzle), util they become golden brown. Dunk the fried balls into the syrup and let them soak for 30 minutes or more. Let the Gulab Jamun and the syrup cool to room temperature, and then add rose water. Warm to about 100 to 110 degrees F before serving. Serve Gulab Jamuns in the syrup.
Milk Balls Recipe reprinted with permission from Ajanta:
---