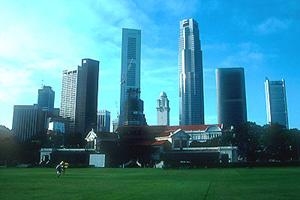 On your next Asian stopover, take a stroll through the historic alleyways of Singapore's old Chinatown - whilst it's still there.
There's much, much more to a Singapore stopover than shiny shopping malls or theme park attractions, exciting as these may first seem.
Chinatown is the kernel from which grew modern Singapore. It embodies - together with the fast-dwindling Little India and Arab Street Malay districts - the essence, arguably, of Singapore's origins. Fast dwindling under the twin onslaughts of high-rise development and gentrification, it nonetheless retains much that is traditional and best savored on foot.
At the Majestic Hotel on Bukit Pasoh Road, a blessedly quiet side street on the fringe of Chinatown, room service comprises one parchment faced elderly Chinese man in singlet and shorts, stretched out and dozing fitfully on a cot upstairs.
Just a few short minutes from Outram Park station on Singapore's super-slick subway system, the MRT, Bukit Pasoh, the Street of Clans, has a story to tell. This humble side street once housed some thirty of Singapore's Chinese cultural and clan associations in the ornate terraced shophouses of three or more stories which typified pre-war Singapore.
From the nineteenth century onwards, immigrants from particular districts in China clubbed together to form these mutual assistance societies.
Now, terraces of crumbling shophouses have been transformed into designer offices for shipping and advertising agencies. The ground floor of the Gan Clan's imposing building houses a karaoke bar and several other clan houses are boarded up. Yet others linger on, here and in nearby Keong Saik Road, where after dusk you may chance upon a Chinese opera rehearsal or a solemn meeting of the clan committee. In this street, prominent house numbers and pairs of heavily made-up young women point to less salubrious activity after dark.
Behind Bukit Pasoh is Duxton Plain park, a pleasant green ribbon where Tai Chi exercises take place in early morning or as the day draws in. And a few yards further on are the shopping plazas where Singaporeans themselves shop - Pearl's Centre, People's Park, Chinatown Point - great places to pick up electronic goods or clothes. Singapore's energetic urban planners are planning an ambitious rejuvenation of Chinatown, focused on this district.
Close by on Keppel Road is the terminus for the railroad line north across the causeway to Malaysia and on to Thailand - and a relatively little-known gem of 1930s Art Deco architecture. This imperious cement-grey edifice bristles with heroic neoclassical figures, the alabaster imitating marble.
Inside, cathedral-like murals glorify in glowing ceramic reds, oranges and blues a colonial epoch of industrious rubber tappers, palm plantations, tin dredges and rice paddies.
The station cafeteria represents a totally different world to that of the manufactured theme-park tourist attractions promoted so enthusiastically in glossy brochures.
Gangling Indian youths and skull-capped and bearded Malays dish up murtabak pastry with vegetable curry, or roti bread with a glass of turgid milky coffee, to off-duty customs inspectors, policemen and passengers. Vivacious Malay women match a token head scarf with tight slacks and sandals.
Amidst the Duxton Plain housing estate, laundry hangs like flags from hundreds of window poles extending from the high rise apartment blocks. A Sikh temple no bigger than a cottage lies almost buried in exuberant foliage.
At every turn the stroller is confronted by the forces of "urban renewal" - bamboo scaffolding, copper-skinned Thai laborers, rubble-laden dump trucks - and the Chinese architect, clipboard in hand, immaculate in button-down designer shirt and tie.
The Tanjong Pagar conservation area beyond Neil and South Bridge Roads reveals the future of old Singapore: shophouses slickly restored to provide homes for craft dealers, importers, and karaoke bars where the tab for a couple of rounds could quickly exceed the cost of a room back at the Majestic.
The Jinricksha Station is a fine restoration of a Victorian public building, now a home for craft and gift ware boutiques.
On Ann Siang Hill the gaunt old man fashioning paper goods for the afterlife is no longer willing to be photographed, but a woodcarver down the hill is more amicable. A middle-aged woman clad in conical wide-brimmed coolie hat, slowly pedals a rickshaw laden with waste cardboard, oblivious to the watcher.
Historic places of worship of the Indian Hindu and Muslim communities stand peaceably beside venerable Chinese temples in the heart of Chinatown. The Temple of Heavenly Bliss still stands on Telok Ayer Street after 150 years although the waterfront it once graced has long since receded. The smoke-stained doorways bear effigies of deities in faded gilt.
One hollow-chested elder in singlet and shorts is engrossed in making up joss stick packets; another perches pensively on the doorstep beside a ferocious stone lion. Traditional robes richly embroidered in propitious red and gold hang from the walls... a stone-flagged courtyard is dotted with conical spirals of burning incense; ceremonial kilns smoulder incessantly.
Almost next door stands the Nagore Dhurga Shrine, a humble whitewashed mosque built by Tamil Muslims early last century. Just down on South Bridge Road the Sri Mariammam Hindu temple, built on land granted by Stamford Raffles, founder of the colony, is equally venerable and much more dramatic, its gateway adorned by a myriad of three-dimensional gods, demons and chariots. Bare-chested devotees recline on cool stone steps, clad only in a sarong around the waist.
If you have a Sunday morning free, make your way to one of the birdsong contests, a weekly ritual favoured by Chinese gentlemen. By pleasant coincidence the Sturdee Lane venue is one of the best-preserved rows of traditional shophouses - curlicues and wreaths abound against a backdrop of avocado green, with panels of ornate glazed tiling. Rows of bamboo cages dangle from their racks, each species arrayed in sequence - thrushes, merboks, sharmas. The birds' owners squat or sit in rows, some chatting happily against this melodious backdrop.
This glimpse of an authentic tradition makes a charming finale to a stopover in Surprising Singapore.
Further Information
Singapore's climate is equatorial, with hot, humid conditions year-round.
Travellers of most nationalities may enter Singapore visa-free if holding a current passport. Penalties for possession of drugs are extremely severe. The Singapore Dollar is freely convertible.
Getting around within Singapore is easy, thanks to the MRT, an excellent subway; a comprehensive bus network and an abundance of metered taxis. Budget-priced accommodation is in short supply but tourist, business and luxury standard rooms abound.
Singapore Tourism Board
www.newasia-singapore.com
---